If you feel holed in – thanks to the pressures of space in the modern urban context and to the grand ambitions and demands that populate them- here are 10 fantastic design ideas for small apartments, guaranteed to save the day!
From scale to space, form to color, these handy tips tackle the challenges big and small which small homes and apartments present. For with just a little creativity and space-smarts, you can create a smashing interior in even the most constrained of layouts. Best of all, you can tailor it to your personal style and fancies- going just as cozy or as contemporary as you like. So whether you are setting up fort in a new home, upgrading your existing abode, or just wondering how to decorate a tiny apartment, make sure to keep these 10 pointers in mind.
Upgrade your style quotient with our brilliant, easy to follow design ideas for small apartments!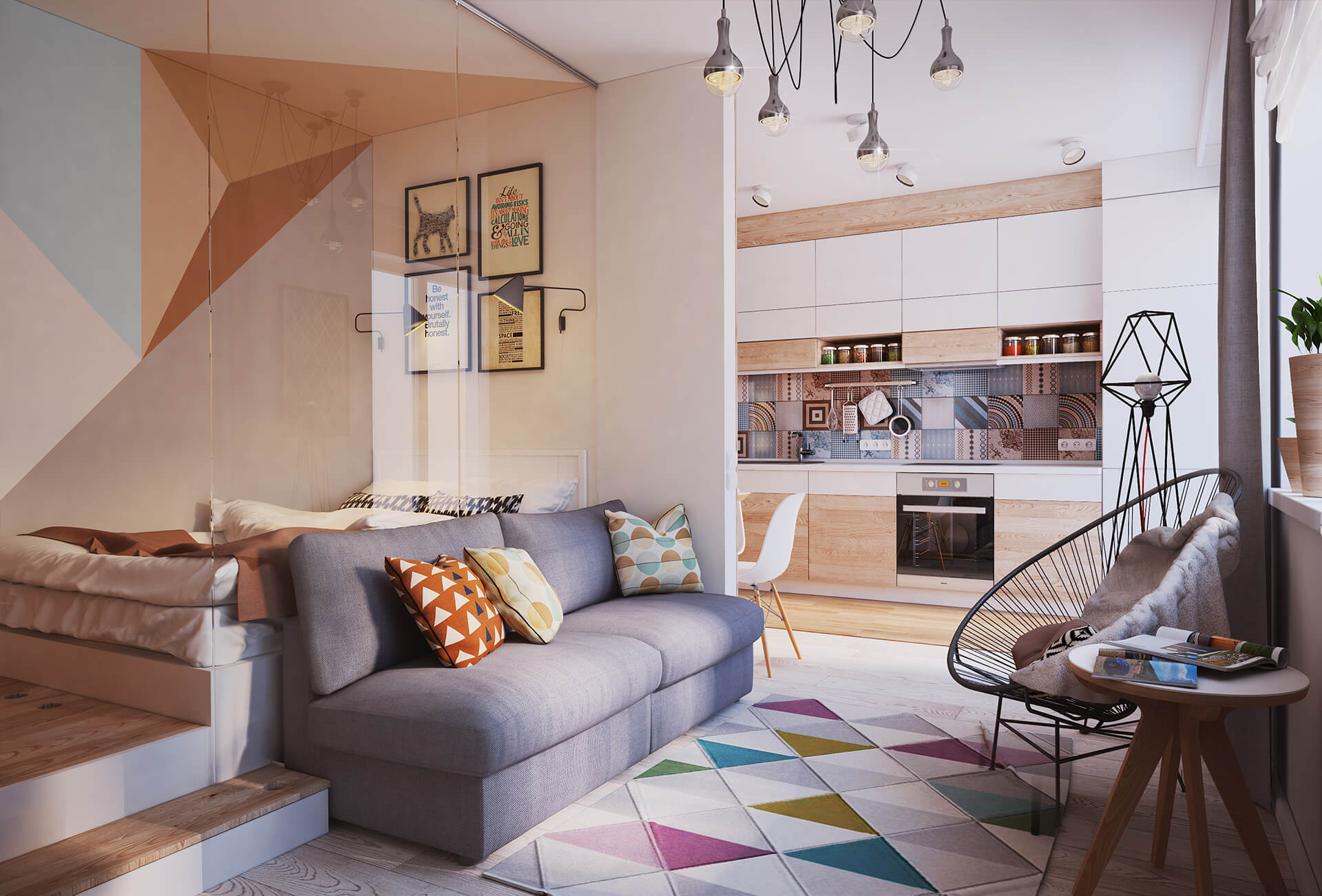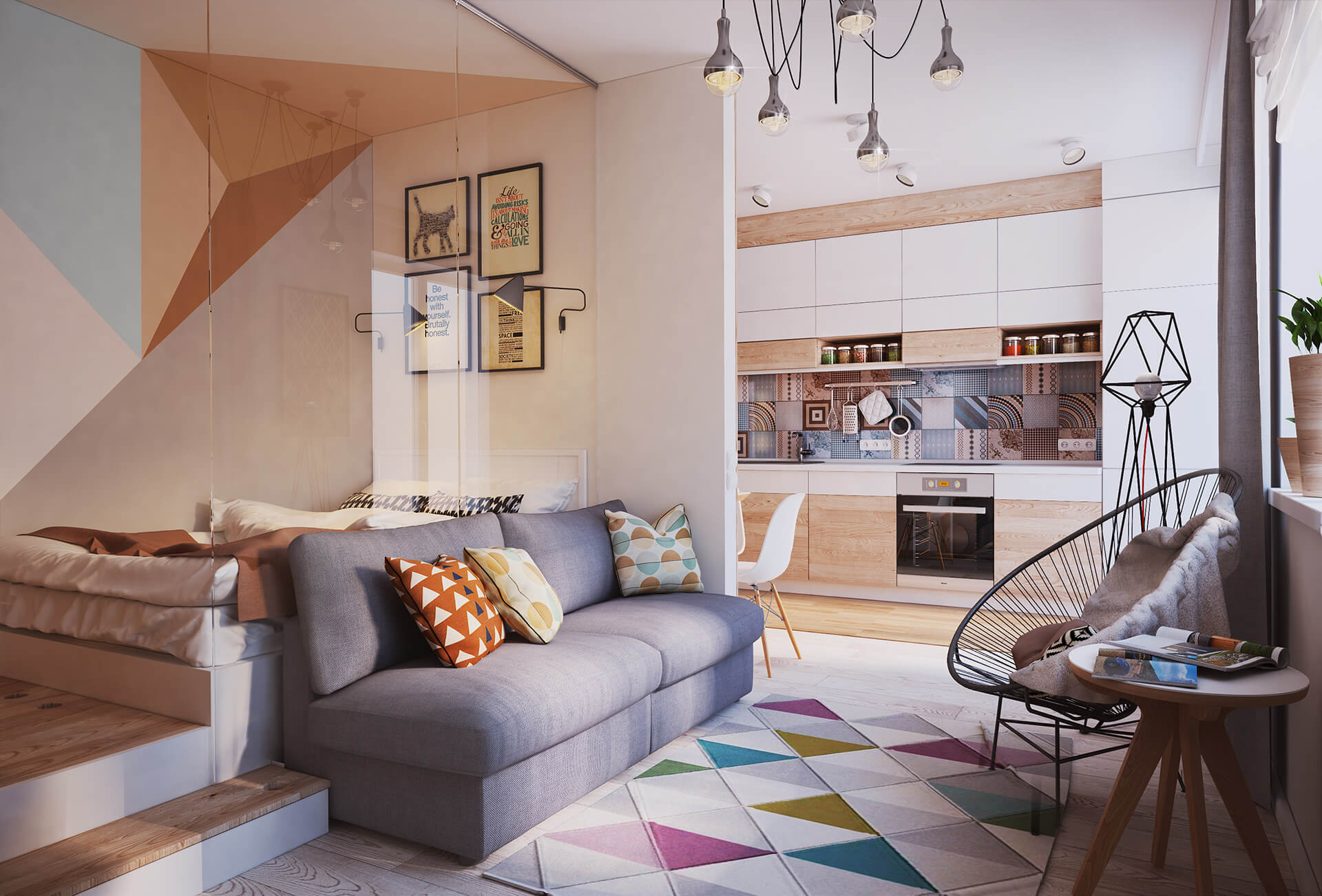 Image from article: Beautiful Small Apartment on 40 sq.m
1. LIVE IN THE MAGIC OF MULTI-FUNCTIONALITY
Space is at a premium in a small apartment, and thus unlike in a larger home, functions and activities overlap freely here. The genius of a small apartment design is in fact in its multifunctional layouts and elements, creating more generous designs by packing them in like a Swiss army knife.
Consider separate daytime and nighttime layouts and usage patterns for your home, or different configurations for social occasions and when you are home by yourself. Your living – dining area can double up as a sleeping space, or make room for a home office when there are no guests to entertain.
In creating multi-functional configurations, your choice of furniture plays a big role. Convertible sofas, wall concealed beds, bi-functional décor elements and furniture with inbuilt storage can help save you space while amplifying the functionality of your apartment. Even wall treatments and surface finishes can be given a purpose and function here, weaving aesthetics and practicality into a beautiful design scheme.
2. DO AWAY WITH THE CLUTTER
While you don't need to strip your small apartment of character, it is a good idea to keep incidentals to a minimum. The cleaner and clearer your space, the more open it is going to look, feel and function.
Practice elegant restraint with your number and choice of patterns, textures, color and the complexity of form inhabiting the space. It is good practice to establish a single visual focus within your room, relying on adequate storage and a minimalist approach to keep things light and moving; far too many knick-knacks or ideas can create unwanted diversions and distractions that can overwhelm the space.
Another handy move is to relegate the patterns and motif to the backdrop, choosing smaller intricate designs which visually explode the scale and space. Wallpapers, curtains and even a floor to ceiling cabinet can create a stunning backdrop, complimented perfectly with concealed storage that maintains uninterrupted views though your apartment.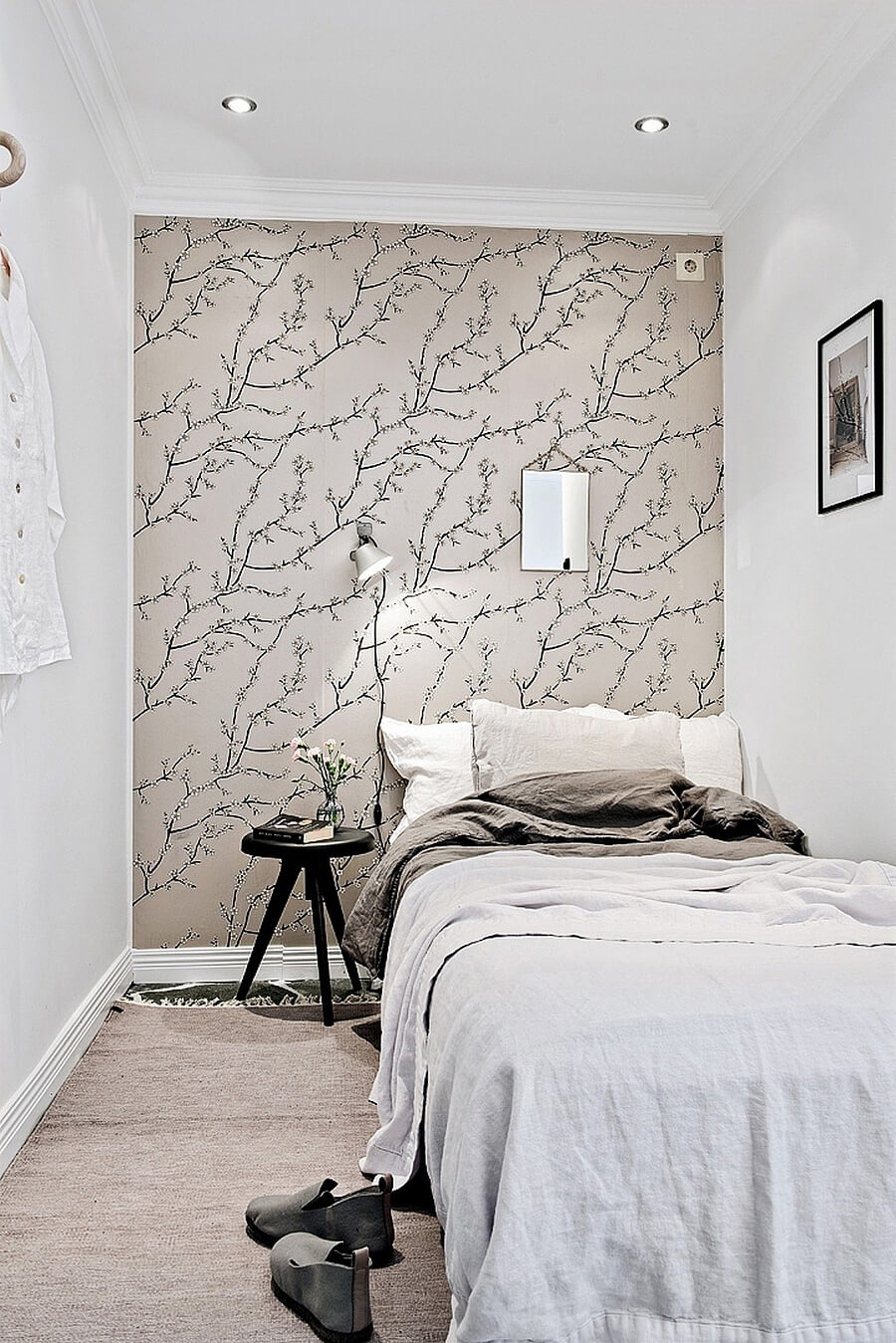 Image credit: woont.com
3. SET OUT THE FURNITURE BY WEIGHT
As a general rule the lighter your furniture, the larger your apartment will feel, but here's a tip on making room for larger, bulkier units in your tiny home. When setting out your layout and furniture, place the heaviest elements furthest away from the door. Seating units, chests, drawers and bedside tables are best pushed to the back of the room. Ideally these are best set against large backdrops such as a wall or partition, which can visually scale them down. Doing so reduces their weight in the overall scheme, as well as keeps the circulation clear and flowing to minimize interruptions and stubbed toes.
You can also use your bulky and large furniture to create innovative partitions within an open plan, merging with the boundaries of your space instead of populating them. A large display unit, for instance, makes for a fabulous permeable space divider which maintains visual continuum while creating new functional opportunities within your home. However, given the space constraints keep such divisions to a minimum, introducing them only when utterly necessary.
The smartest design ideas for small apartments center on minimizing visual speed breakers to create fluid and uninterrupted lines of sight through your home. Whether drawing a layout, deciding on a suitable material palette or finalizing your finishes, pick lighter and more transparent materials to create visual connects through your space. These allow you to behold greater and grander vistas within and without the apartment, bringing more openness and airiness to the space. Glass and acrylic furniture, open display shelves and units and sheer curtains all play their part in unfolding the hidden potential of your tiny apartment.
A popular idea is to create a random arrangement of open shelves of varying dimensions and depth. The staggered configuration brings a sense of play that lightens up the décor, while affording a clean and contained solution for storage and display. You can create a light space divider or push your unit against a wall- the thumb rule is to blend it in with color and finish so as to keep the focus on larger surfaces and backdrops.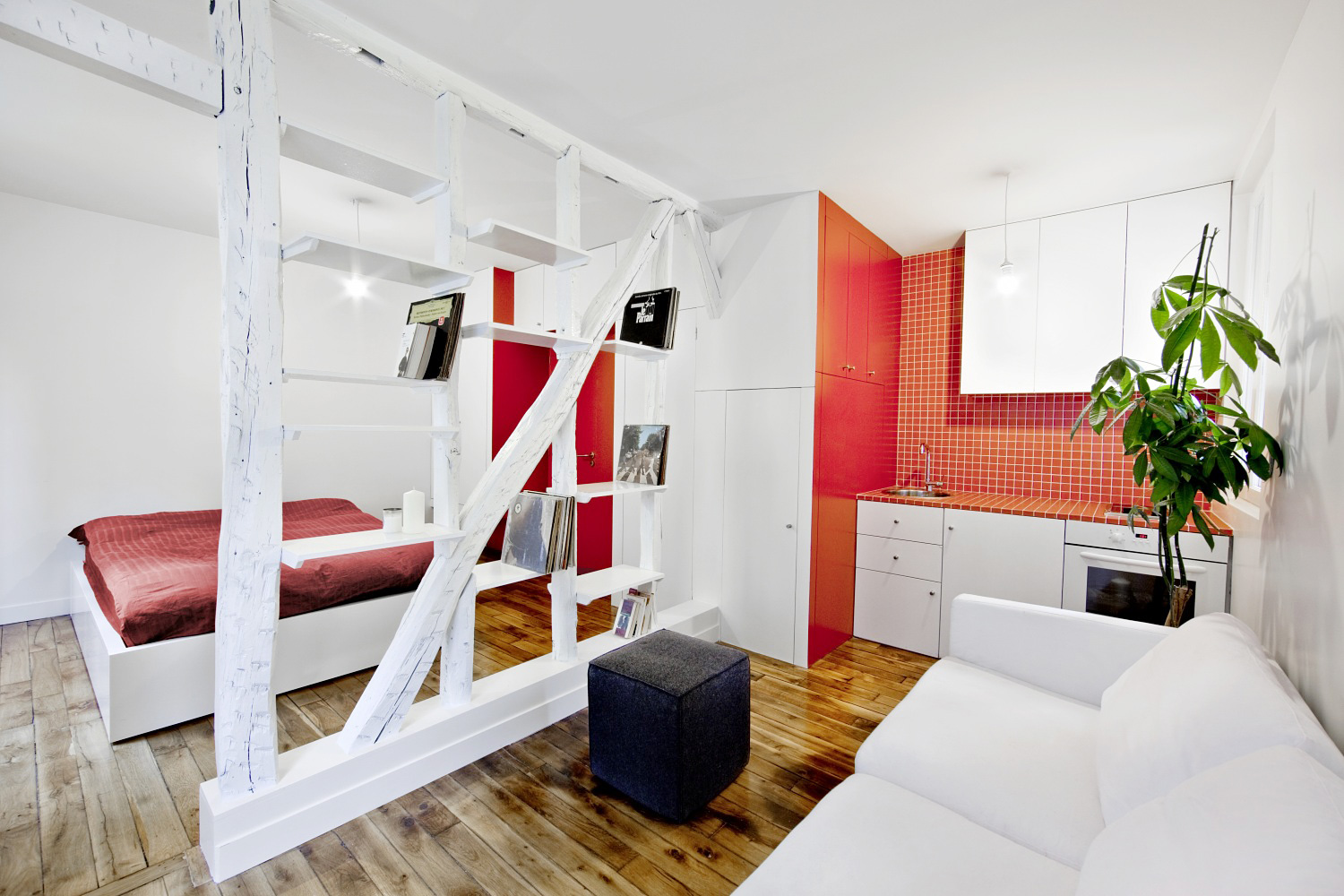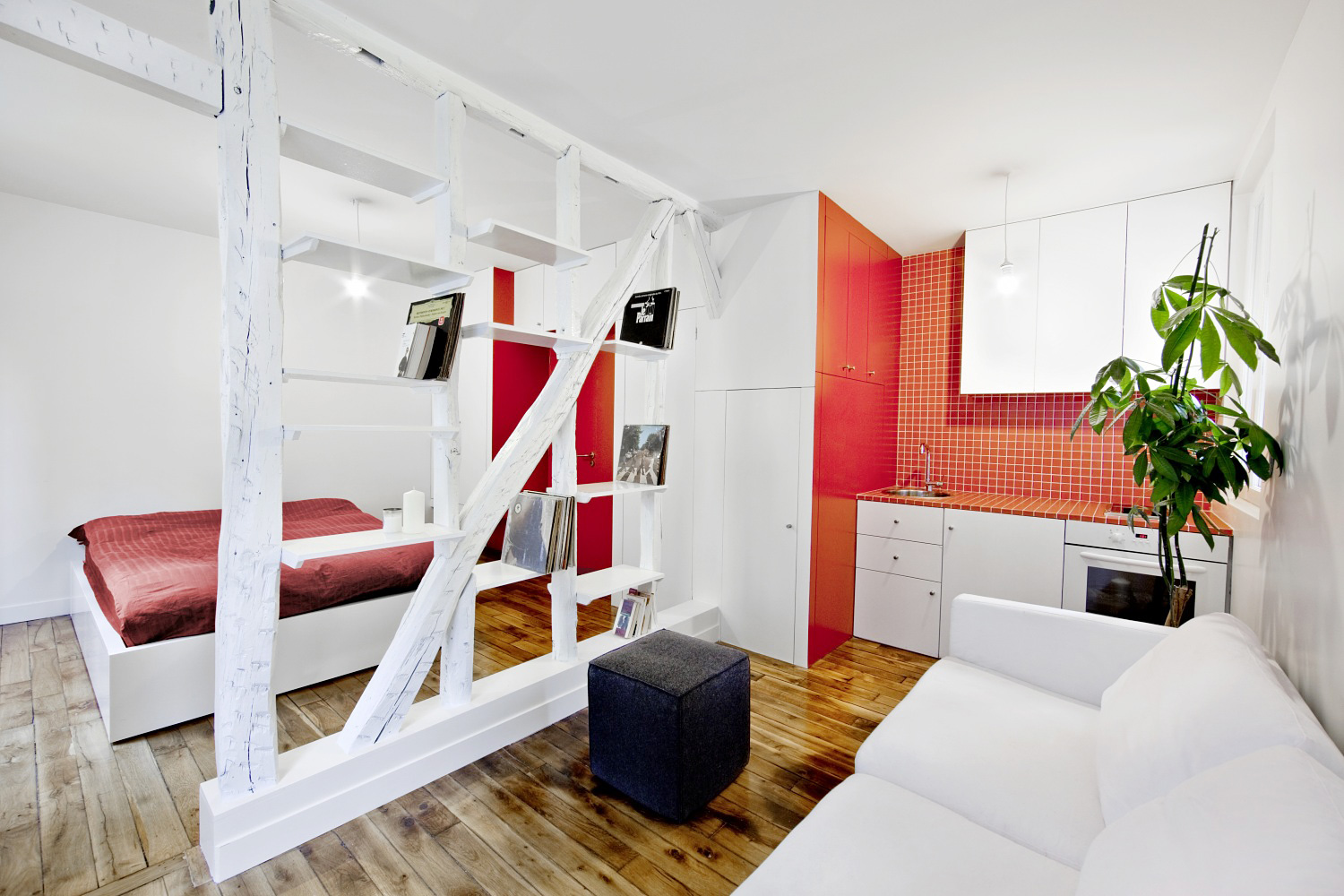 Image credit: Swan Architects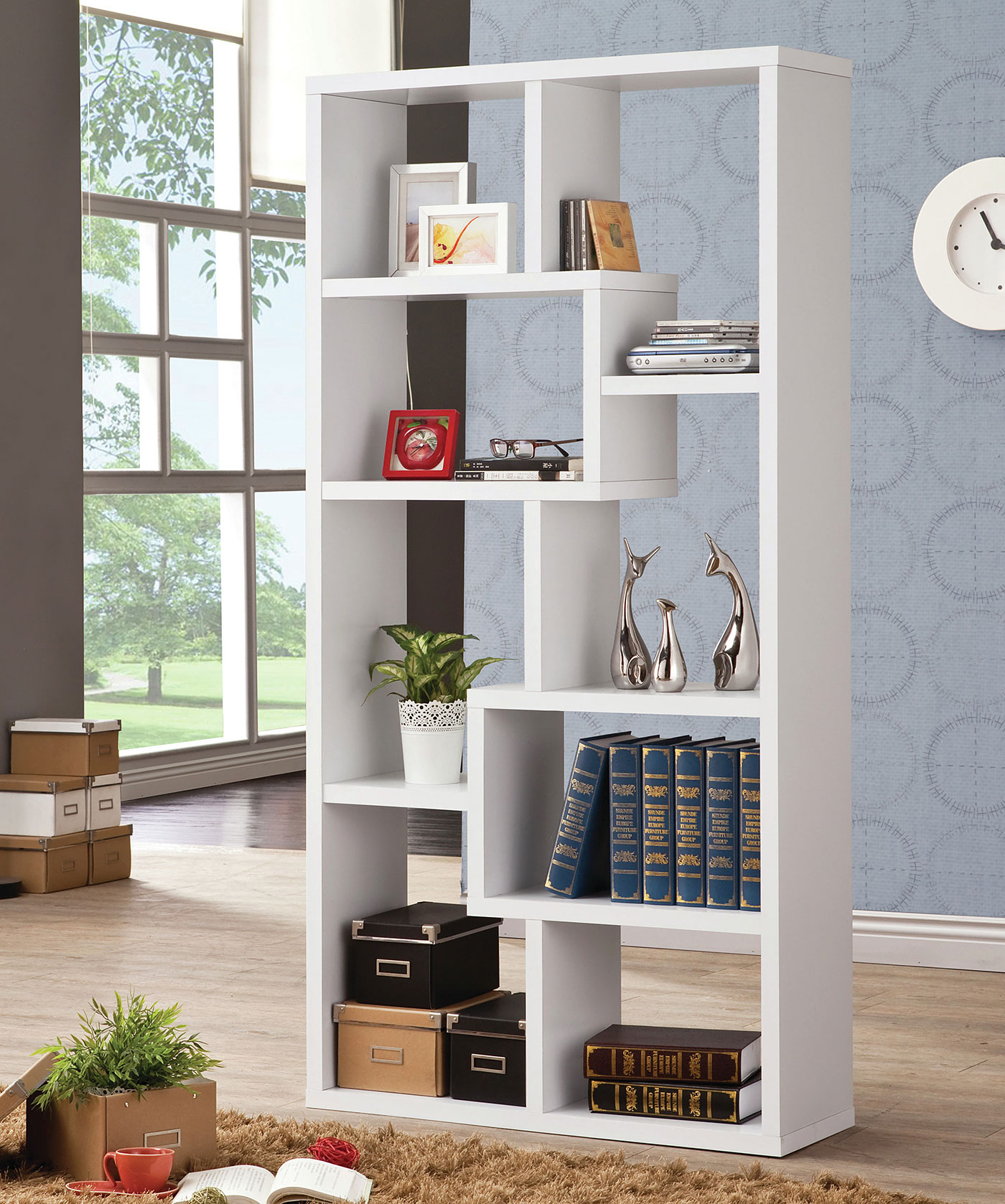 Image credit: Amazon
5. DRAPE YOUR ROOMS RIGHT
Even the smallest of moves can make a big impact and decide just how open or cramped your home feels. When hanging up the curtains, work towards creating broad sweeping backdrops with the fabric, instead of puncturing the wall with smaller screens for privacy. Remember, backdrops play a pivotal role in small apartments, as these set stage for the different elements and functions to come together, as well as visually contain them with its grander scale. Breaking down the backdrop can thus result in a more cluttered configuration and space, where the different elements compete with each other for visual prominence.
To preserve the integrity of your backdrop, hang full length curtains instead of sizing them up to individual openings. Placing your curtain rod just a few inches below the ceiling, and allowing the curtains to drop all the way down to the floor will help not just harmonize the space, but also make the openings look much larger and airier.
6. EMPLOY MIRRORS FOR ADDED EFFECT
Enhancing the play of light- natural and artificial- in your small apartment amplifies its roominess and ambience. Mirrors are a handy tool to achieving this, reflecting views and light through a space to add depth and character to it. Placing a mirror opposite an opening such as window creates an illusion of a wider room by filling it with natural light and outdoor views; you can also use a mirror to make a small vestibule or entrance area look much larger by hanging it on a wall or surface facing the main door.
When choosing a mirror, opt for larger options which offer sweeping views and can engage further with the décor. This is also a fabulous opportunity to sneak in an ornate element without weighing your space down; floor to ceiling mirrors or a mirrored wardrobe work a treat as well. But don't limit yourself to just individual mirrors to amplify the space- reflective materials and surface finishes can contribute to the overall effect as well!
7. DAPPLE IN MUTED AND PASTEL COLORS
We all love feature walls and a good splash of color on them; but you might want to reconsider their place in a small apartment. Rich deep colors, however delectable, close in on a space making it feel smaller and cozier. In order to break free of the small footprint of your home, wash the walls and ceiling in muted and light colors, in particular white, off-white and its related shades. This is one of the reasons Scandinavian design and themes are especially suited to small spaces and apartments.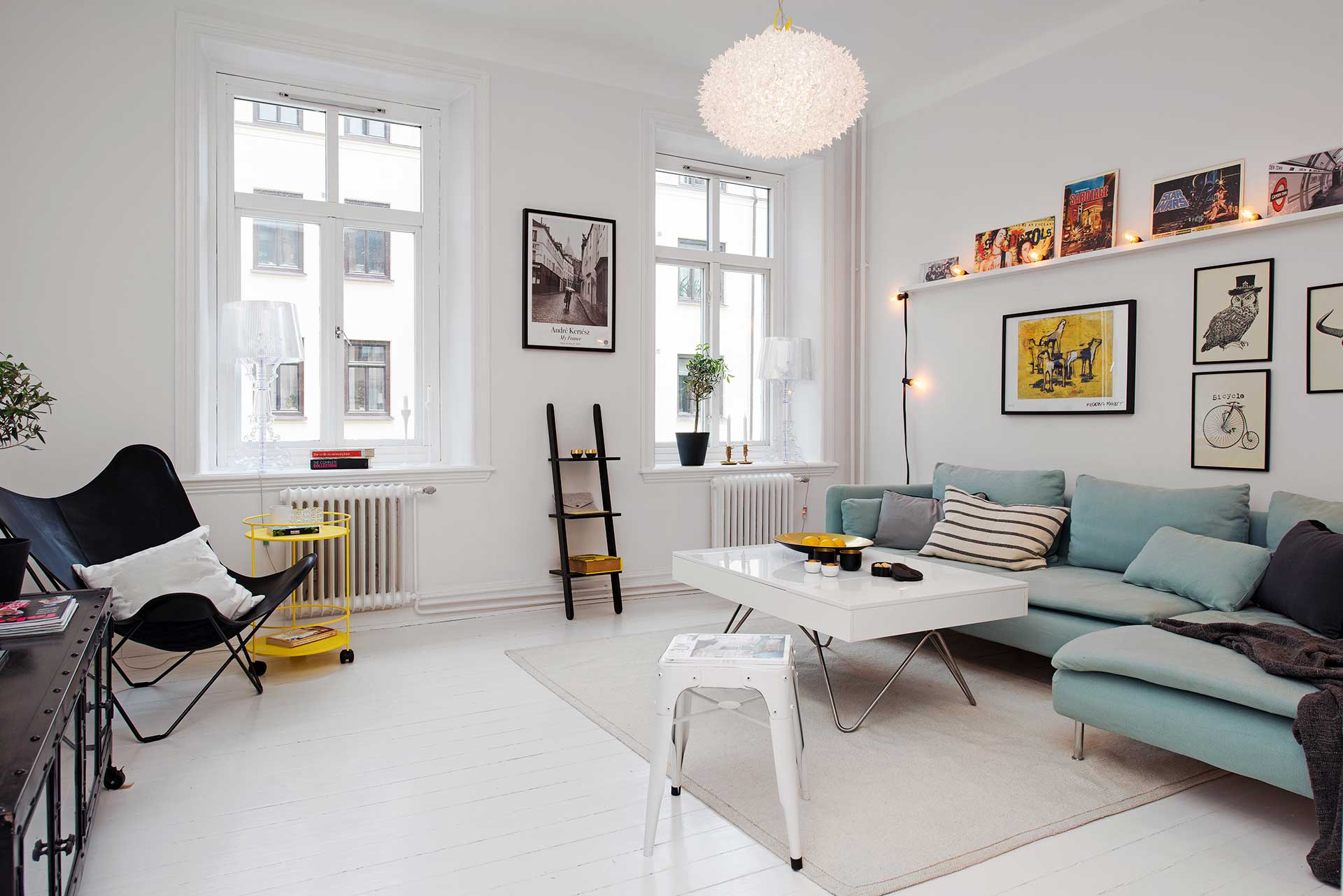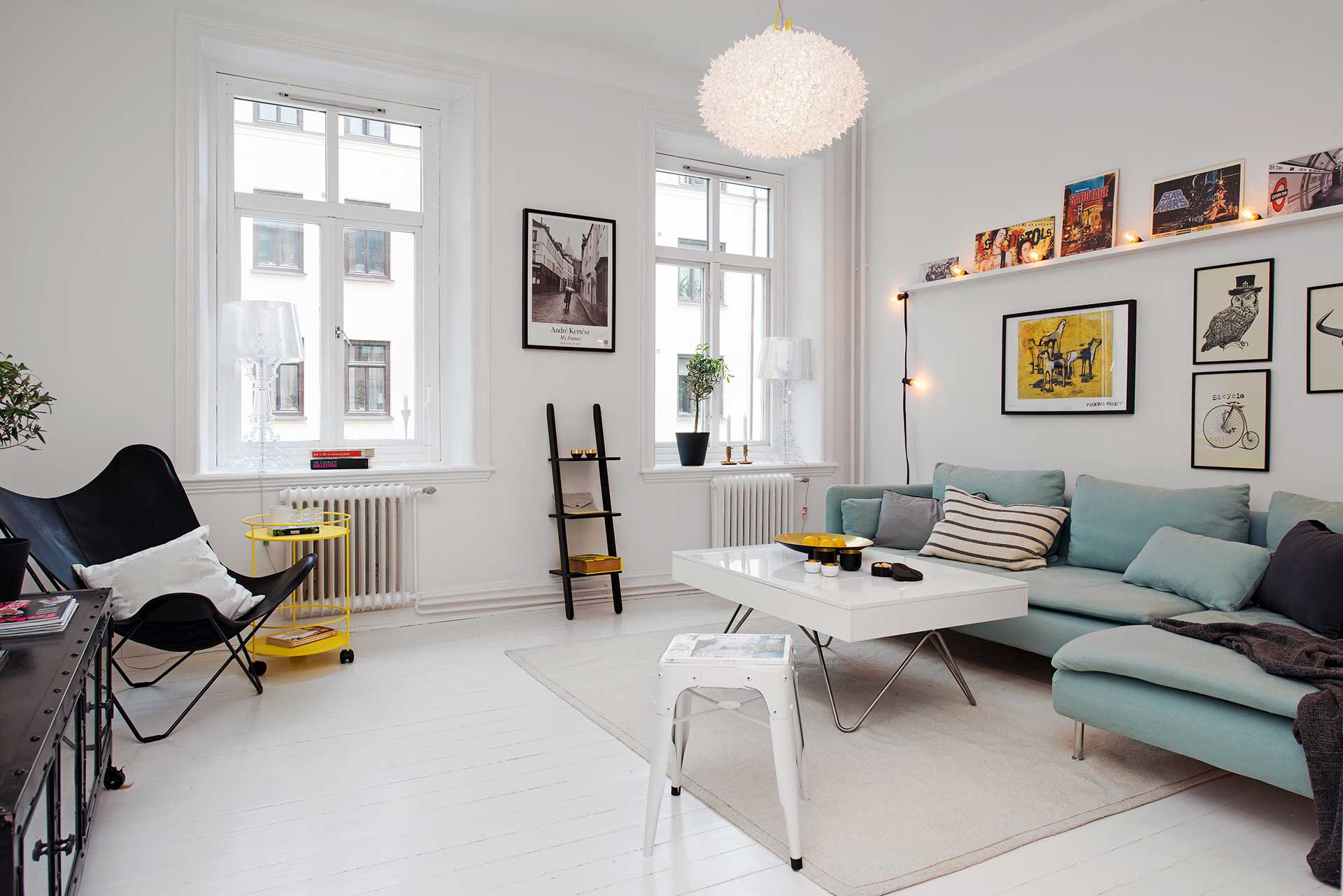 Image from article: This Small Scandinavian Apartment is Big on Impressions
Further, try and minimize the transitions between one room or space and another, by rendering your home in a singular shade or color. This ties the individual spaces and functions together in to a far grander and generous whole, making the apartment feel much bigger and open. It also maintains the level and play of light throughout your home, ensuring a coherence of spatial experience and aesthetic.
8. GET SMART WITH RUGS AND CARPETS
One of the most vital of design ideas for small apartments, knowing how to render your floor surfaces can go a long way to helping you open a constrained footprint up. As a thumb rule, small apartments are best drawn out in a singular floor surface that unites the different rooms and areas in the house. Wall to wall carpeting or wooden flooring creates a fluid stage upon which the different functions and areas are articulated. If using tiles, stay clear of large oversized formats as these will make the room look much smaller.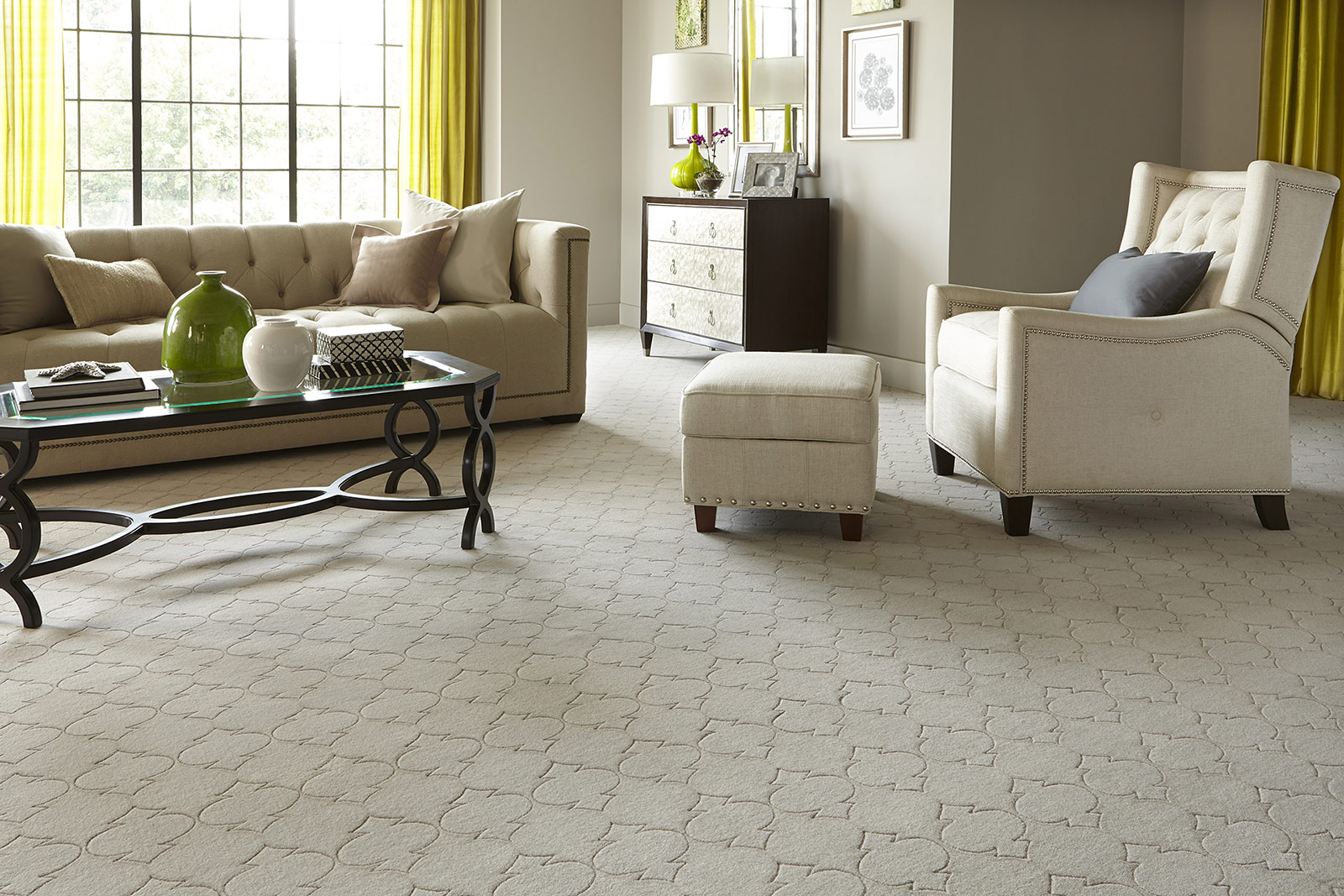 Image credit: DeSitterFlooring
Area rugs in general divide the floor and space, and can therefore make a small apartment look much smaller. Usually these are best avoided except in certain cases such as where a runner is used to accentuate the linearity of the room, or where a rug is used to define an area in the absence of pronounced space dividers.
9. WHEN IN DOUBT, LOOK UP!
Not all design ideas for small apartments are bound to the footprint and layout; sometimes the solution hovers right above our heads. When designing and decorating your tiny space, make sure to tap into and utilize its full height. This is a particularly effective strategy in attic and top floor apartments, but can be just as useful in conventional setups as well.
One way you can explore the height of your space, is by elevating functions and storage off the ground. Working with the usually untouched space above clear head height, you can explore the higher realms of your home to house a loft bed as well as long term and bulk storage. Make sure to keep your designs and elements light and simple so as to not pull the space down.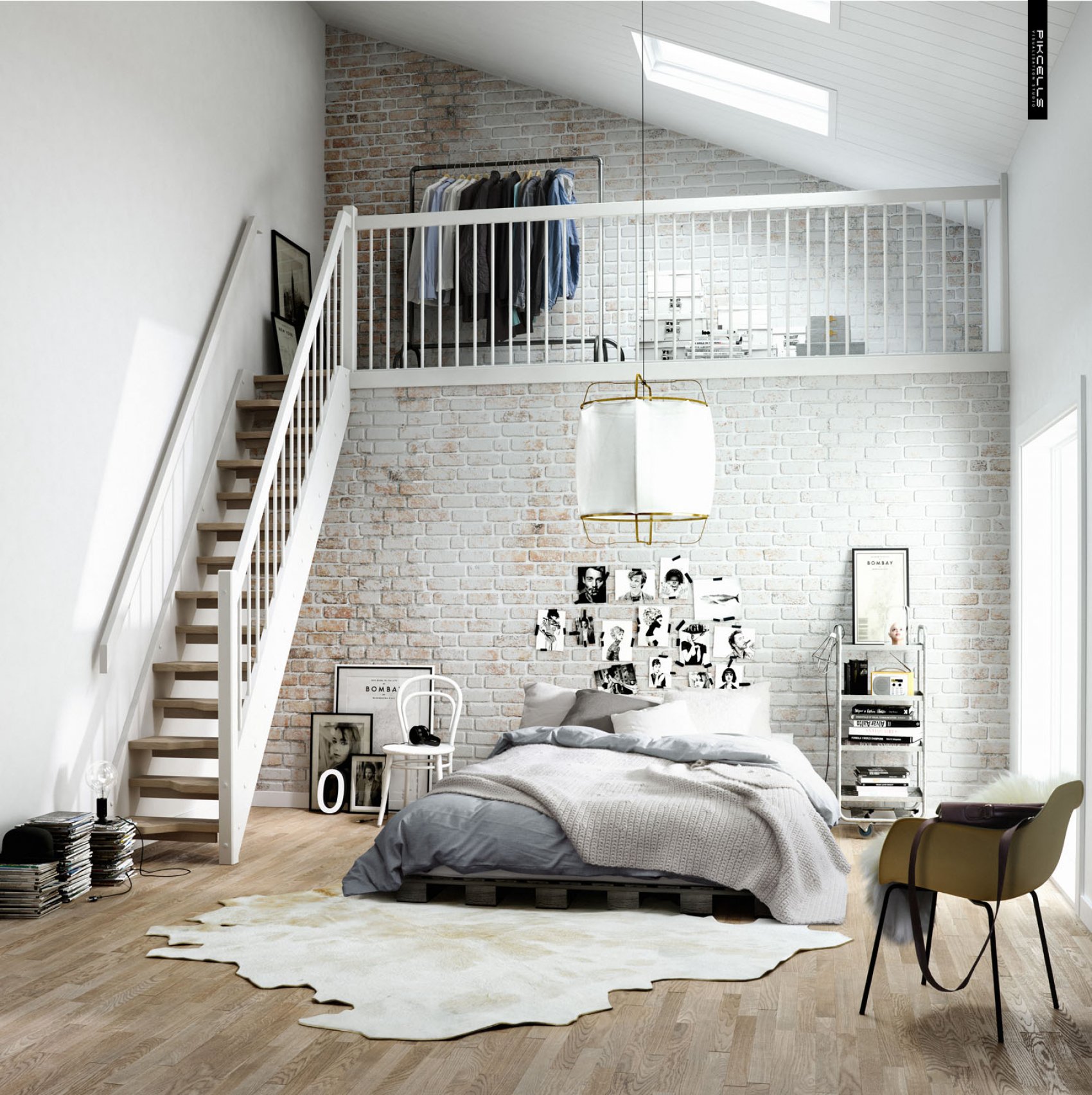 Image from article: How to Maximize the Loft Space in Your Home
Another fabulous opportunity when exploring the height of a room is to introduce intricate and ornate details through elevated elements. A chandelier, ceiling hung light fixture or a suspended decorative element can be used to create bold statements without obstructing or cluttering the layout and circulation.
Every design and configuration can be seen as a set of lines that lend directionality and induce flow in a space. In order to best configure a small apartment design, ensure that that the lines in your space are in parallel with the overall flow and direction of movement. Aligning the lines this way enhances the linearity and therefore the depth of a space, making it look larger and longer; laying out the lines perpendicular to the direction of movement makes the space feel more contained and smaller.
These lines are to be found everywhere in your apartment and its decor- whether in the layout of the wooden flooring or tiles, in the orientation of patterns and motifs to the overall space, or in the placement of furniture, furnishings and decorative elements. Place and orient these such that the longer edge of the element is parallel to the axis of movement into the space. Even when decorating your space, line up the candles or knick-knacks along this axis to visually amplify the linearity of your home and make it look roomier.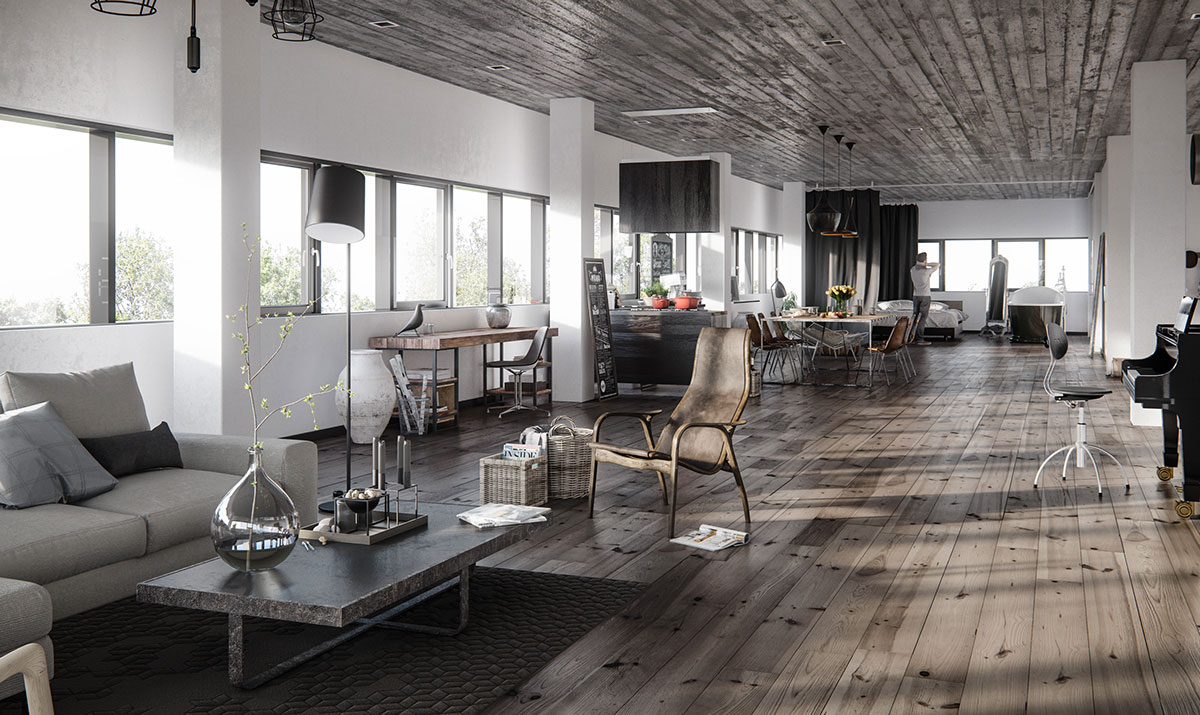 Image from article: Successful Contemporary Warehouse Conversion
To sum up all design ideas for small apartments boil down to three prime agendas- minimize clutter, keep the palette light and fresh, and enhance visual dimensions. There are different strategies to achieve these objectives, such as the ones listed out above, but if each of your design choices and alterations satisfy these three agendas, you are sure to stay on track.
Thus when buying a piece of furniture for your home or picking out new wallpaper design, re-configuring the layout or revamping up its lighting, ask yourself:
Will this add to or eliminate clutter in the house? Is there a lighter material, color or finish I can go for? And do the finish, pattern/motif, size and location enhance the spaciousness or constrict it?