As the temperatures start to cool and the leaves start to turn we start transitioning our wardrobes to reflect these changes. Your home, too, should represent the graceful transition from summer to fall.
By swapping out textures and colors, adding natural elements into your décor, preparing your home for the colder months ahead your home will be beautiful, comfortable and ready for the cooler days ahead. It's important to note that as you redecorate to accommodate the seasons you needn't spend a ton of money!
1. Weatherproof your home

Image credit: Bob Villa
While less glamorous, it's important to think about the safety of your home and the unseen things that can greatly affect your home's feel, appearance and comfort.  As the temperatures get colder, you'll want to be sure that your home is as efficient as possible.
Make sure, especially in older homes, that storm windows are down and secured into place. Have your furnaces and oil tanks inspected and, if necessary, filled.  As soon as the leaves have finished falling have your gutters cleaned out by a professional so that water from rain and melting snow flows away from the house to avoid flooding and ice jams. Walk by doors and windows and make sure that all cracks and spaces where air can come through and heat can be lost are somehow sealed.
2. Prep your fireplace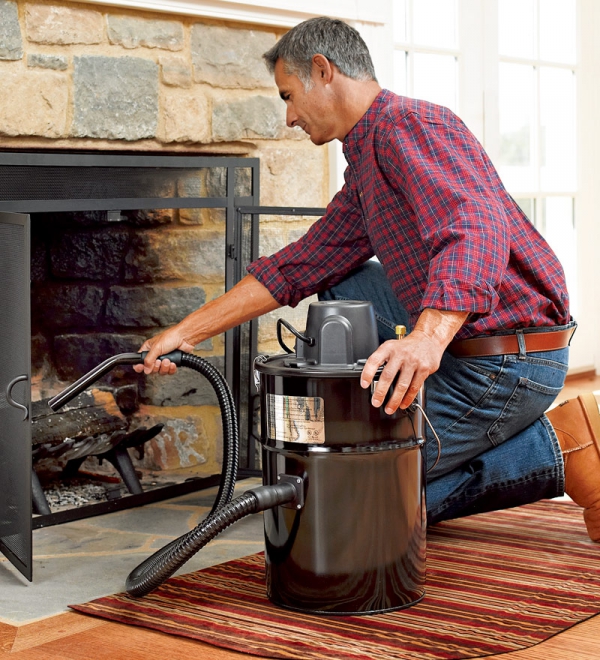 Image credit: Plow & Hearth
Vacuum or sweep out last season's ashes – Though one should never do this when the fireplace is actively in use. Ashes can remain hot for a long time and spark fires in trashcans and vacuums. Get a safe ash can to dispose of ashes properly and safely. Have your chimney inspected and swept every to every other year depending on how often you use it.
Make sure you have plenty of wood, starter and that your tools are in good working order. Nothing says welcome home better than a nice roaring fire! If you prefer not to use your fireplace, you can create a wonderful arrangement with white pillar candles of all sizes. When lit, the candles look spectacular in the fireplace. This idea is a great one for those who suffer from allergies and have respiratory issues.
3. Bring the outside in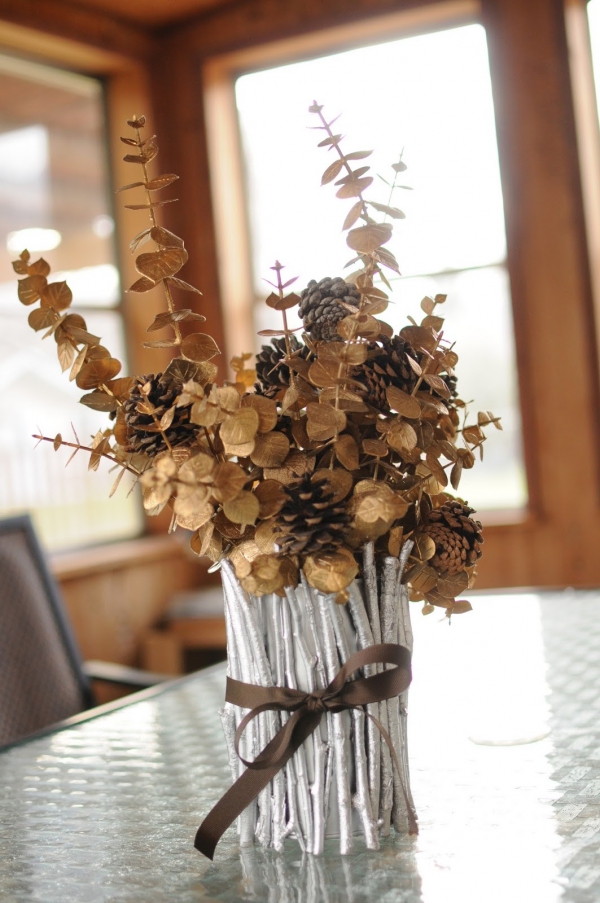 Image credit: I can't stop crafting
One of my favorite things to do is to walk outdoors and find things to bring inside. If you have children, bring them along and turn this into a fun family friendly activity. Small branches can be brought inside and bundled together, tied up with pretty ribbon in autumnal colors, and placed near the fireplace.
Short, thin twigs can be glued onto clear class jars to create organic but elegant votives. Pinecones can be collected and placed elegantly in large glass bowls or onto plates and platters. They can be mixed up with river rocks, shells, or fall fruits such as pears and apples. Branches with berries can be brought in and ad a natural yet sophisticated touch to your space. Let your hydrangea dry naturally inside. Their fall hues are lovely.
4. Create a still life with fruit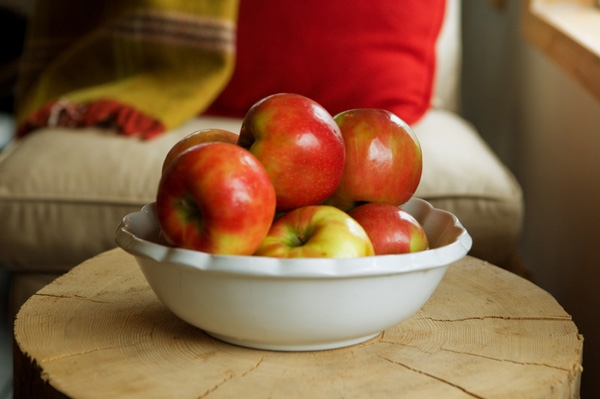 Image credit: She Knows
Adding fruit to your home is a wonderful and inexpensive way to add fresh décor to your space. Apples, pears, clementines and kumquats add seasonal color and flavor to your home. Whether placed on an elegant platter, a simple bowl or intermingled with other items to create an organic vignette, fresh fruit adds a living element of color and texture. Swap out fruit with fresher varieties and use your existing pieces in your fall baking. Nothing says fall like an apple pie or cobbler fresh out of the oven!
5. Create a stove top potpourri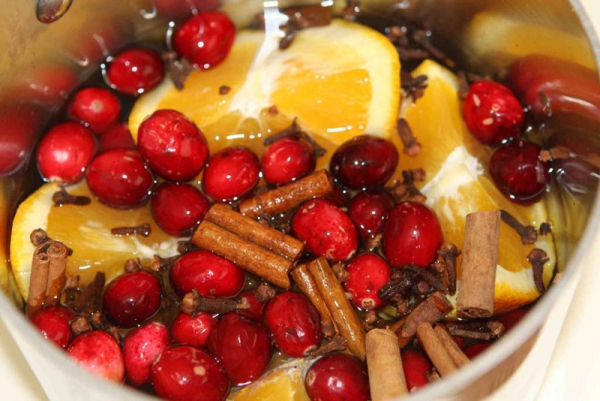 Image credit: Better Decorating Bible
With these fruits create your own stove-top potpourri. In a large pan, the bigger the better, filled with water, add large pieces of your favorite fall fruits. Use apples and pears that may have become overly ripe. Add a drop or two of vanilla, some cloves, cinnamon sticks, star of anise – anything you wish. Bring the water to a roaring boil and then reduce the heat to a simmer.
This will not only make your home smell like fall (with none of the calories of the apple pie or cobbler!) but the steam from the pot will add moisture back into the dry air caused by the heat.
6. Dim the lights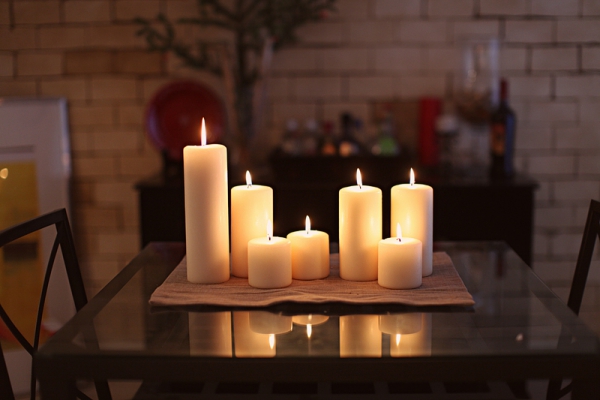 Image credit: Pinterest
While this may sound a bit crazy given that the days are getting shorter and darkness is falling earlier, but candles add a perfect touch to fall décor. As the days get cooler and we want to curl up with blankets, good books and warm cups of tea, a candle-lit room creates a perfect fall ambiance.
7. Switch out your pillows and other accessories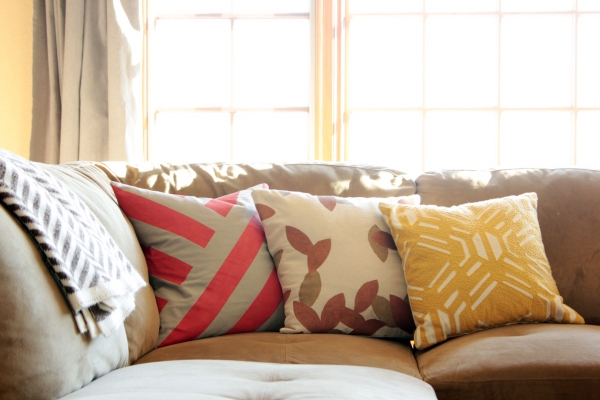 Image credit: Our humble adobe
Remove pillows and other accessories that have a summerlike feel to them.  Swap them out for those that are richer in color and texture. Use warm colors like oranges, browns, beiges, greys and deep blues. Bring out the throw blankets, a cashmere throw or a faux fur, adds incredible warmth and texture. You will be amazed at how something as simple as replacing pillows can change up your space.
8. Layer your home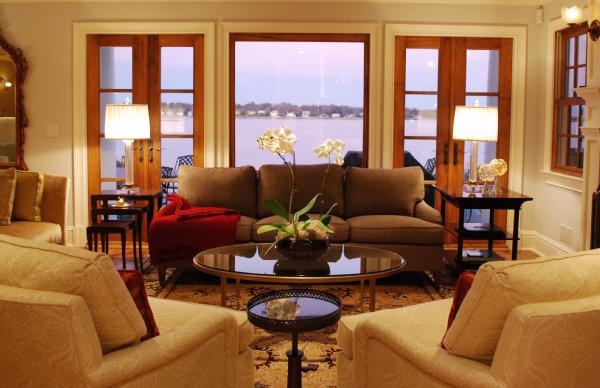 Image credit: Teresa Meyer Interiors
Much as we layer our wardrobes, you can layer your home. Use differing but complementary colors, patterns and textures to add instant warmth and flair to your home. This can be done with varying pillows and blankets. Area rugs can be layered as well. Try pairing a cowhide or zebra print with a sisal or Oriental rug for additional dimension and texture. You'll love how this feels underfoot if your home has hardwood floors.
9. Pumpkins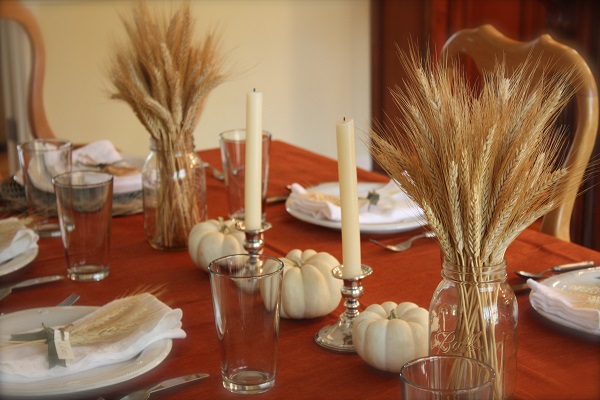 Image credit: Madaket Home
Another family activity to help transition your home from summer to fall. When picking your pumpkins keep in mind your front entryway, indoors, outdoors – or both. Small to medium sized pumpkins can help to create a magnificent and organic tablescape when combined with flowers and other natural elements.
Mini pumpkins can make lovely place card holders and, when carved out, lovely votives for little white tea lights. A hallowed out pumpkin fitted with a glass bowl is a perfect vehicle for punch served at a party or alone, as a replacement soup terrine. Do save a few pumpkins for carving! And pumpkins don't all have to be orange. Vary it up with white, red and or green varieties.
10. Spray paint!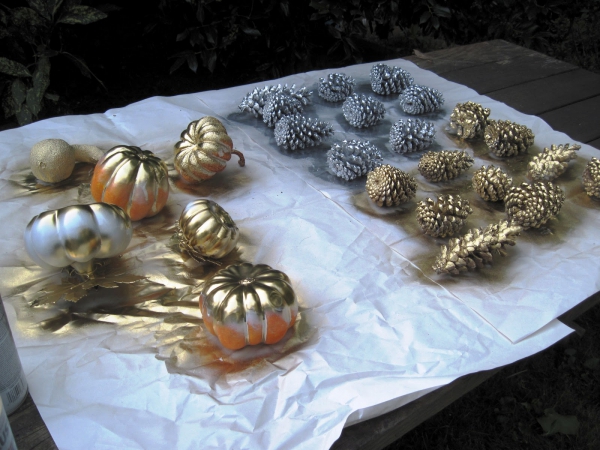 Image credit: Jigsaws and Ginger
Break out the cans of spray paint – the perfect accompaniment to all your fall and holiday décor! This is perfect for the crafty girl who wants a little bit of elegance in her life. Spray paint the branches and twigs you've brought indoors. Pine cones look so elegant when dressed in silver and gold. And don't forget to spray paint your pumpkins for a really glamorous touch.
We hope you like and have become inspired by some of these suggestions and we'd love to hear of any ideas of your own that you would like to share with us!