If you executed a home renovation project, you've likely underestimated the power of well-designed outdoor living spaces and dedicated the majority of your home makeover budget to throw blankets, area rugs, and new-and-improved bathroom fixtures. All too easily, backyards can become cluttered with rusty trampolines, abandoned swing-sets, overgrown garden boxes, and patches of wilting grass.
Fortunately, with a little elbow grease and a few Saturdays on your calendar, you can easily makeover your backyard and transform these backyard spaces into the relaxing oasis you've always desired. If you invest in your backyard now, you can proactively boost your home's resale value in preparation for the bigger-and-better property on the horizon.
For those homeowners not convinced these outdoor home improvement projects are worth the blood, sweat, and tears involved, take a moment to imagine what an outdoor kitchen, built-in pool, or multi-level deck can do for your social life. With a few trips to your local home improvement store (and the helping hand of some tried-and-true power tools), your outdoor living spaces will be the hottest spot in town.
Besides keeping your neighbors entertained and well-fed (thanks to your state-of-the-art barbeque and award-winning grilled hotdogs), channeling a 5-star resort in your backyard's design can yield various health benefits for those homeowners looking to spend more quality time outdoors. With these perks in mind, handpicking one-of-a-kind statement pieces for your outdoor living spaces and investing in custom features will make a world of difference.
Insider tip: If you treat backyard renovations with the same level of care, you'll witness your formerly drab outdoor living areas transforming into spa-like resorts before your very eyes.
Splurge on a High-Quality Grass Seed
With the right attention to detail, a luxury area rug can tie together even the most disjointed living spaces. That said, think of your lawn as the high-quality carpet of your backyard. As such, it's crucial to seed your yard with high-quality grass seed.
Not only will superior seed quality prevent grass from becoming patchy, but these virtually indestructible seed varieties will block havoc-wreaking weeds from sprouting during the growing process, giving your lawn a luxurious feel all season long.
Besides serving more practical weed-fighting purposes, a vibrant and healthy green lawn is also aesthetically pleasing. According to real estate experts, a flourishing front yard will increase your home value should you decide to sell. If you end up staying in your home longer, you'll be able to watch your kids burn off steam on your front lawn for years to come.
Incorporate Outdoor Furniture
Before you begin decorating your outdoor oasis, you'll want to calculate how much space you have to work with in your design plans. Once that step is complete, you can begin designing your luxury backyard space.
Once the home goods shopping sprees commence, it's paramount to start with seating, as an outdoor living space is only useful as the wobbliest lawn chair on the premises. Afterward, you can fast forward to the fun part and peruse shelves chalked full of outdoor furniture and accessories. During this phase of your outdoor renovation project, avoid piling every eye-catching lantern and weather-resistant throw pillow into your shopping cart. Instead, create a home-renovation road map to ensure the furniture pieces and decor complement one another.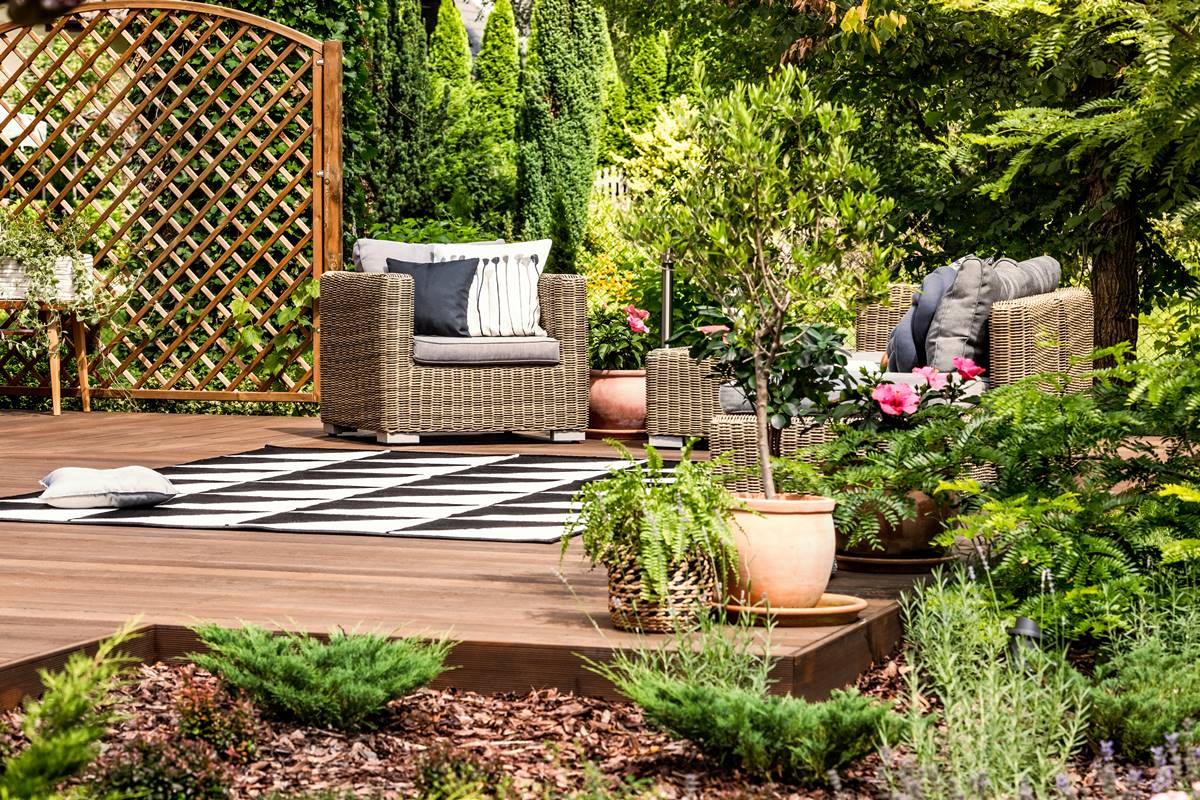 An outdoor design trend taking the interior design sector by storm is outdoor-friendly large bulb string lights. These bulbs are popular for many reasons but mainly for being inexpensive, easy to install, and for giving your backyard a classy yet rustic feel. String lights also introduce an overhead element to your space, drawing the eyes upward.
For those interior designers in-the-making, visual interest in your living spaces is a top priority. Remember, your houseguests' eyes should dance from the outdoor kitchen area to the romantic jacuzzi setup to the rain-resistant area rug taking center stage.
Incorporating an outdoor fire pit into your backyard renovation plan is a surefire way to please your friends and family. With this addition, you will be able to gather around and spend quality time with loved ones, even if the temperatures dip below freezing.
Fire pits can be sleek and modern or have a more rustic feel depending on the look you are trying to achieve. Regardless of your end result design-wise, a fire pit will become the instant hit among your backyard barbeque attendees.
Highlight a Water Feature
In addition to seating, tables, and your fire pit, a water feature could be the final quintessential piece that takes your backyard oasis to the next level. These water features come in all kinds of shapes and sizes. That said, no matter the dimensions of your backyard, you'll be able to find something that meets your needs. Water features instill a sense of peace and tranquility and bring a sense of calm to your outdoor living space.
Consider Investing in a Swimming Pool
A definite way to achieve luxury reminiscent of a beachfront resort in your backyard is to consider investing in a below-ground swimming pool. Though pools can involve quite a lengthy list of expenses, if constructing an in-ground pool lies within your means and is compatible with the climate where you live, this backyard addition could be the cherry on top of your already elegant outdoor spaces. If the budget allows, lining the area with poolside chaise lounge chairs and large canvas umbrellas will help you attain a convincing resort feel.
Should you choose to neglect your outdoor living spaces, you'll likely pay the price when it comes time to recruit prospective buyers. If relaxation and high resale value clear the top of your priority list, trying your hand at exterior design will help you unwind from a long day's work and attract buyers ready to place an offer simultaneously.