It's a shame when the sun sets and night puts your outdoor spaces to sleep. What's better than being able to continue enjoying all the work you've put into your landscaping, even after nightfall?
Installing outdoor lighting can sound daunting, but with a little preparation and research, you can make this task a simple, easy affair. Whether you're looking to enhance the curb appeal of your property, warm your home and give it a touch of cozy ambience, or just to give yourself a reason to stay out a little later, outdoor lighting provides both decorative and functional applications that are more than ready to fulfill your needs.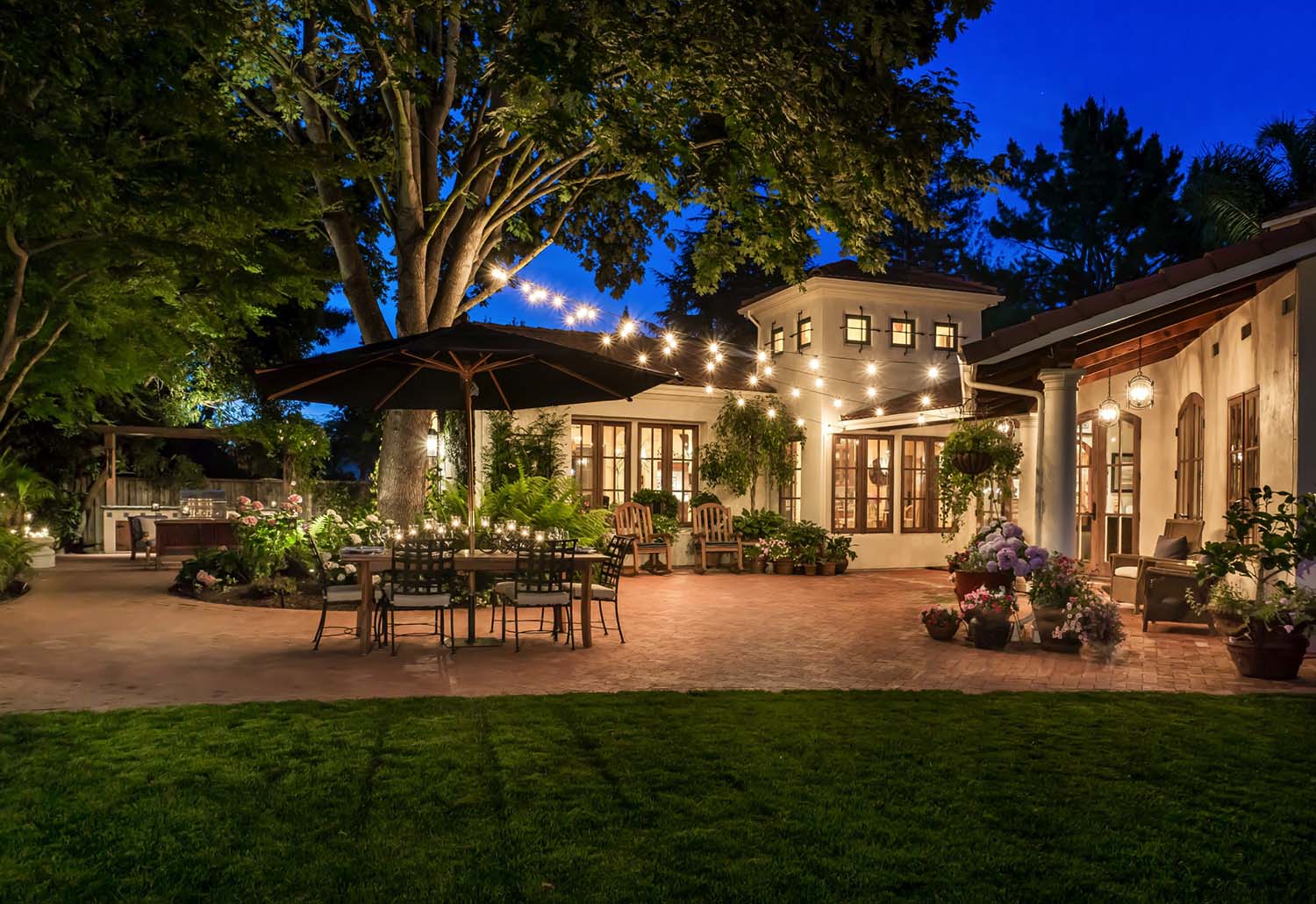 Design by Casa Smith Designs
A wide variety of outdoor lighting options exist on the market, and your style and aesthetic will help narrow down your best choices. The most popular styles of outdoor lighting are hands-off, low-maintenance solar-powered lighting for quick and convenient additions to your home and low-voltage landscape lights, intended to bloom alongside your flowers and foliage with a soft, welcoming glow.
What to consider before you start the outdoor lighting installation
We've turned to Electrical Detectives for professional advice on what are the first things to consider before you go out and get started with your lighting project:
Measure twice, cut once, and devise a proper plan. Draw out your lawn or garden space or utilize a landscape design program to get a big-picture view of your available space. Remember to mark out every feature: trees, hedges, benches, etc., while also taking note of elevation changes. Don't forget gazebos and pergolas; they can benefit just as much from properly planned lighting as your plants and home.
Now decide how much light you want and in what style. Do you want to bring attention to landscaping and/or architectural features, create a comfortable lighting for seating and entertainment spaces, or illuminate driveway and walkways for ease of use? Don't forget the pool if you have one, above or underground! Decide how many lights and of what particular style you need to accomplish the affects you want.
Go to a local garden center or DIY home improvement stores for advice and research, and check out more options online until you find features that fit the style of your home. Add them to your plan and keep moving everything around until you've found the best possible set-up.
Many lighting fixtures will require wiring, and this is going to be the most hands-on part of the whole project that might demand the skills of an electrician. Don't hesitate to turn to the professionals for help.
Some installations may need a permit and you might be getting near underground utilities, so check with your local government to see what your area's regulations are.
How to install low-voltage landscape lights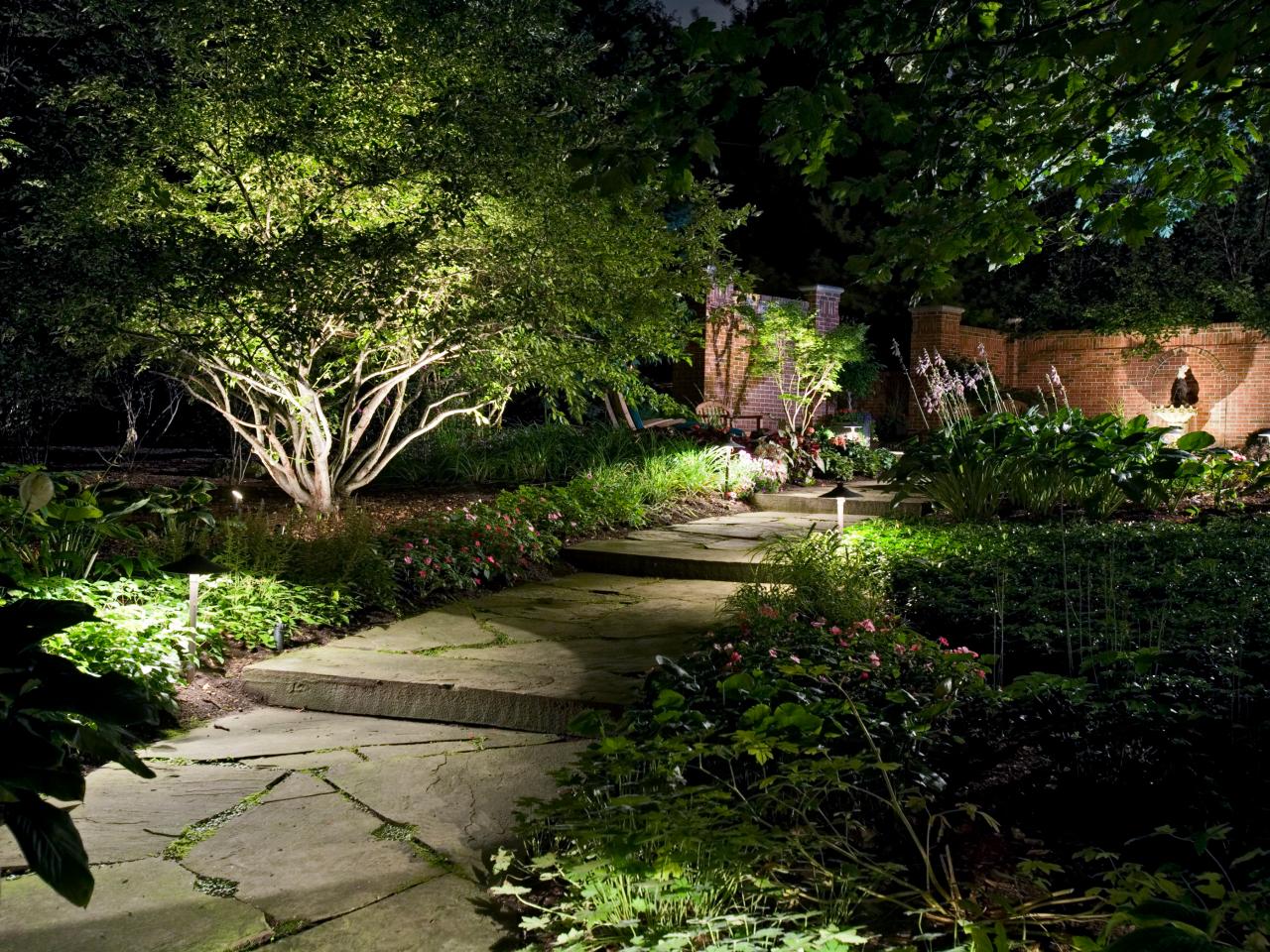 Design by Robert Hursthouse via HGTV
When you're ready to go and looking to lay lines for yourself, pick up your plan. Start by locating the most accessible exterior ground fault circuit interrupter (GFCI) outlet. Lay out lines across your yard with chalk or even lay the lines directly, without plugging anything in yet. This will let you visualize the layout and make last minute changes.
If you're going to be running the line along a deck or similar wooden construction, you can staple the cable into place as long as you take care not to pierce the line with one of the staples. Leave yourself about a foot of give on either end of the cable so you have enough leeway for installation and the plug itself.
Follow the given instructions for preparing and connecting the fixtures themselves, making sure that nothing is plugged in yet. You'll still want to give yourself extra leeway in the cable for installation, so plan accordingly. Protect the connections and end the cable with a light fixture.
Proper outdoor quality cabling can be left above-ground, but if you're running out to different parts of your landscaping, you'll likely want to bury the line. Double-check your setup to make sure you still have enough give to run all the lights as well as enough space to run down the original plan and still be able to bury it.
If you're looking to bury the lines, simply dig a small trench and lay the cable, mount the fixtures where you desire, and enjoy your newly installed outdoor lighting. A step-by-step guide you can find on BHG.
How to install solar lighting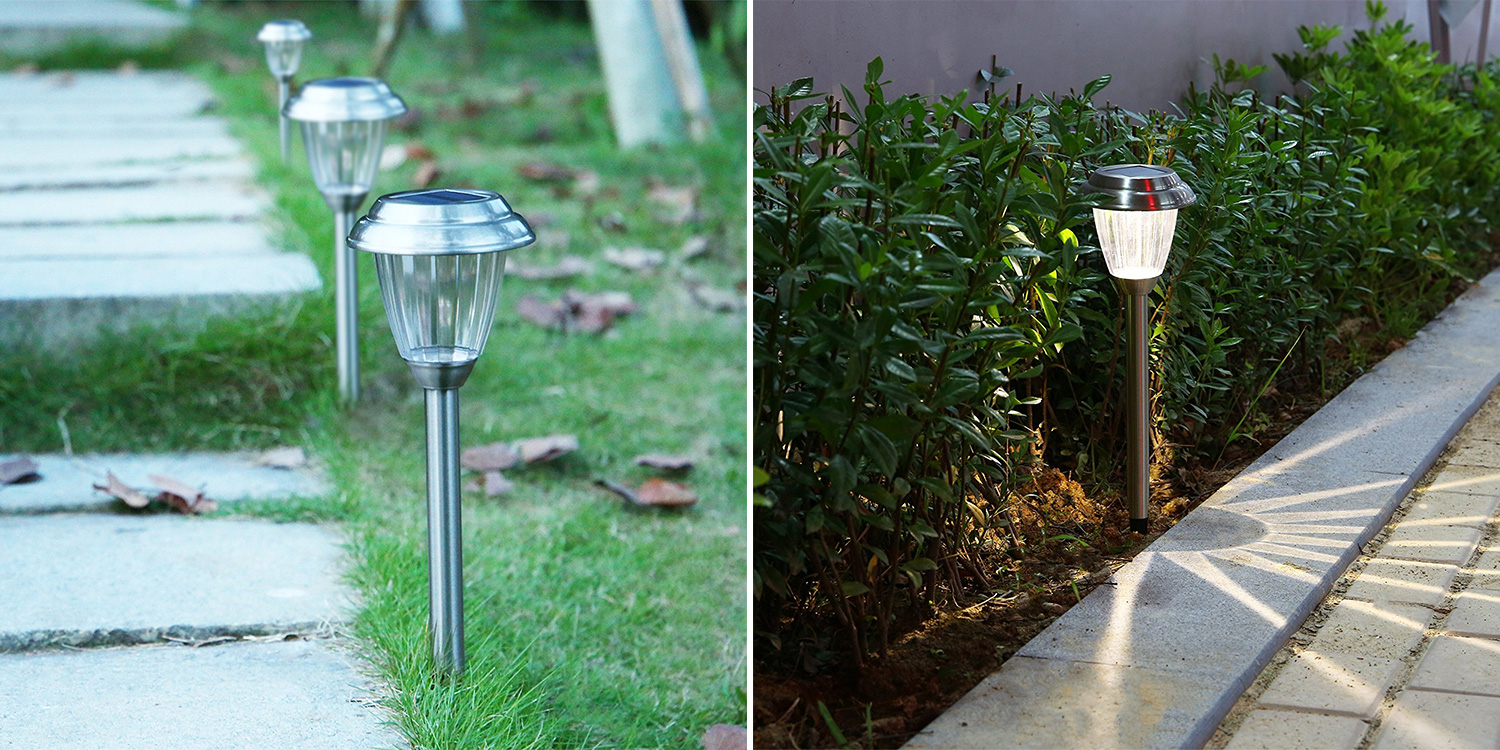 Solar lights via Amazon
Solar lightings are going to be easier to install simply because most solar-powered fixtures are self-contained. The panel is typically found mounted on the top and should be aimed in a direction that will garner about eight hours' worth of exposure to the sun. Remote panel options are available as well, allowing you to mount the panel in a sunny space while your fixture brings its light to the shadows.
Placement of these panels will be vitally important and if one or two fixtures don't get as much sun as the others, you'll very clearly be able to tell when night falls. Because you aren't restricted by wiring, you can experiment with placement and find what works best for your particular situation.
The most difficult part will be ensuring that each fixture is mounted straight. This task is simplified by using a plumb line (available from most garden or home improvement stores).
Solar lighting doesn't require timers or switches, it is energy-efficient, and can be found in as many varieties as traditional low-voltage lighting: spotlights for focal points, lanterns, pathway illumination, and even floating pool lights. One thing to keep in mind when choosing your fixtures is going to be light output. Many solar options feature LEDs, and the more LEDs each individual piece has, the brighter the illumination itself will be. Color temperature will also be a consideration, as most LEDs will cast a bluer, clearer color than traditional lighting.
Outdoor lighting is one of the best ways to enrich your outdoor lifestyle and give your home the attention it deserves. Backyard barbecues need not retreat to the kitchen when the sun sets and visitors won't risk stumbling or inching their way down poorly lit paths. Light is a simple, elemental thing that can have a huge impact and help you reclaim the night once again.