Although the ideal time to get your garden ready for the summer is late Spring, if you're anything like us, you probably haven't done it yet. Next thing you know, it will be September and your outdoor space has been completely underutilized. Well, to avoid this horrible fate, we have a few quick fixes, that will have your outdoor space ready in no time.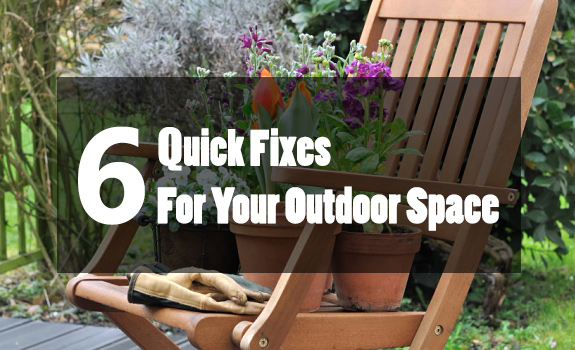 1. Remove all debris
If there is any left over leaves sitting around in your backyard or garden, it's time to clean it out. Grab some lawn and refuse bags, and let's clean up the space before we make it pretty.
2. Lawn maintenance
Time to trim those bushes and mow the lawn. You can use some handy tools (see promotions on Amazon) to make sure it's nice and neat, and to get to those tricky spots.
3. Furniture
We must have somewhere for our wonderful guests to sit. This is where your design comes in. What type of look are you going for? What's most important, comfort or style? Outdoor furniture comes in many different materials, including metal, rattan, and wood. You can also pick and choose different pieces and materials to add a unique flavor to your outdoor area.
5. Garden lighting
Lighting adds a special touch to outdoor spaces and they come in many shapes and sizes. You can get solar lights: earth-friendly and lovely. Multi-colored string lights for a fun and playful touch, or stick lights for a modern feel. If you have a deck, deck lights are a wonderful addition. You can even get creative and get lights that look like rocks.
5. BBQ
A grill is a fantastic addition to the outside space. Gas grills, electric grills, and kettle grills, are a few of the options available to you. If your space is small or if you want to save money, a small indoor/outdoor electric grill is a perfect choice.
6. Polishing touches
Now is the time for your finishing touches. Outside decor and flowers are two wonderful ideas.