When we think of homes by the ocean, wooden, brightly colored beach houses immediately come to mind. But set upon the rocky shores is a unique house designed by Ukrainian architect Igor Sirotov. It is unlike any you have ever seen.
The modern house, known as the "Chair House" is made almost entirely of concrete and is a sight to behold.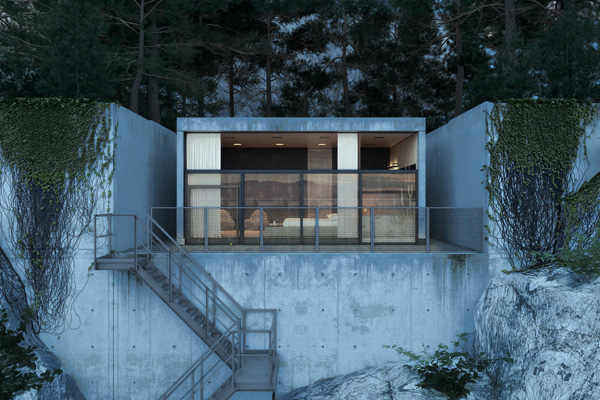 The smooth exterior concrete walls are made to contrast with the rough rugged landscape. The large full length windows of the bedroom on the upper level of the house allow sweeping views of the ocean below.  Smaller skylights accent the darker spaces of the living room letting light to filter through.
The living room of this unique house is accessed on the outside from a descending staircase. The natural palette of exposed concrete, natural wood floors, and dark stone panels, complement the background outside nicely.
The comfortable and welcoming furnishings are a stark contrast to the harsh landscape. The light fixtures are slim slivers that seem to imitate the natural sunlight that filters through the space. These lights highlight and wash the dark stone walls making the home feel cozy and intimate. In contrast the light wood cabinets and furnishings of the kitchen play nicely off the dark colored stone walls.
Igor Sirotov describes his work as such: "My architecture is my world. It is simple, strong and extremely gentle. It joins simplicity of form to complexity of space. Above all, it conveys a clear image of life proposed by the simple form. The condition of lacking something which should be present stimulates the human spirit. My architecture, resolved to discard and unafraid of absence, is both the aesthetics of absence and an appeal that Love is a function of absence."
We think this modern concrete house is a perfect example of his philosophy of design.