Few things come close to the versatility of the humble mason jar. From display to storage, decoration to inspiration, this molded glass jar holds infinite possibilities, many of which find place in and around your décor.
No longer content with being stacked away on your kitchen shelf, mason jars have broken free of clichés to claim their place on your front room coffee table, thanks to the nifty DIY ideas doing the rounds of the internet these days. And with good reason- just a little effort and you can arrive at some visually delectable additions to your home interiors.
Here are ten such ingenious ideas that help you transform your jar and décor with a few quick moves.
1. Decorating Mason Jars with Glitter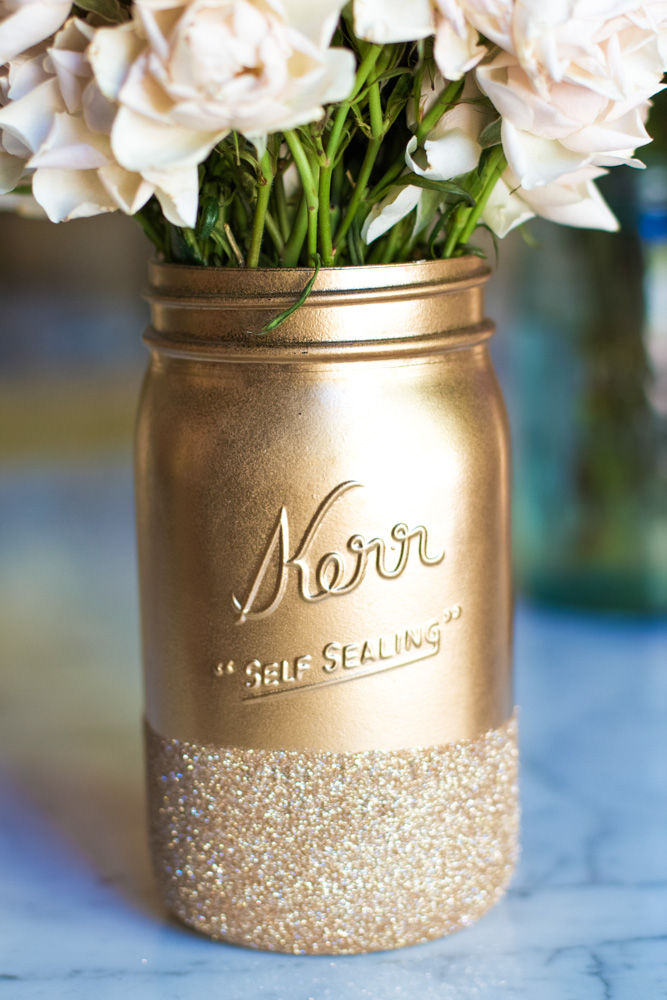 Image credit: Lilyshop
Every home can use that little bit of extra sparkle, but bringing glitter into your décor without treading into 'tacky' is an art. Which is why we so love this nifty idea from Lilyshop; these glitter decorated mason jars make for smashing containers that can hold fresh flowers from the garden or flameless votives in utter style. Perfect for the most formal of affairs, these are sure to look charming in your living rooms, receptions, home offices and even the bedroom, bringing a delicate feminine grace to the scheme.
To jazz up your home with these glitter coated jars, spray paint a mason jar in a metallic color of your choice. The picture shows gold, but it works just as well for other colors. Next, layer on some glossy mod podge and pile on the glitter, working one section at a time to ensure consistency and a clean finish. You can read the full instructions here.
2. Decorating Mason Jars with Fabric
If you want to go quaint or all out retro with your mason jar decorations, there is no better medium than fabric for you. Dressing your mason jars with your choice of fabric can help you transform even the most mundane storage shelf into a riot of color, theme and ideas. What's even better is that you can recycle unused or leftover fabric, making this an extremely cost-effective move to spruce up your home.
A few bright colors and playful patterns and your fabric covered jars are ready to adorn the children's bedroom, playroom or even your own craft corner. But don't be fooled, this simple idea can be adapted to create some equally stylish containers that will not look out of place in your living room or home office.
Decorating mason jars with fabric is deceptively simple- just wrap your jar in a fabric of your choice, using mod-podge to hold it in place. Tuck the end over the rim and use felt strips to tidy up and finish up around the rim of the jar. Find out more here.
3. Decorating Mason Jars with Burlap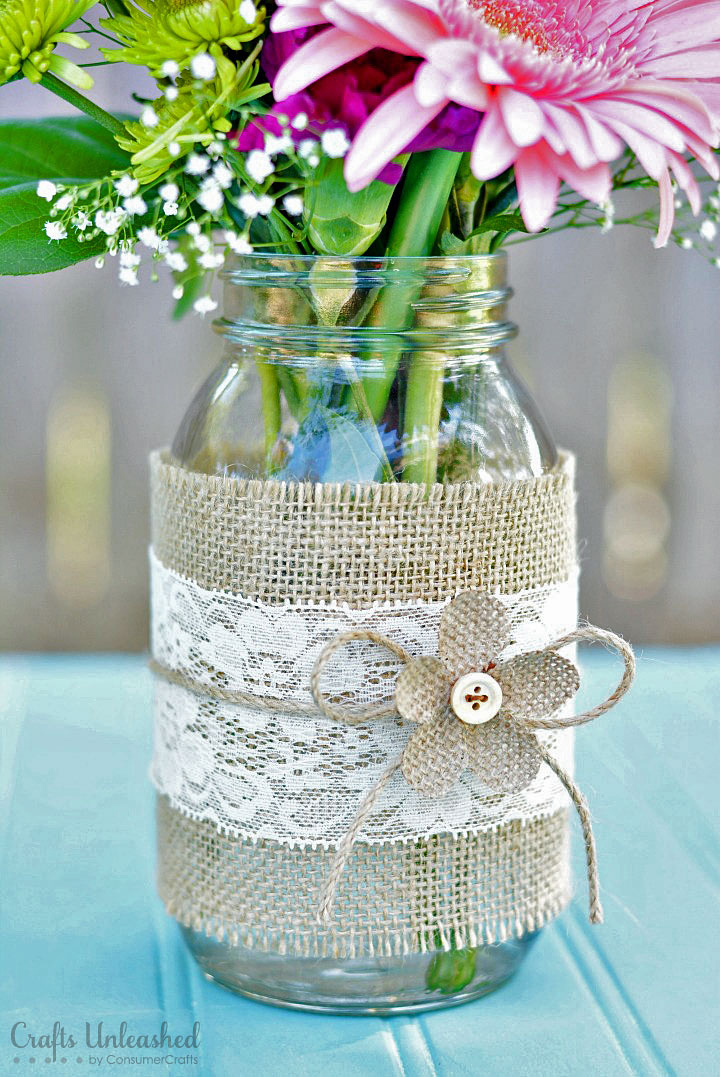 Image credit: Consumer Crafts
If you are looking for novel ways to enhance the rustic vibes of your home, then mason jars dressed in burlap may just do the trick! What's more, these can be used just as easily to bring a touch of vintage ideas or add a little romance to your décor. Whether you inhabit a cozy countryside cottage or a swanky urban pad, burlap and mason jars are match your interiors are sure to warm up to. Given their delicate grace and charming textures, we particularly recommend these as centerpieces for your living room, study and office; they work just as well in the background too and can be introduced as decorative accents or a vase and used to fill up empty spots around the home.
You will need a 5 inch by 12 inch section of burlap to whip up these beauties, using hot glue to hold the material in place. Accessorize and finish your designs with lace trim ribbon and jute cord as shown here.
4. Decorating Mason Jars with Ribbon
It doesn't get easier than this- a simple piece of ribbon, a few tidy knots and voila! You have yourself a stunner of a mason jar decoration. Whether you go hunting for the perfect piece and pattern or just turn to leftover sections lying around the house, ribbons have a charming way of bringing elegance and feminine beauty to a design. Choose one in delicate designs and sections to create intricate impressions or pick a brightly colored pattern to add a dash of playfulness. Even your choice of material can go a long way to determining the final outcome and its aesthetic; lace, sateen, fabric, paper and burlap- each bring their own touch to your design and décor.
You don't really need a tutorial for this option; just allow your imagination to run free and guide you. A quick tip before you get started though- experiment with how your knot and tie your ribbon as well as where you place it along the height of the jar to unleash a host of creative possibilities.
6. Decorating Mason Jars for Drinking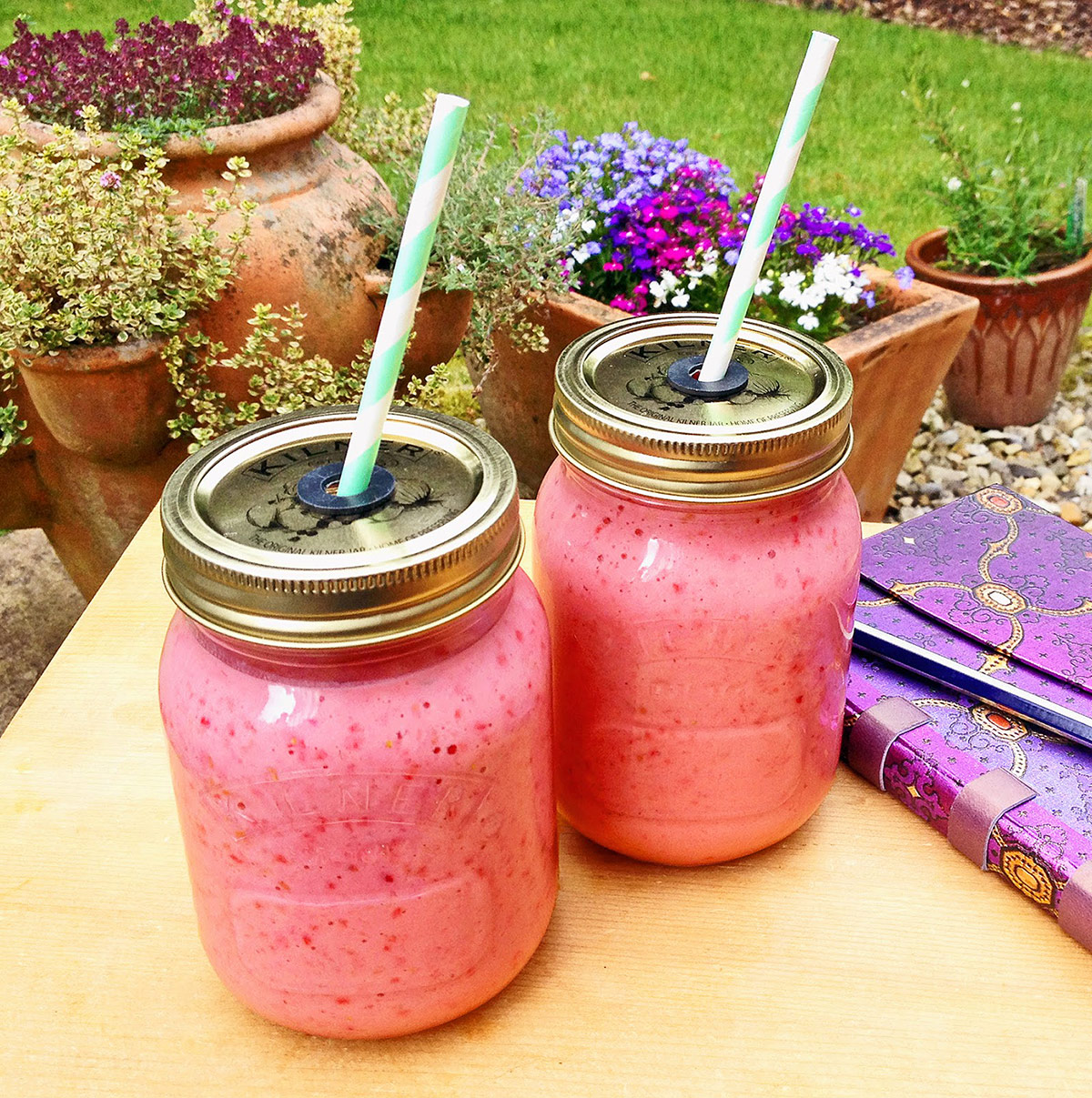 Image credit: The Crispy Crouton
A number of restaurants have turned to mason jars to serve up their coolest beverages in style. Bring this retro charm to your dining and lounging experience with your very own decorative drinking jars. These work a treat at special occasions such as birthdays and weddings, but are just as great at sprucing up your mood and experience on a lazy afternoon.
My favorite part of using these jars is how they show off the drink and its vivid colors and textures; with these there is little need for added presentation- every often your drink in itself is enough! But more than looking pretty, these can also have high utility value such as when converted into spill proof drinking cups for children- an idea you can explore here. Alternatively you can add a dispenser to serve your punch or lemonade with panache.
7. Decorating Mason Jars for Baby Showers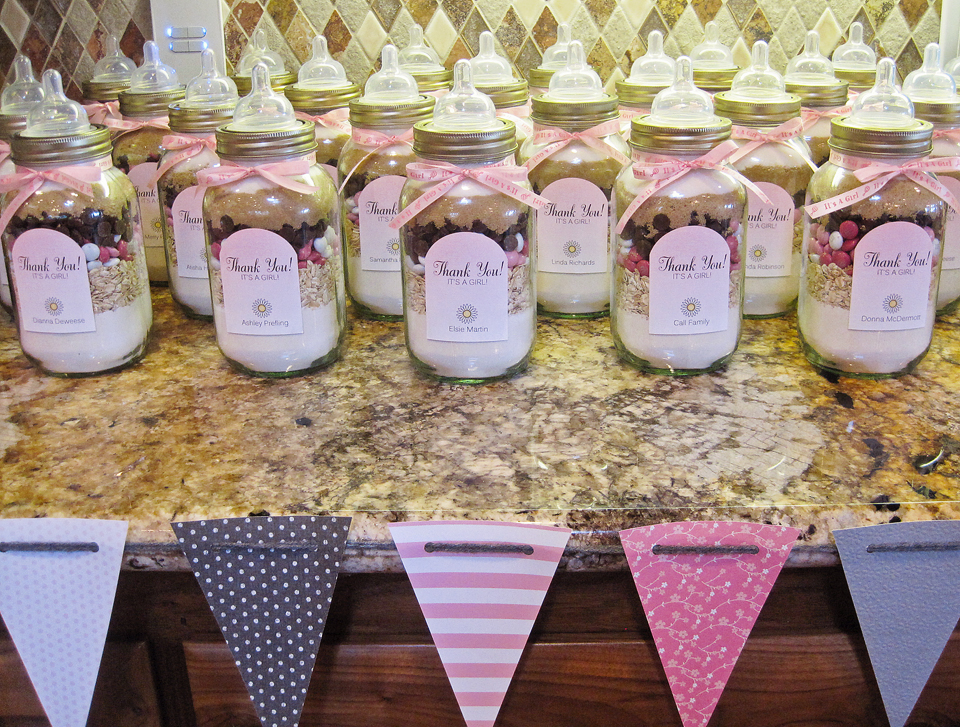 Image credit: Seriously Daisies
When I say that mason jars can find a place in every corner of your home and life, I mean that quite literally- including helping you welcome new life into this world. From invitations to favors, decorations to 'milk and cookies' cocktail glasses, you can create a spectacularly themed affair with just a few DIY ideas. The simplicity of their profile and design makes them easy to adapt to a variety of needs and uses, as well as makes for some quaint options that ooze style and innocence.
Here is a fabulous idea when creating party favors for a baby shower- fill the mason jar with an assortment of candy. Layer the candy to create a more dramatic statement, alternating between various textures and varieties to add interest and ensure the candy is packed in tightly. You could just as easily create take away jello jars or actually set your favorite dessert recipe in these. Finish off by fixing a nipple to the top of the lip and screwing on tightly, and knotting a ribbon delicately around it.
8. Decorating Mason Jars for Christmas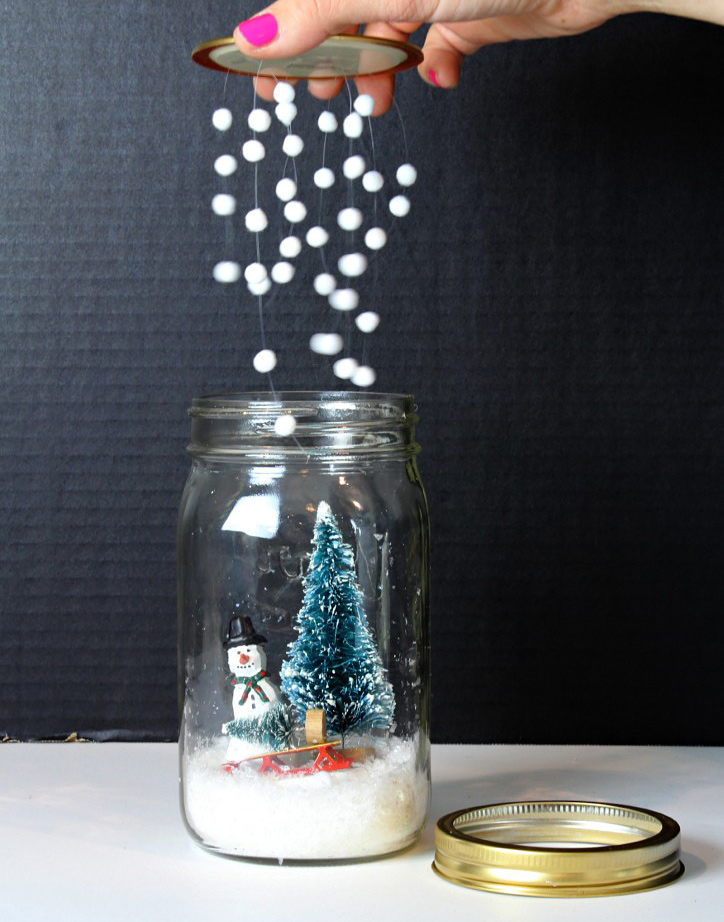 Image credit: Classy Clutter
Tired of the same old décor at Christmas? Mason jars are here to rescue you from the boring and the predictable, making for some highly rewarding DIY time along the way- all without burning a hole in your pocket! Given how versatile mason jars are in their use, you could practically replace everything in your Christmas decoration box with a bunch of mason jars- transforming these into gorgeous lamps and lanterns, aromatic and highly seasonal candle holders and even a perky collection jar, overflowing with good cheer and holiday spirit.
But our personal favorite, when it comes to mason jar Christmas decorations, is this fabulously inventive idea for a DIY snow globe– what could be more festive?! Just hit your local craft store and stock up on fake snow, small figurines (the more festive the better!) and little embellishments such as the small white balls used in the Christmas mason jar design from the image above (full instructions how to make it are available here). Essentially, you need to hot glue your figurines and mini-trees onto a surface (such as a mailing tube cap) and affix it to the bottom of the mason jar, piling on the fake snow till they are knee deep in it. You will need to add any backdrops or additional embellishments first- a step by step guide is available at the link mentioned.
9. Decorating Mason Jars for Weddings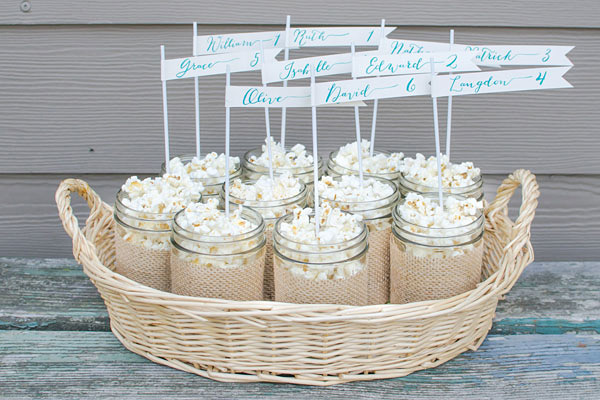 Image credit: Bridal Guide
There is always far too much to do, far too much to plan and just far too much to pay for at weddings. So let's make yours a little simpler with mason jar solutions that are not only guaranteed to save you more than just a few bucks, but are sure to bring some vintage charm to your style quotient. From aisle décor to some rather quaint wedding invitations, table centerpieces to dancing lights- there is next to nothing the humble mason jar can't take on, putting its own spin on stuff and taking your wedding experience a couple of notches up.
To really make the most of mason jar decorations at your wedding, think out of the box! Here to inspire you is this fabulous idea for treat jar escort cards that combine escort cards, munchies and a handy container (to take leftovers home) into a stunning possibility. Read the full recipe for this delightful idea here.
10. Decorating Mason Jars for Easter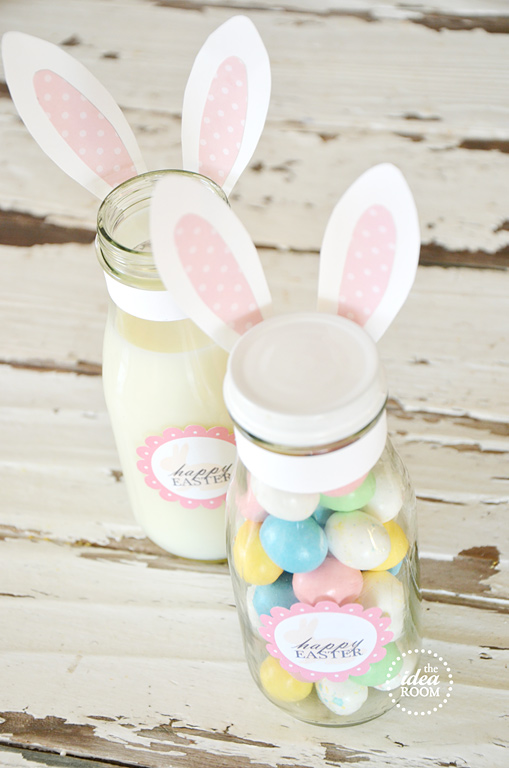 Image credit: the Idea Room
With Christmas covered, why ignore Easter- your mason jars can add a few final strokes to the perfect Easter party.
Rendered in pastel shades that bounce with the spirit and colors of spring, mason jars become a great accessory for both- indoor and outdoor décor, as well as add to the charm of pretty much every activity at hand. You can fashion mason jars into handy spill proof drinking cups, party favors, centerpieces, table décor and even quaint outdoor lamps.
Start by adding a pair of bunny years and making these gorgeous Easter gift jars. These are made using leftover Frappuccino bottles, but mason jars work just as well if not better.
In conclusion, mason jars are a wonderful addition to your decor and special occasions- in any form and format. We are sure you are brimming with ideas of your own having browsed through the ten listed above, working out your own ways to adapt this simple yet stunning design into an utterly personal statement of inspiration, ideas and style.
Ready?! It's time to get down to some fun and fabulous DIY.