Imagine an apartment that incorporates mid-century design and modern, contemporary looks. The fuse of the two would look something like Felipe Hess's apartment in San Paulo, Brazil. The apartment is one of the architect's first projects and it is a work of art to say the least.
Hess pieced together alternating textures and functional furniture pieces to create a sophisticated, modern apartment design. It incorporates dark woods, stone textures and white, modern walls and linens.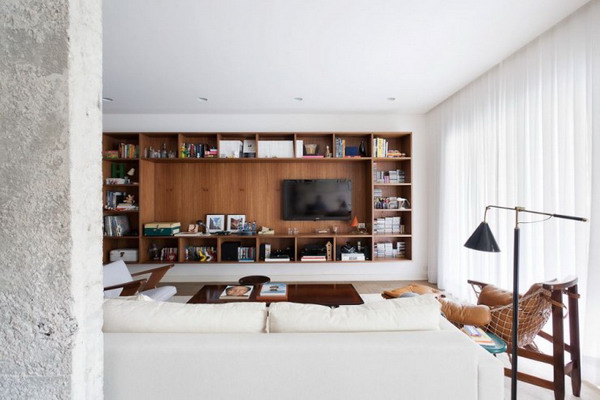 The apartment hosts ample storage space in the giant wood entertainment unit. Organization of all of the books and accessories really give the apartment a shabby chic feel. The living room space is completely fit for lounging around on a rainy day. The books on the coffee table give the apartment a lived in feel.
The apartment design is complete all the way down to the picture frames on the white walls. An overall neutral palette is completed using beige pictures and colored frames. A bright, wild picture would stand out and take away from the overall simplicity of the design. The designer's eclectic attention to details was incorporated in the apartment design; his personal touches can be found in the antique accent pieces on the shelves of the entertainment unit all the way down to the pillow of the lounge chair.
Someone looking for a modern apartment design that is simple, but still livable could take inspiration from this space. Hess keeps with the mid-century touches throughout the apartment – the dark wood is incorporated in a big way in the living room and the trend persists throughout the apartment, seen in the table of the kitchen and the desk of the office.