More than a composition of individual elements, this interior design scheme draws forth – one stroke at a time- across every surface and area in its remit, creating a unified color field stretching across a three dimensional canvas. Yet designers GAS – Grosu Art Studio – do not go overboard with the color spectrum in this bright apartment design, exercising restraint and refined elegance in their choice of palette and resulting renderings. Nicknamed the White Apartment, it uses select rich, earthy tones to add definition and stylish accents to the space.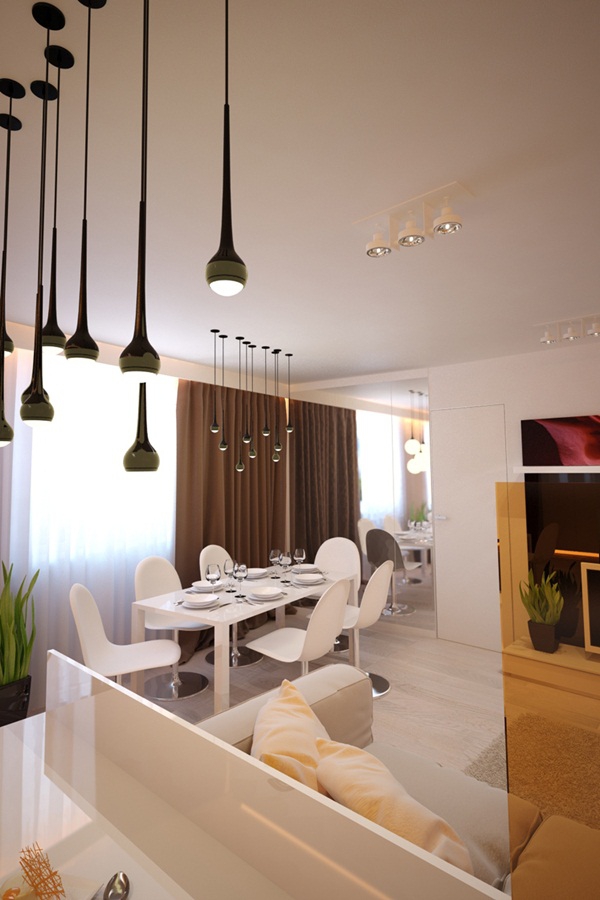 Golden yellow and deep browns in particular are favored through the scheme, bringing the upbeat tones of summer and great outdoors into the heart of this home while exuding an opulent elegance and charm. These are expressed through a carefully coordinated range of surfaces and elements that do not distract from the serenity and elegance of white, yet candidly break its potent monotony. Further, carefully introduced planters bring zest and fresh vibes to the space through vibrant greens bursting with life.
With the color field drawn and set out, this bright apartment design takes things up a few notches through its curated collection of elements. Bringing sculptural pauses that garnish the theme with their individuality and creative triumph these, along with the wall art, reaffirm the artistic quality of the space and its design.