Sometimes, the absence of color in a home can actually lead to a more sophisticated ambience. Such is definitely the case with the Kensington House, a home designed by the London based architects and interior designers SHH. This lovely, elegant space capitalizes on the idea that, when it comes to color and house design, white is practically synonymous with class and chicness. But, don't be mistaken – this 12,000 square foot, 6 story home is much more interesting and fun than its white interior design might suggest.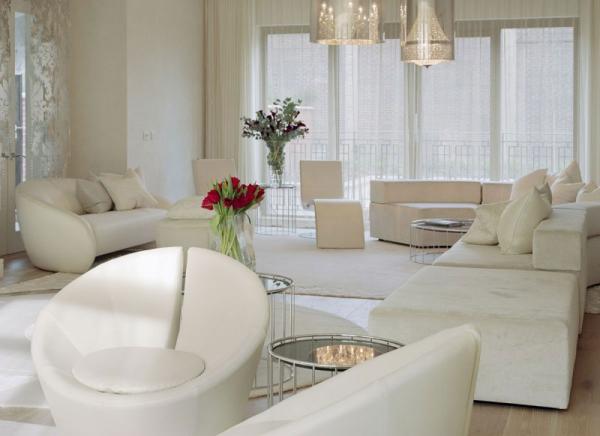 For starters, it's not even enough to remark that this house employs a white color scheme – in fact, virtually every space in the Kensington House is some shade or variation of white. The carpets, bedspreads, walls, and most furniture are all bone-colored. Of course, there are various pops of color in some spaces – plush, pink pillows dot the bed in one room, a colorful flower-patterned rug adorns the carpet of another room.
In addition, while this home is certainly elegant, it isn't stuffy or old-fashioned. On the contrary – with its somewhat funky designs and decor (a big, iron mirror is covered in swirls; glowing white balls on strings hang from the ceiling in lieu of a chandelier in the dining area, spotlights rain down on a 70's era-inspired velvety blue couch), the Kensington House is a lovely mixture of contemporary and vintage design.
Thanks to this truly unique interior design, it's as if each room is brimming with its own special character. None of the rooms are alike – in fact, they are all quite different from another; all have distinctive features and lovely little touches. However different they are, though, all of the rooms function together; they help to create one giant, ultimately pleasing overall aesthetic.
The Kensington House is definitely one-of-a-kind when it comes to architecture and white interior design.