Usually when designing a home, key spaces are separated out; bedrooms, bathrooms, etc. But designer Igor Sirotov has gone against the grain with this really unique interior design. He has taken the small space of the custom designed "House at the Lake" and left it as open as it can be.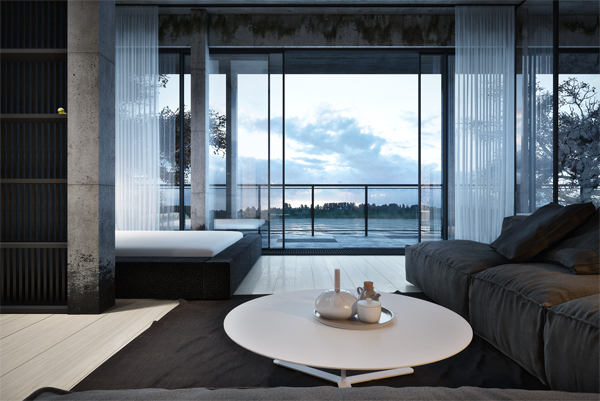 This house is not for the shy of heart. Each space flows into the other; there is hardly a door in sight. The wide exterior windows leave little to the neighbor's imagination and the bathroom is encased in glass! The bedroom has no enclosing walls or doors either. This home design works because of the natural materials the designer has used throughout. Concrete, marble, wood, metal, and textiles come together in one harmonious blend that creates depth and interest with texture instead of color. In fact the only pop of color in this home is Sirotov's signature yellow rubber duck placed somewhere in the house; can you find it?
The designer's talent to use natural materials in an imaginative way really shows in this unique interior design. Perhaps the most significant example is the floor to ceiling black and white marble walls in the bathroom. The stone becomes the artwork here, creating amazing patterns that can only be found in nature. Lighting plays an important role in the home design as well. Modern specialty fixtures are strategically placed to shine light on key areas of the room in order to draw attention to fine details as seen in the bedroom and living area. Though the furnishings and materials are in dark grey tones the light fixtures along with natural sunlight streaming in from the large windows help make the home not feel dark or heavy. Instead Sirotov has created a cozy and comfortable space where the home owner can relax and enjoy life.