Ready to modernize your bathroom? Whether the bathroom is so small it may as well have been an afterthought or it hasn't been updated since the '60s, a cleaner, clearer space can be very relaxing.
You spend a sufficient amount of time in the bathroom every day. Wouldn't you want it to have a welcoming and relaxing ambience? Create a modern sanctuary you love to be in. Here are several ways to do so.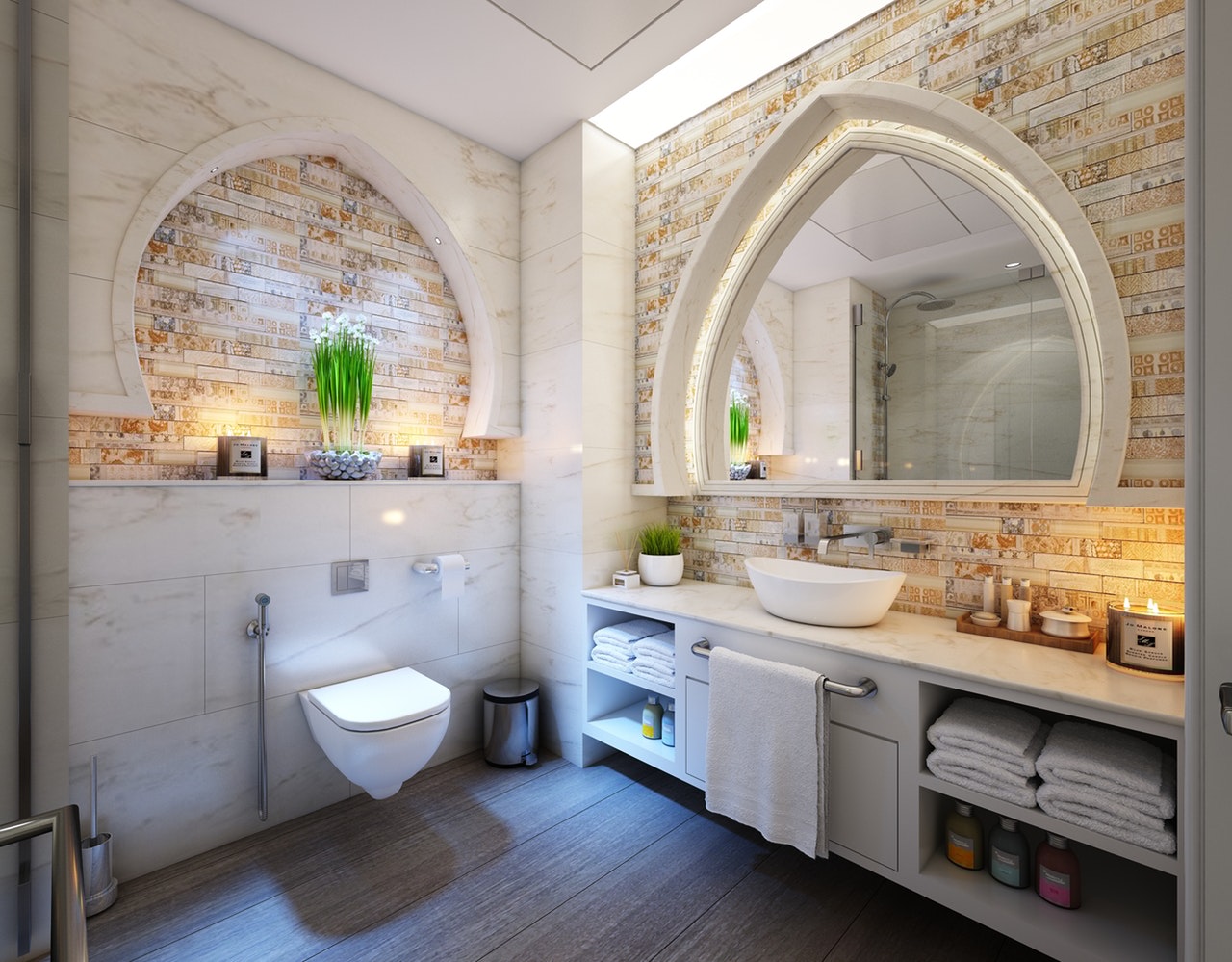 Quickly refresh your bathroom with a new coat of paint. Choose a color that is on the lighter side, especially if you have a small space, to make it look larger. However, bold colors, like red, are becoming increasingly popular.
Color is largely dependent on the theme of your house. You wouldn't want loud fuchsia-colored walls for your bathroom if your home already has a minimalist gray-scale vibe.
Throw away the old, outdated bath mat along with the shower curtain. And the old liner? Recycle it as a drop cloth. A minuscule contemporary piece of furniture or a small minimalist painting can provide your bathroom with a more modern or even avant-garde feel.
Update with rag rugs, mold-resistant wood mats or bath mats made of pebbles. These add texture and interest. And for a shower curtain? Look for something that compliments the style you're drawn to. Cheery patterns or bright geometric shapes can boost your mood and add a modern edge.
The fastest way to modernize? Clear off the counters. Really. Tuck razors, makeup, toothbrushes, toothpaste and pill bottles in the cabinet behind the mirror. All of these items clumped up together can make your bathroom look extremely messy.
You wouldn't want your bathroom looking bare as well. Leave a few specially-chosen items on the counter. This can be a plant, real or fake, an interesting vase or statue, or a unique toothbrush holder. If you have a small bathroom with very limited cabinet space, clear it off entirely.
Bathroom hardware is easy and inexpensive to update. Silver, bronze, gold or painted knobs and handles can be replaced so they all match. Paint a vintage mirror or replace the old one with something unique. Towels, robes, and towel racks can all be updated and be used as part of the decor. As for lighting fixtures, those can probably be spruced up, too.
As you take steps to modernize, remember you don't have to do it all at once. Start small and let it snowball. Be deliberate about your choices and put aside money for the big purchases. Then, tackle one or two of the small choices with every paycheck. Soon, you'll have a modern bathroom you'll want to brag about to everyone.