The bathroom is part of the home and should enjoy the same share of attention as any other room does, when it comes to design, style, furnishing and lighting. This is a particular purpose room, and every item in it is supposed to match this purpose. Lighting should not be an exception. Bathroom lighting is actually as much an important element of the interior design, as any other bathroom piece of furniture or accessory might be, and it has a significant role in creating the final desired look of the room.
This bathroom lighting essentials guide will give you a few valuable tips and inspiring bathroom lighting ideas to implement while designing or renovating your bathroom.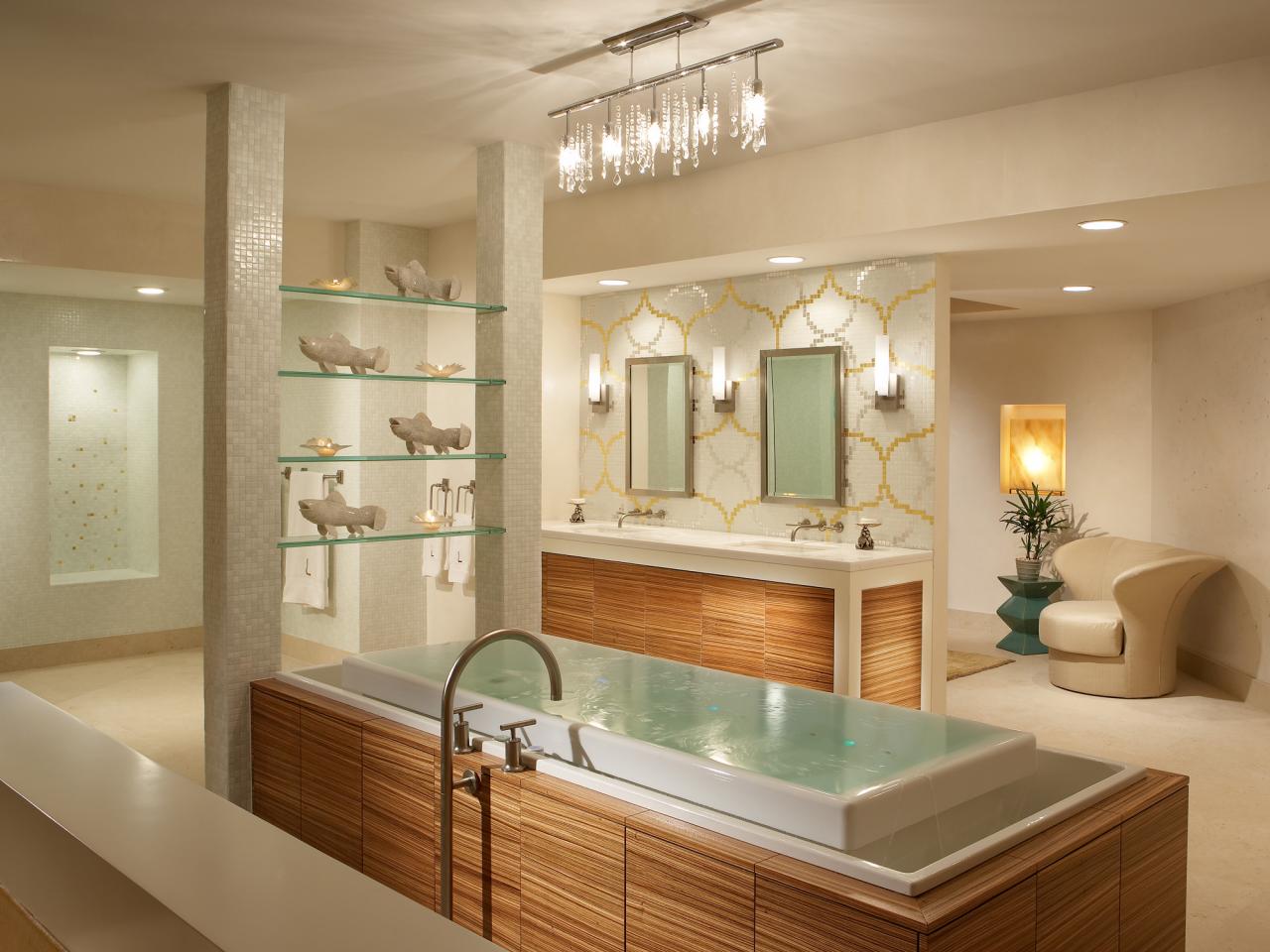 Image credit: Sean McEvoy on HGTV
The bathroom is a multipurpose room and, small or large as it may be, it usually has a few distinguishable areas – a shower, a bath, a vanity, to name the main ones. So, which of these do you wish to illuminate more and which less? Would you like to pay special attention to any of these by featuring its presence and function? Where would you like to have more light and where less?
As you understand, carefully planning your bathroom lighting is an important initial step. Placing a single ceiling light fixture would be far from enough, even for small bathrooms. Instead, spreading and layering light around the room and focusing it onto particular areas and units reveals the designers' secret for creating a practical but also stylish bathroom.
Most lighting is focused onto the main bathroom functional areas – vanity, bathtub and shower, while the rest of the space enjoys a softer ambient light. This creates focal points, builds subtle light layers, and contributes to the overall interior design look and structure.
The area you need at least twice every day for closely 'inspecting' and grooming your head and face needs to be well illuminated.
A common mistake is placing recessed ceiling fixtures directly over the mirror. These will cast shadows rather than light.
To illuminate the vanity area properly, you need evenly distributed light streaming from vertical lighting fixtures or sconces mounted at both sides of the vanity mirror, and ideally at eyes-level. Evenly mounted light sources will provide cross lighting and illuminate sufficiently the entire head and face, eliminating shadows under the chin, eyes, or the cheeks.
A larger wall vanity mirror would not however provide space for installing side lights. Mounting them on the mirror itself is costly and needs special care. Such mirrors may instead be 'framed' by lighting strips along the top and bottom edges. The light from these will reflect from the mirror itself and will sufficiently illuminate both, the vanity, as well as the face in the mirror. Besides, such lighting strips bring some drama and the charm of a Hollywood movie star dressing room.
Contemporary bathroom vanity unit designs offer also the option of directly illuminated bathroom mirrors, such as the LED mirrors from Lumino Mirrors (image below). These create a modern and stylish look and a beautiful focal point at the bathroom vanity area.
Depending on whether or not there is natural light streaming onto the bathroom vanity area, as well as depending on the overall interior design style of the room, the vanity mirror sidelights may be replaced by a single but strong light source mounted over the mirror, or, quite the opposite, by light fixtures and pendants or chandeliers casting more subtle and soft glow light.
Contemporary designs are showing a steady and ever growing in popularity trend of turning the bathroom into a place to relax and recharge. Most attention in this aspect is naturally paid to the bathtub area. Apart from choosing the right bathtub and its accessories, installing the right lighting in this particular area is most important for achieving the desired 'spa' effect.
If anything, relaxing under a strong beam of light is hard to imagine. Therefore, lighting in the bathtub area should rather be soft, matt and somewhat dimmer.
Such lighting can be achieved by ceiling lighting fixtures, such as small recessed lighting trims and reflectors with clear, white or frosted glass lens, arranged in rows or spread like little "stars" on the ceiling.
A more common and modest option is a single ceiling mounted light fixture. The contemporary designers and producers offer however many stylish designs, far from being common, simple or modest.
Jumping from modest to extravagant, the single light fixture can be something spectacular – a chandelier, for example. Depending on the interior design style, this can be a French rococo style crystal chandelier or, quite the opposite, a stunning futuristic design involving subtle low-voltage LED lights. Just make sure to observe the right electric and building codes and regulations on installing ceiling pendants, especially over a bathtub. The unit must be installed at a safe height and distance.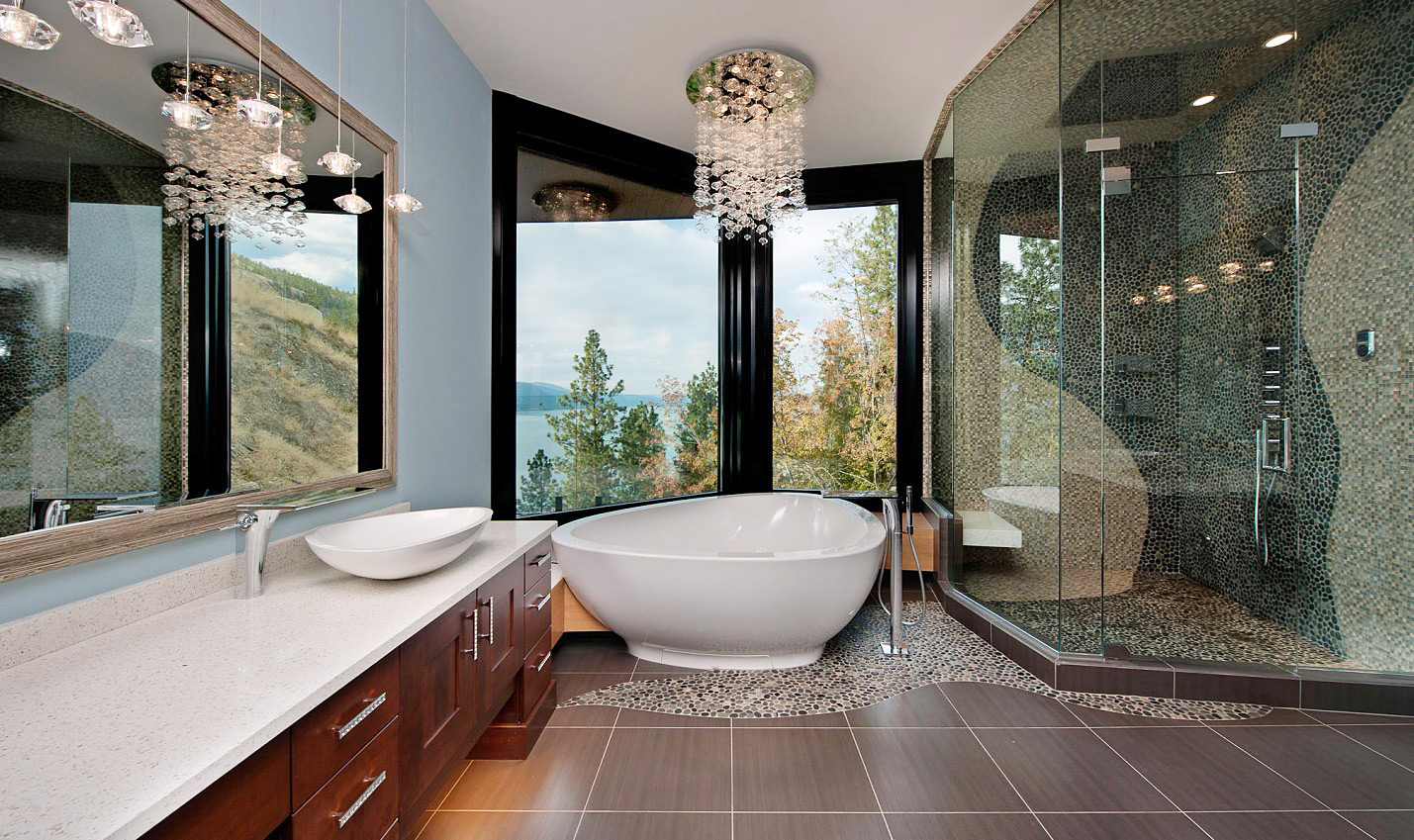 Image credit: Vineyard Developments
Depending on the location of the tub, you may also use wall-mounted shaded lighting fixtures or sconces.
For showing-off extravaganza you may even go for an illuminated bathtub. The soft light glowing from the in-built light fixtures creates the ultimate relaxing ambience.
You can additionally have the light regulated by dimmer switches, to create the desired 'dreamy' effect. Besides, dimmers save energy. A bulb dimmed by just 10 percent will last twice as long as a bulb at full brightness.
 "Who needs lamps and chandeliers when there are candles?!" Indeed! Candles would also be a perfect source of light in the bathtub area. Considering the vast diversity of fragrances, colors and shapes… Candles? Of course!
In size, the shower may be from a purposely separated more spacious area, to a much narrower shower enclosure or cubicle. As it is a place to get fresh and energized and often used for grooming as well, in all cases, the shower area should be lit by abundant dedicated functional light.
You can have a single lighting fixture on the shower area ceiling, but this may not provide enough light, and it may actually cast shadows where you need light. Still, if you have chosen this option, better use a light source casting warm, soft, and diffused light.
A far better solution are the recessed lighting fixtures distributed and spread around the shower area. These can be mounted on the ceiling, at the top or/and the lower edge of, or/and along the tiled shower walls, and even on the shower floor. They can be fixed or tilting, for changing the light beam angle – a very smart feature, allowing you to highlight particular areas of the shower and make them sparkle.

Image credit: Helen Green
There are of course various other, more 'artistic', lighting solutions – LED-light rainfall showers, translucent backlit glass tiles, "starry night" – LED lighting systems, etc.
And a few words about the lighting of the other areas of the bathroom
Best solution here is to go for ambient fill-in light, substituting natural light.
A single ceiling surface mounted lighting fixture, more or less at the center of the room, can be a good option. It may be either a flat unit mounted close to the ceiling, or a pendant lamp / chandelier hanging from the ceiling. Depending on the size of the bathroom, you can install a single or multiple units.
Another interesting option is the so called 'cove lighting' — strip or tube lights built into ledges, recesses, or valences in a ceiling or high on the walls of a room. Such light source directs light up towards the ceiling and down adjacent walls, and creates soft glow around the perimeter of the room.
Recessed lighting trims spread on the bathroom ceiling are also a popular choice.
Finally, here are a few last things to pay attention to with respect to your bathroom lighting project:
Safety first! Don't allow aesthetics to win over safety! The bathroom is a wet area and electricity and water are lethal "companions". So, carefully check and observe the national electric codes and regulations, and consult a certified electrician before venturing into installing any lights in your bathroom.
Choose the right bulbs. Whatever design of lighting fixtures you have chosen for the different areas of the bathroom, think about what light you wish to have there, and choose the right type of light bulbs to use.
* For crisp white light which renders skin tones most accurately, you'll need halogen light sources/bulb. Halogen lights are slightly more expensive than the standard incandescent bulbs, but they can last three times longer.
* Small, low-voltage bulbs are for highlighting particular areas and create a beautiful sparkling effect.
* Compact fluorescent bulbs also offer good color rendering, and are up to 10 times more efficient than the regular incandescent lights.
* LEDs provide warm white, soft white and bright white light. They may be pricey, but have an impressive lifespan (over 20 years!) which makes them very cost-effective.