This London loft studio is situated in Camden but certainly would not look out of place in any modern city. A team of architects including Hugo D'Enjoy and Armando Elias from Craft Design have worked their magic on what was once an industrial unit and the outcome is a 56m² trendy studio apartment with style.
Bright white walls and wooden floors give this loft a modern and airy feel. Full height ceilings and wonderful storage solutions add to the attraction and offer space in what is a compact home. We love the simple yet effective shelving that this trendy loft has for you, and the theme follows throughout the home where you will find shelving used as room dividers, focal points and handy niches to store a variety of essential items. Despite the relatively small size the home is comfortable and has everything you could need.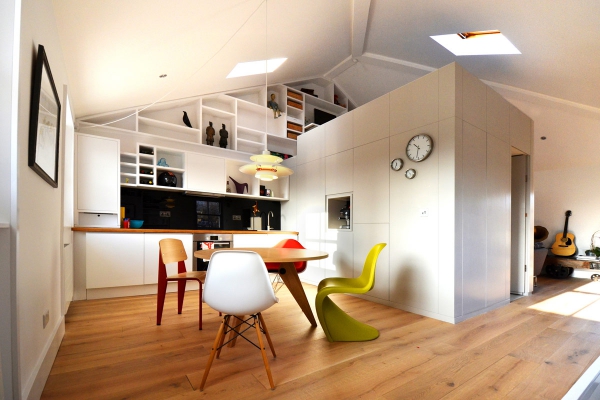 The kitchen is modern with a range of units and enough space for a dining table. Modern mismatched dining chairs create a pleasant effect against the stark white walls. The sitting area has comfortable sofas and a large window bringing in lots of natural light.
Ascending up the cleverly designed staircase you will find a mezzanine bedroom that gives an excellent view of the whole apartment. A built in desk is the ideal place to work from. The bathroom separates the kitchen and dining area from the living room and provides the framework for a first-floor bed deck.