No matter what the type or character of your home, clutter is guaranteed to be one of your greatest obstacles to keep it looking prim, proper and stylish. The challenge is even more exacerbated when you are constrained for space, such as in the stylish studio apartments that inhabit the inner perimeters of the metropolis. But not to fret; Italian company Clei brings its distinctive touch of genius and its catalog of smart ideas for small spaces to our rescue, drawing more from the footprint at hand without compromising on aesthetics, impressions or functions. This transformer like folding space, recently exhibited at the Milan furniture week, is a case to point.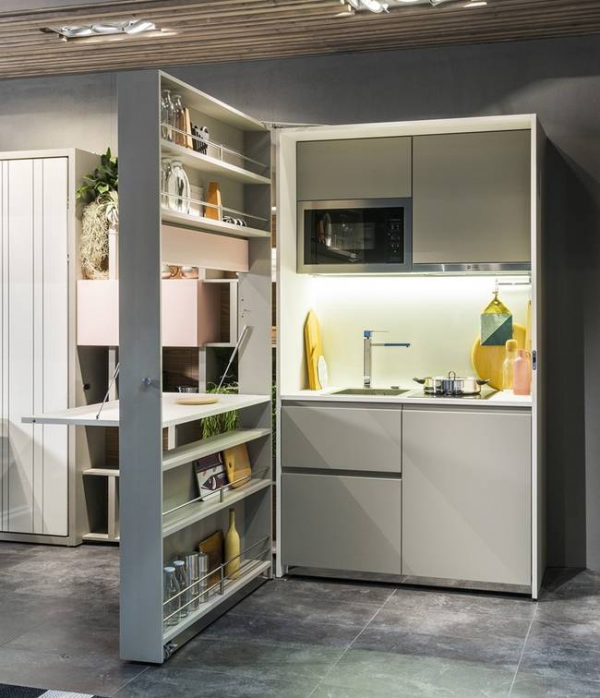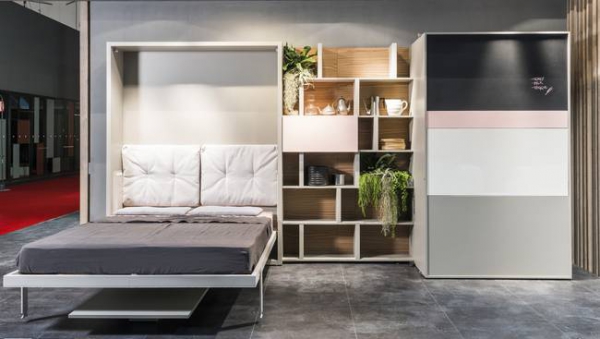 Wrapping a kitchen and bedroom into a neat and composed wall closet, the folding space relies on moving surfaces to adapt to functional and spatial demands. During working hours, the kitchen opens up to reveal the grand ideas and ample storage tucked away within it. Equipped with a sink, 2 burner induction hob, refrigerator, dishwasher, microwave and hood, the unit caters to all the needs of contemporary cooking and eating. An open rack rolls out to neatly hold the many items and sundries that come with a kitchen; part of the unit collapses to offer a work-surface cum breakfast bar while another unit folds out to form a crisp and neat dining table.
During sleeping hours this elaborate kitchen, and the sights and smells that come with it, can be conveniently packed away and the dining table folded to give way for a comfy double bed.