What better place to gain country house design ideas than from a stable turned contemporary beautiful home? This stunning stone home is located in the Spanish countryside town of Extremadura, Spain. The stone house design came at the hand of Abaton Architects who took on the task of transforming an old, abandoned stable into a gorgeous modern house that anyone would love to call home. The architects impressively show that something old can be made new and beautiful again.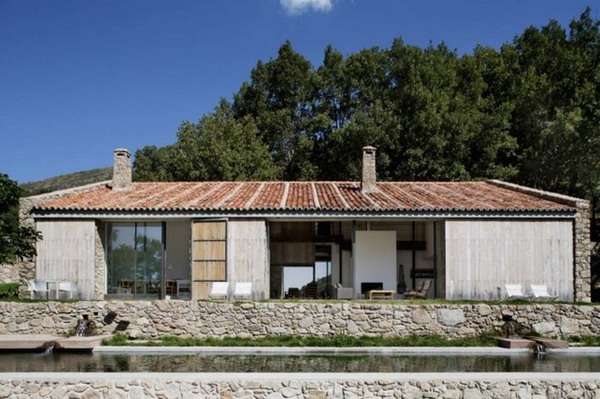 Loads of inspiration for stone house design can be gained from this truly matchless space. The home still holds some of the original countryside allure, but it has been completely modernized and renovated with the perfect contemporary furniture and simple, clean lines. Beautiful stonework, natural wood and tile create a fresh atmosphere while contemporary furniture, like the black and red leather sofas, complete the space.  A huge white dining table that can seat eight matches the white walls, white lamps and white woodwork of the ceilings that contrast brilliantly with the dark gray and black accents.
Large wood barn doors that can be slid open to let the beautiful Spanish sunshine inside the home create a warm open environment. An open design continues into the bathroom where sustained stonework gives the bathroom a real earthy ambiance. The sinks are especially unique – they are made of handcrafted stone.
A unique outdoor fountain gives the home an elegant feel. Gray stone in the fountain and on the exterior of the home contrast well with the greenery of the outdoor space. The long rectangular pool is ideal for exercising and finalizing the exterior of the countryside home. What a beautiful area to sit down and have a glass of wine and contemplate the day's work.