The spanking interiors of this private residence in Montreal reverberate with the spirit of originality, chic and the city. Cottage de Bordeaux is a skillful overlay of the rustic tones of natural materials and the polished ambitions of contemporary design, brought together into an exquisite living space and experience by designers Boom Town. Stirred by pops of color and strokes of individuality, this modern residence strikes its very own balance between the polarities that define architectural form and style.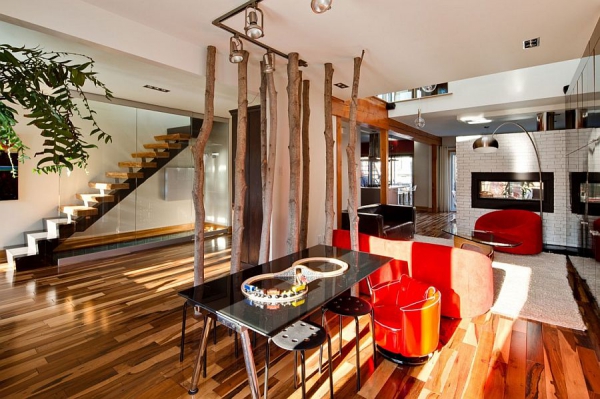 The private residence is laid out as a fluid evolution of form, space and function. Drawn out into an open planned social core, the living, dining, kitchen and workspace come together to offer a platform for grand invitations and dialogue.
The space here occupies a minimalistically drawn canvas, washed in white and defined by clean crisp lines. Within this template, the designers bring a careful selection of furniture, colors and textures to break into a celebration of visual elaboration and aesthetics. Even the bare notes of wood find their place amid the contemporary refinement, carved out into slender tree trunks that seem to hold the ceiling aloft and find new expressions for wood in interior design.
The scheme continues through the remainder of this modern residence, with the more private quarters located on the upper level, albeit with variations in intensity and intricacy.