A project brimming with ideas, and fun takes on otherwise rather daunting challenges, the Elsternwick Addition impresses with its vocabulary, adaptability as well as layering of motifs and features. Renovating a one bedroom Victorian terrace house in Melbourne, Australia, Sketch Building Design create a contemporary house addition that explodes the functional and visual possibilities presented by its site. Nestled in a narrow and cozy 149 square meter plot, the project transforms dilapidated history into an inspiration of contemporary proportions.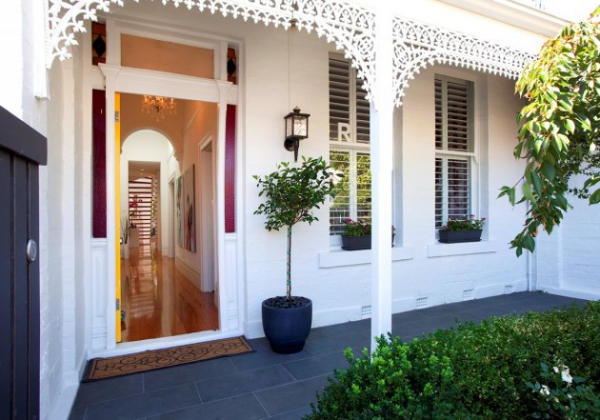 The architects enlarged the existing building footprint to extend from one boundary wall to another, relieving its internal spaces. Victorian features on the facade and inside the built volume were retained and restored to overlay contemporary spaces with a touch of tradition and nostalgia.
The interiors are opened up by orienting the contemporary house addition to the north-facing courtyard at its rear. Full-height glazing and pitched windows filter in natural light to the max into the double heighted living space.  Flooding the interiors with natural light, the architects articulate the decor in a modern template, etched in a sea of white. Warm tones of the wooden flooring ground the entire scheme, while a light and transparent staircase leads up to the upper floor.
The new and updated Elsternwick house offers two additional bedrooms, besides opening up and relieving the existing areas. A medley of the old and the new, anchored in the elegant movements of minimalist design, this contemporary house addition is a treat for the senses and imagination.