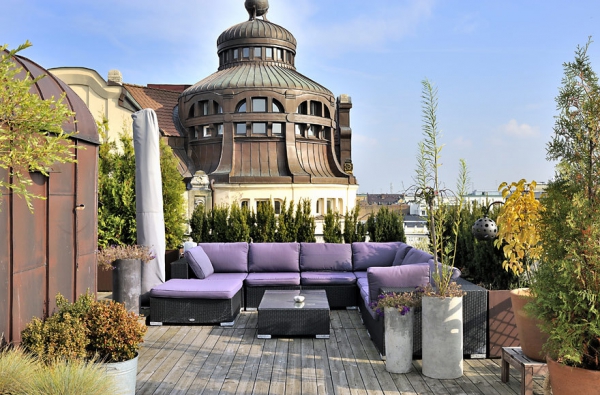 Having outside space in a busy city is something of a premium and this gorgeous terrace is testament to that. Situated high above the bustle of the city this terrace is made for entertaining or relaxing and makes a fantastic addition to your busy lifestyle. Gaze across the rooftops for the most amazing views you have ever seen or take some time out to chill in the modern jacuzzi.
The roof terrace has a choice of seating areas, some with sun shades to keep you and your guests comfortable. Everywhere you look you will find natural materials have been used to add character to this gorgeous terrace. Wooden flooring and potted plants help to ensure you feel one with nature and bring extra color to your life.
Enjoy all fresco eating during the day or bask in the glow of candle light to watch the stars on an evening from this rooftop terrace. Spend time in the jacuzzi and let the bubbles take away the stress of the day while you spend time looking at the magnificent views from your special place in the city. This gorgeous terrace was built for relaxation and fun, so grab your friends and enjoy city living to the full.