Designing your bedroom is not an easy task. No matter how big your bedroom is, a bed is always that one big thing that is going to be in the center of it all. If that has been taken care of and a nice bed has been chosen, you can further move on to other things like fancy table lamps, a nice vintage desk, nightstands to complement the bed, or if you have enough space you can opt for a few chairs or a sofa and make a nice sitting area. But sometimes even doing all of that leaves something missing, a certain void. The best method to fill that aesthetic void is to design an accent wall in the room and give it that allure that it was so badly missing.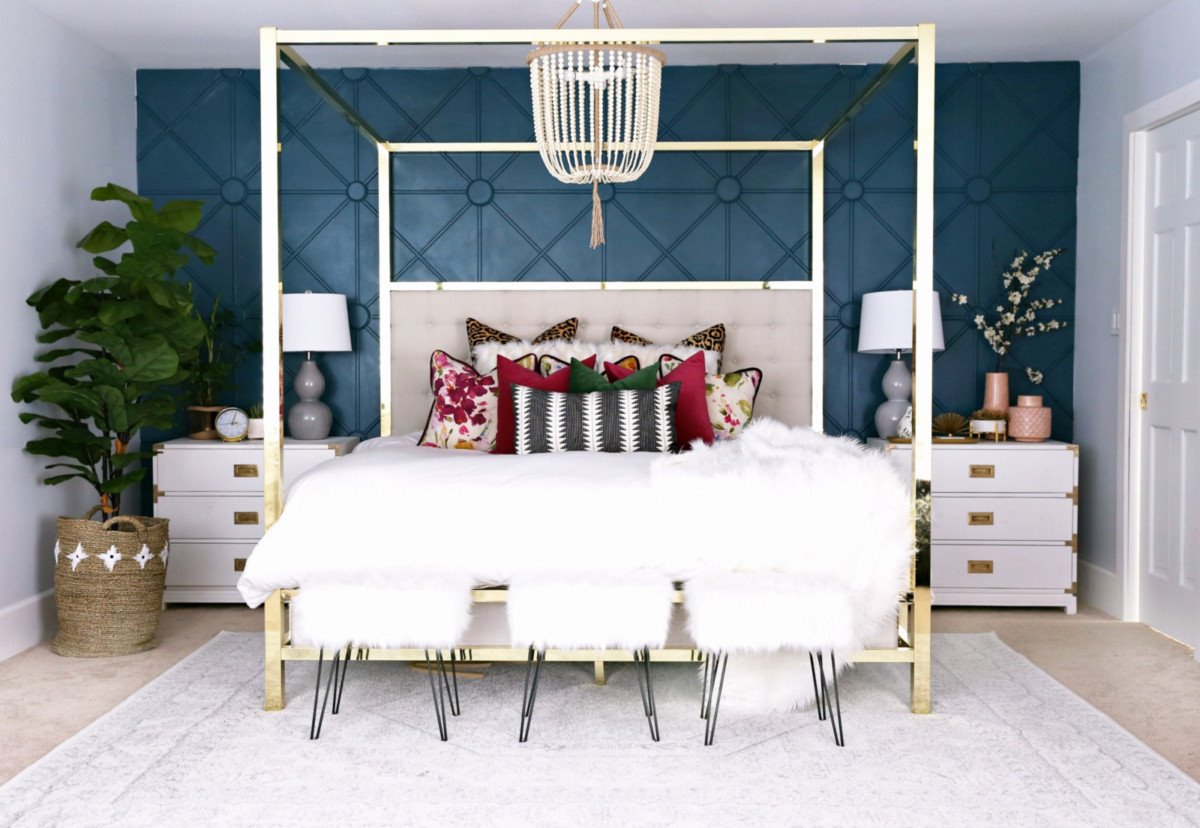 A room normally has four walls. So which one do you choose as the accent wall? The first thing you notice in a bedroom usually is, well, a bed. So, the natural choice for many people is the wall behind the headboard of the bed. Alternatively, if you already have something on the wall, like a fireplace or a wooden bookshelf, all you need to do is add some finishing touches to that wall and boom – you have your very own decked out accent wall!
Once the conundrum of choosing which wall to make the accent wall has been solved, you can implement the ideas discussed below to decorate your accent wall and add that pizzazz to your room!
A bedroom is a place where you come to relax, de-stress, and rest. And what is a better place to do all three other than nature? However, unfortunately, not all of us can wake up in the magical ambiance of the forest every day, and get the refreshing vibes of the forest when we enter our room. But this can be made partially possible by giving your accent wall the visuals of a forest. A very effective way of doing this is to hang a forest tapestry on the feature wall. It is simple but very effective. A forest tapestry gives a whole atmosphere to the room, creates a relaxing environment, and is a great way to dress up an empty space.
This is the simplest, cheapest, and easiest way to decorate your accent wall. But a lot can be done with paint. While you can paint the whole accent wall with one bold paint color, that is not the only option. You can play around with paint in many innovative ways. You can add stripes for instance. That way you can contrast two colors and totally change the look and aesthetic of the room. The first thing that comes to mind when you think about stripes is black and white, you know, the zebra reference? But that is not the only option! There are many other color combinations that you can use – black and gold for instance. Other than stripes, you can use more patterns like circles and chevrons, and this can be achieved by using painter's tools such as painter's tape and pencil.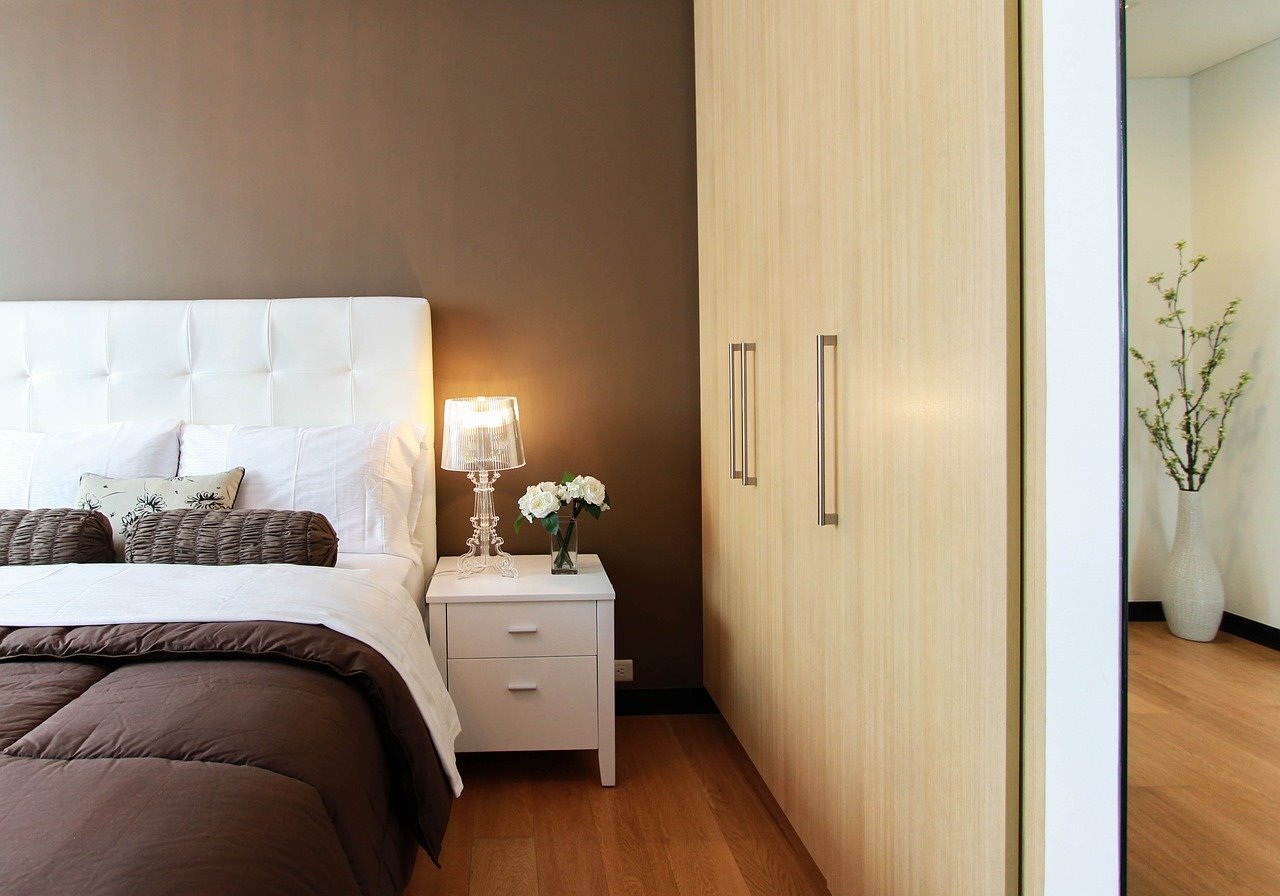 Wallpapers are an excellent tool to play with experiments. Printed and patterned wallpapers are making a comeback in the interiors, and perhaps the main driving force behind this comeback is the innovative use of patterns. One of the patterns most in demand is the Moroccan pattern. It is simple, yet elegant and complements almost every type of room setting and furniture. You can also use customized wallpapers which incorporate the color scheme of your room into interesting patterns and textures.
Wallpapers work best in a room where the other walls are of brighter and saturated colors, or where the majority of the décor in the room is made up of solid colors.
Using wood can be an interesting and chic substitute to the mounted headboard in your bedroom, and you can literally just put your pillows against the wooden wall. Wood paneling can add a natural and warm element to your room.
There are many options when you choose wood to decorate the accent wall. You can use planks, millwork, or grooved wood amongst others. The light from the window and the light from the lamps inside the room will accentuate the lines of the wood joints. Using wood panels on one wall really helps to create dimension.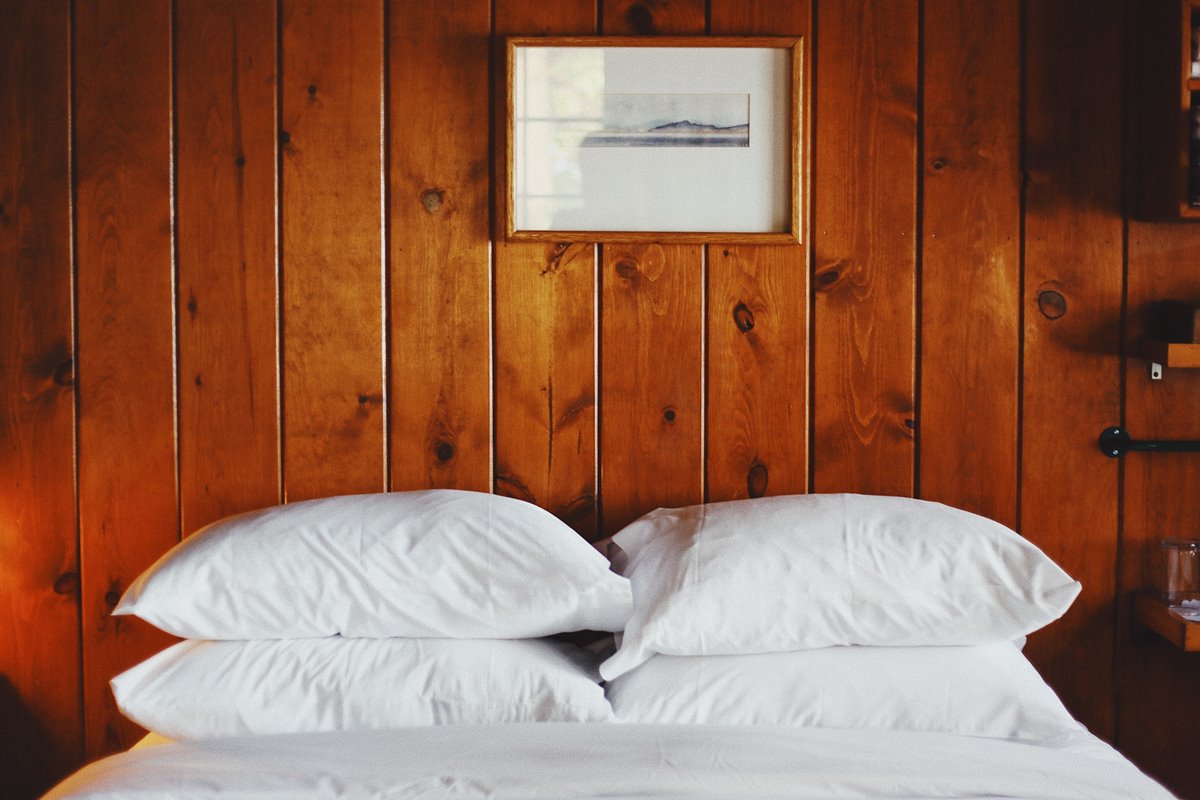 Another very interesting way to decorate your accent wall is to use photographs. You can get all your favorite photographs and photographs of your favorite people up on the accent wall. A bedroom is a very personal space and your collection of photographs also adds a very personal touch to the bedroom and is a very good way of seeing your most cherished memories every day and light up your mood.
There is also a lot of room to play around when you choose this method to decorate the accent wall. You can play with the sizes of the frames, the colors of the frames, and the texture of the frames. This way you can keep the wall interesting and prevent it from becoming monotonous and prevent the photos from looking like clutter. Another advantage is that you can rearrange the layout of the photos at your will and according to your mood.
Use Tiles on an Accent Wall
Tiles are a very interesting way to decorate the accent wall. When decorating the accent wall with tiles, you have a plethora of options to choose from. You can use ceiling tiles, marble, mosaics, and other materials to give your walls that extra punch to make your bedroom awesome.
No doubt walls have functional properties, but they can also add to the aesthetics if used properly. By adding an accent wall to the design of your room, you can highlight that specific architectural detail you would like to underline, you can cover that space or area which you think looks too empty, and simply glamorize a dull part of the room. There is a myriad of methods in which you can decorate your accent wall, and they range from extremely simple and cheap to very complex, intricate, and expensive. For even more inspiration check out this wall decor guide.