One of four holiday accommodations designed by Matali Crasset in the Wind Forests of Lorraine, France, the Bird Nest House embodies a rich tapestry of ideas, intentions and expressions. The form and profile of this compact eco cabin does look rather otherworldly, with its sharp geometries and elevated construction; yet, its organic palette and sustainable design anchor it securely into its context – functionally and aesthetically. Part of a series of small villages, the design adopts a space saving and eco-conscious stance to minimize its footprint and impact on the surroundings.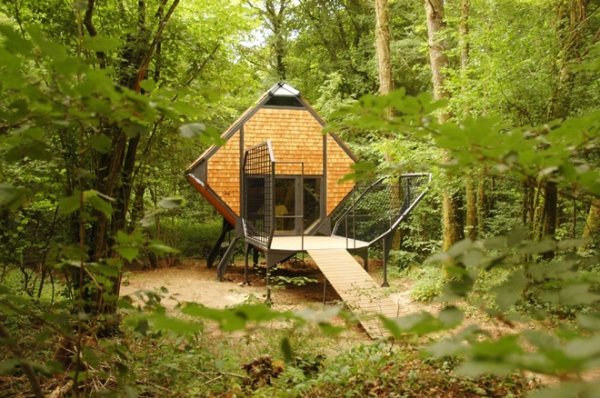 Located amid over 5,000 hectares of pristine forestland, this cabin offers an opportunity to commune with nature – up close and personal. Constructed with acacia wood, Douglas pine and galvanized steel, the cabin is organized over two levels. The lower level offers a flexible, multipurpose room as a social core. Warmed by a quaint fireplace, this space is utterly charming and inviting, with its stark wood interior adding a minimal overtone to the proceedings. The sleeping quarters are located upstairs, accessed via an internal staircase.
The outdoor terrace offers a splendid spillover area, adapting to the desire and mood of its occupants. A porch swing provides further occasions to bond and reflect – together or by yourself in calm and silence.