One of the most difficult parts of home ownership is often dealing with the surprises, or unforeseen issues that virtually every home owner has to face at one point or another. One of the most devastating issues that many homeowners, unfortunately, face is home flooding. While no one ever wants to have their home or basement flood, it is important to be prepared for the possibility of water damage and to know how to handle home flooding, should it occur.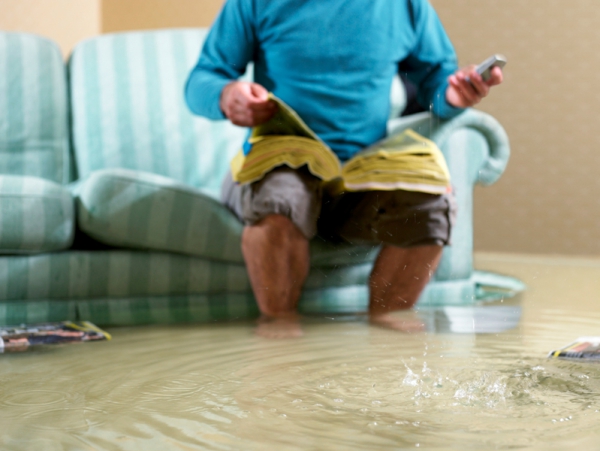 How and why home flooding occurs
Home flooding can come from environmental factors such as heavy rains or they can be caused from issues within the home such as pipe breaks. Flooding can leave an inch of moisture or several feet of standing water. No matter the circumstances, this is serious, and the process of cleaning and restoring the home after flooding can sometimes take months.
Flooding is actually the most common natural disaster that impacts the United States today. According to the U.S. Geological Survey, every year flooding and flash floods cause approximately $6 billion in property damages. This is why, even if you don't think you are susceptible to water damage, that you understand home flooding and what you can do to get your home and your life back after such event.
Preparing the home before a flood
While you can't prevent a flood or pipe issue from happening, you can take several steps to prepare the home for flooding, should it occur. Homeowners should have some type of flood insurance that covers potential damages, as most homeowners insurance policies do not cover this damage.
HVAC systems should be placed at least a foot above the expected flood elevation in homes, and dry flood-proofing should be performed on the exterior of the property. These simple changes can make a great deal of difference in the impact a flood can have on a home.
Reacting during the flood
During the flooding process, it can be easy to start panicking. However, it is important to be prepared and know what to do. Make sure that you let everyone around you know about the flood, and help them evacuate the building you are in through an unaffected exit, if it is safe outside. If you smell gas or see sparks and flames, you will want to leave immediately and notify the authorities.
Water Damage Restoration company has developed what they call a water damage checklist:
Notify all occupants of the water emergency. In the case of severe water damage, evacuate the premises through an unaffected exit, but only if the outside environment is safe.
For disaster-level flooding or injuries, contact emergency authorities.
Look for broken or downed power lines, sparks or flames, and notify authorities immediately. Avoid these areas.
For any other water damage, contact a certified water damage restoration provider.
If you can reach the main electrical switch safely, turn off all electricity.
Same goes for the building's water source. Turn it off, too, if you can.
If you smell gas, leave the building immediately. Also, turn off main gas line if you're able.
Cover broken windows and clean up glass
During warm weather, lower the building's temperature, if you can, to reduce overall humidity.
If conditions are safe, immediately remove all unaffected items, particularly papers and anything with soft surfaces. Pick up rugs and move clothing to higher shelves.
If you move affected items, document their condition first.
When documenting damaged items, take photographs, video and write down the item name and its estimated value.
Isolate items with mold and keep a safe distance unless wearing protective gear.
If you choose to remove heavily damaged furniture and items yourself, remember to wear rubber gloves, boots and a face mask.
If you have an undamaged copy of your insurance policy, keep it with you.
Following this checklist can help make sure the least amount of damage possible is done both to your property and those inside. Memorize or print this checklist, which can help you safely evacuate others in the home, stay away from potentially harmful flood waters and to stop the flooding if it is a home or pipe related issue.
How to overcome the effects of a flood
After you have experienced a flood, it is important that you re-enter your property with caution. Contact your insurance company right away and let them know about the issue and then call a local water damage company as soon as you are able to. They will tell you what to do in terms of removing wet contents in your home and will arrive as soon as they can to start the water restoration process.
It may seem impossible to restore your home to its former condition, but these professionals will be able to ventilate, dry and extract water from the home. Then after dehumidifying, cleaning and disinfecting they will be able to start helping your home look the way it did before the damage and prevent disease, mold, mildew and odors from taking over.
SEE ALSO: Flood Damage Restoration: What to Do After a House Flood