Contemporary city homes vary in size and layout, but in most cases space is an issue many homeowners struggle with. With limited area available, it often becomes a real challenge to find enough storage space for all personal belongings and various items that we don't need to see scattered around the house making it look messy and cluttered. Luckily, a lot of homes enjoy having a convenient closet to solve this issue.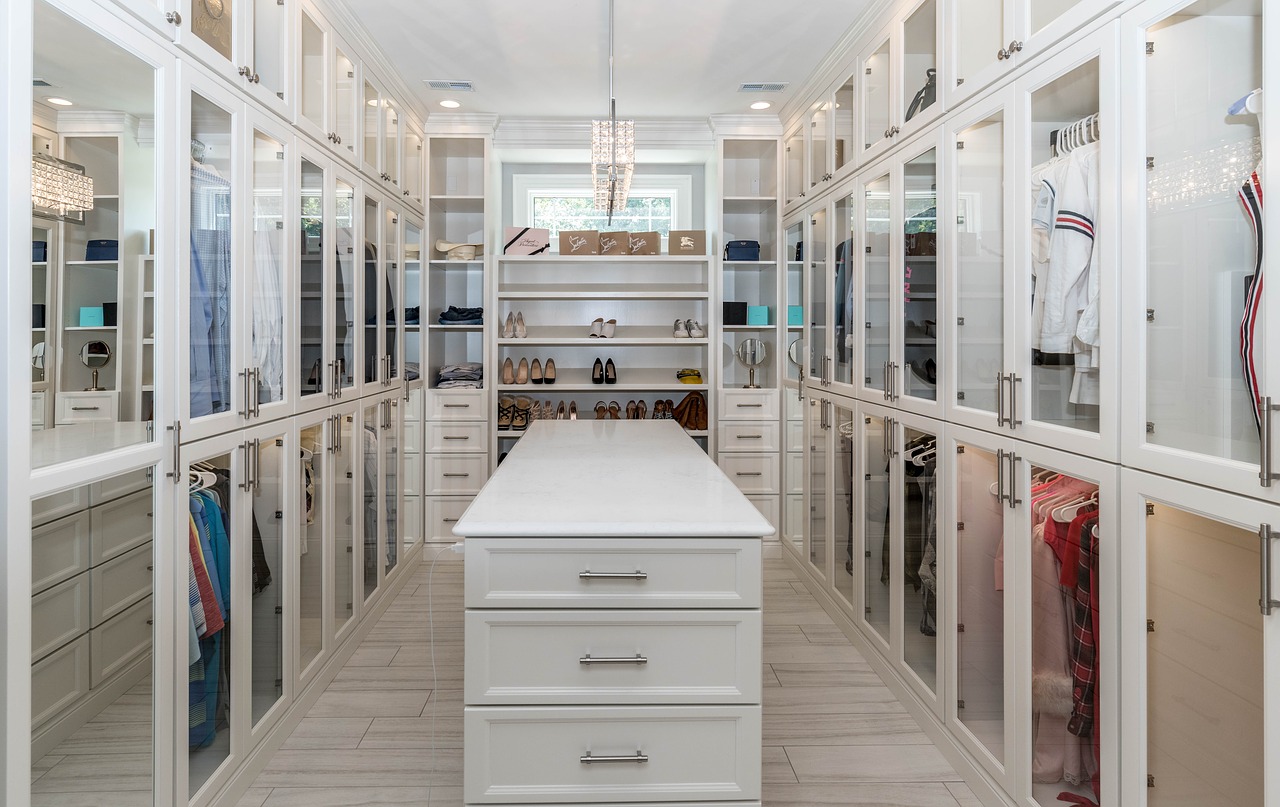 Closets can be built anywhere in the house or the flat – in the bedrooms, along the hallways, and even in the entrance hall (should space permit it). What you pile in there and how well you manage (or don't) to keep your closet organized is one thing. How the closet fits in the home interior is however quite another story! So, today we would like to talk about the "pretty face" of the closet, namely about the closet doors.
We have selected 5 attractive and unconventional closet door ideas that will help you to successfully incorporate your closet into the overall home interior and even turn it into a stylish element to "wow".
Mirrors have always been one of the smartest ways to visually expand room space, and mirrored closet doors offer even more advantages. For one, this is yet another large mirror to use for checking out how good you look in your new outfit. Two, swinging, sliding or folding, mirrored closet doors can be decorated with frames, ornaments and stickers, arranged in various shapes, patterns and styles, to better match the interior design of the room. Next, floor-to-ceiling mirrored closet doors not only make the room look far more spacious but also blend in with the wall to a point they even don't look like doors at all.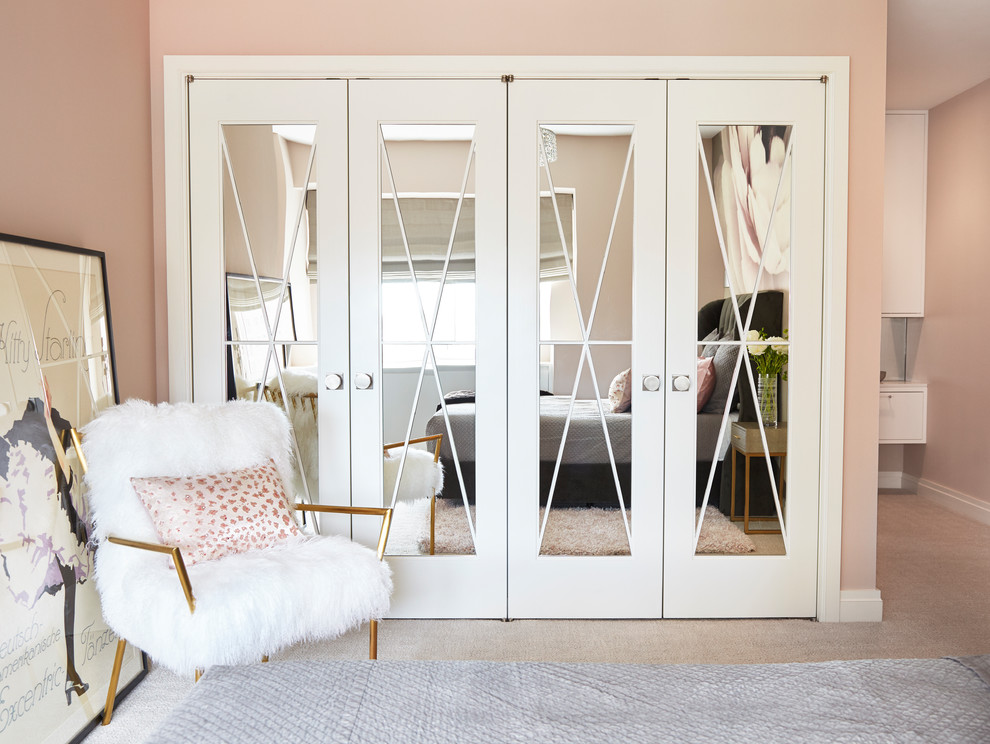 Image source: Lauren Rubin Architecture
Barn doors have lately become very popular in house interiors, especially those designed in industrial or rustic styles. On one hand, this popularity rests upon the top functionality of their structure. Barn doors save space! On the other hand, it's about aesthetics and style. Mostly made of wood, often reclaimed, and finished with contrasting iron elements, barn doors have a special charm. Blending cozy rustic feel with raw industrial roughness, they become an impressive accent in the interior design of the room and even a stunning focal point.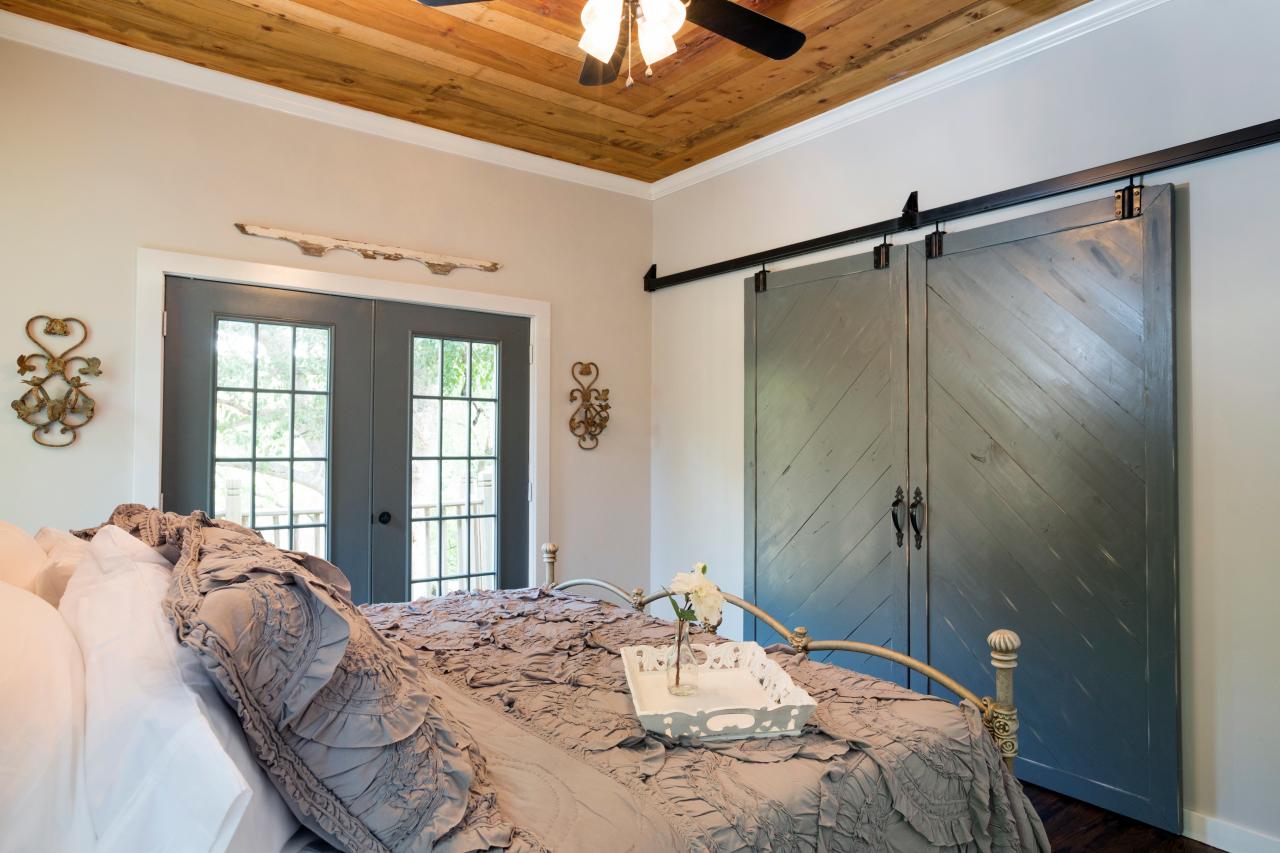 Image source: HGTV
Whatever the structure of your closet doors is, there's always an option to turn them into a family life hub. All you need is cover them with chalkboard paint that will allow you and other family members to write, draw and have fun. From writing shopping and to-do lists, to leaving notes and allowing children show off their drawings, the chalkboard closet doors provide a great solution for expressing your creativity and finding a fun way to bond family.
Normally, chalkboard paint color is black, but green, blue and even white are alternative options.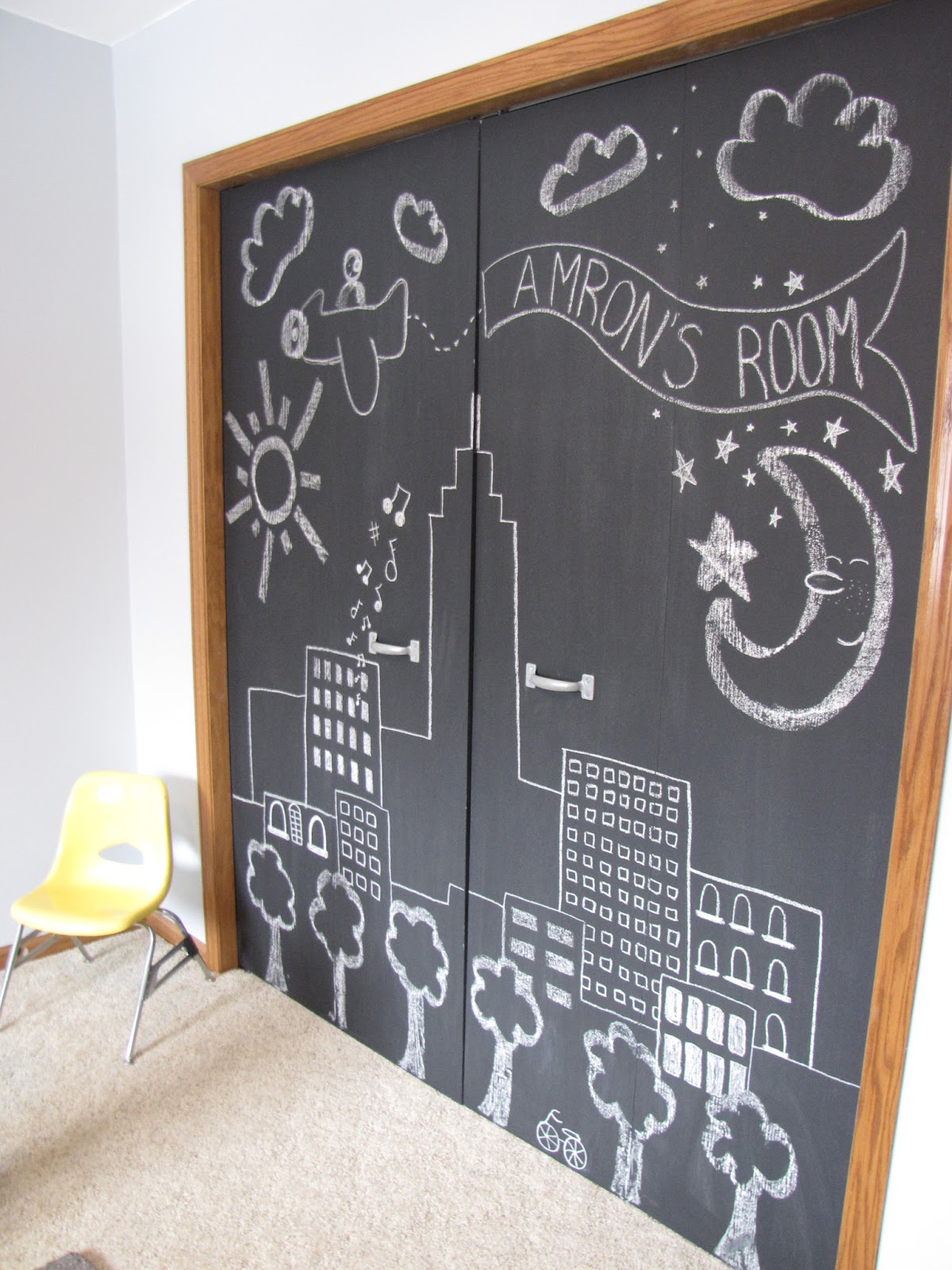 Image source: Wispy House
Closets are for storing and hoarding and keeping and hiding … But its space is never quite enough, is it?! Wouldn't it be great to use even the closet doors as an additional storage?! Well, it is possible! Instead of using common doors, you can opt for unconventional structures. These can be open shelved cases mounted to the wall on solid hinges to allow easy opening and closing. The shelves can be then used to display anything you wish, from books and family photos to souvenirs from family trips and item collections. Who would even imagine that behind this display there's a "secret room"?!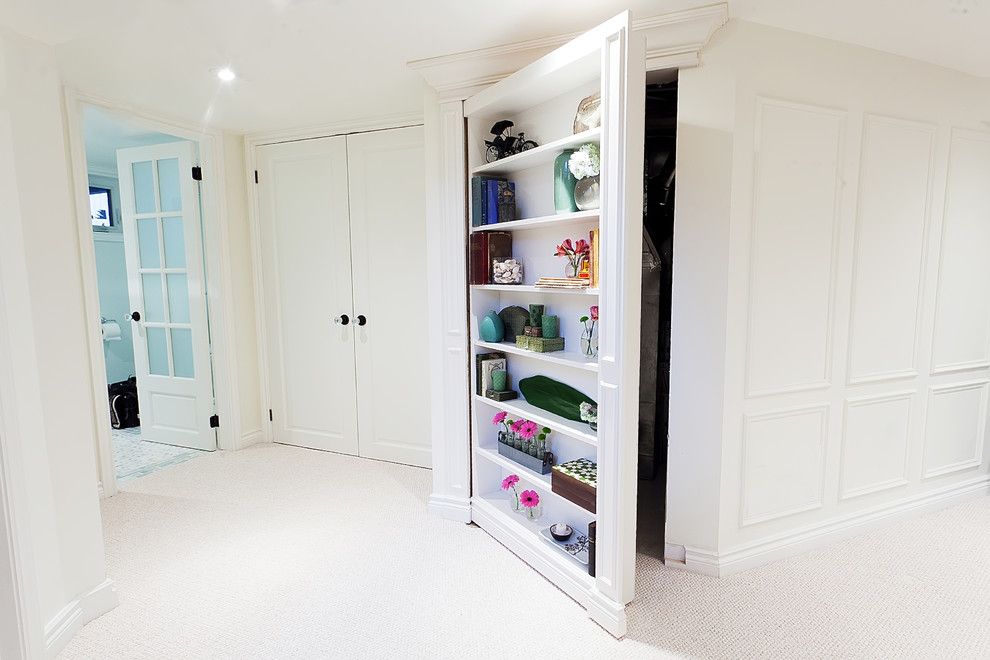 Image source: Dalton Distinctive Renovations on Houzz
Curtains are always welcome in the interior. They create cozy airy feel and enhance and complete the entire design of the room. And they don't necessarily have to hang at the windows only! Curtains are a nifty thrifty solution to also decorate a wall, create an unconventional bed headboard and, yes, cover the doorway of the closet, too! It's a popular choice for small spaces and an excellent opportunity to change color, vision and mood as many times as you wish. Practical, too! Curtains can be easily maintained clean and they allow good aeration.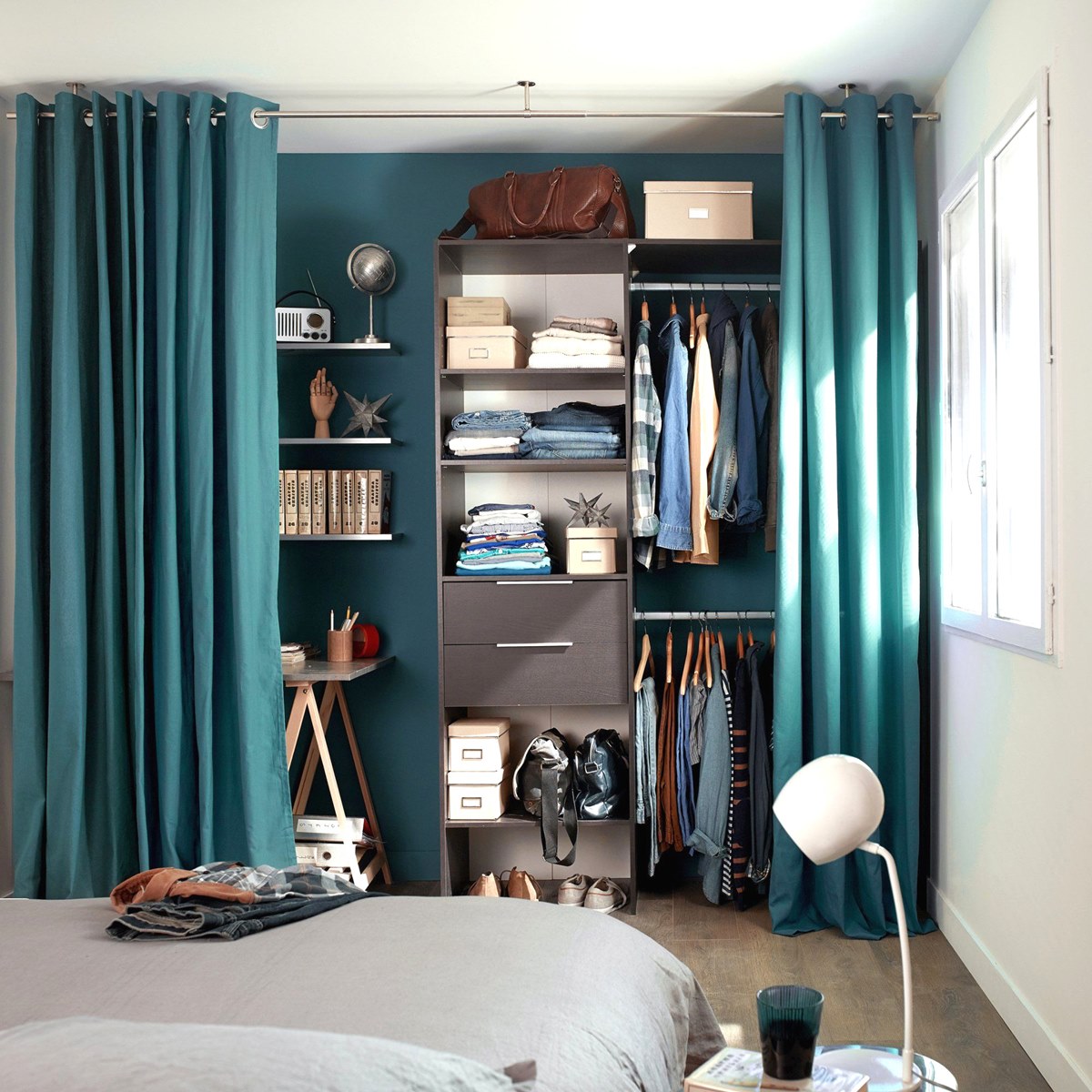 Image source: Marie Clarie
We hope to have made you at least glance at the doors of your closet, stop and think…"Hey! I can make those look way better!" And yes, you can!