The rustic interior style is one of the most popular choices when it comes to furnishing and decorating a contemporary home. The irresistible charm of a cozy old house in the rustic countryside has won the hearts of homeowners and designers and has become a hot trend in interior design.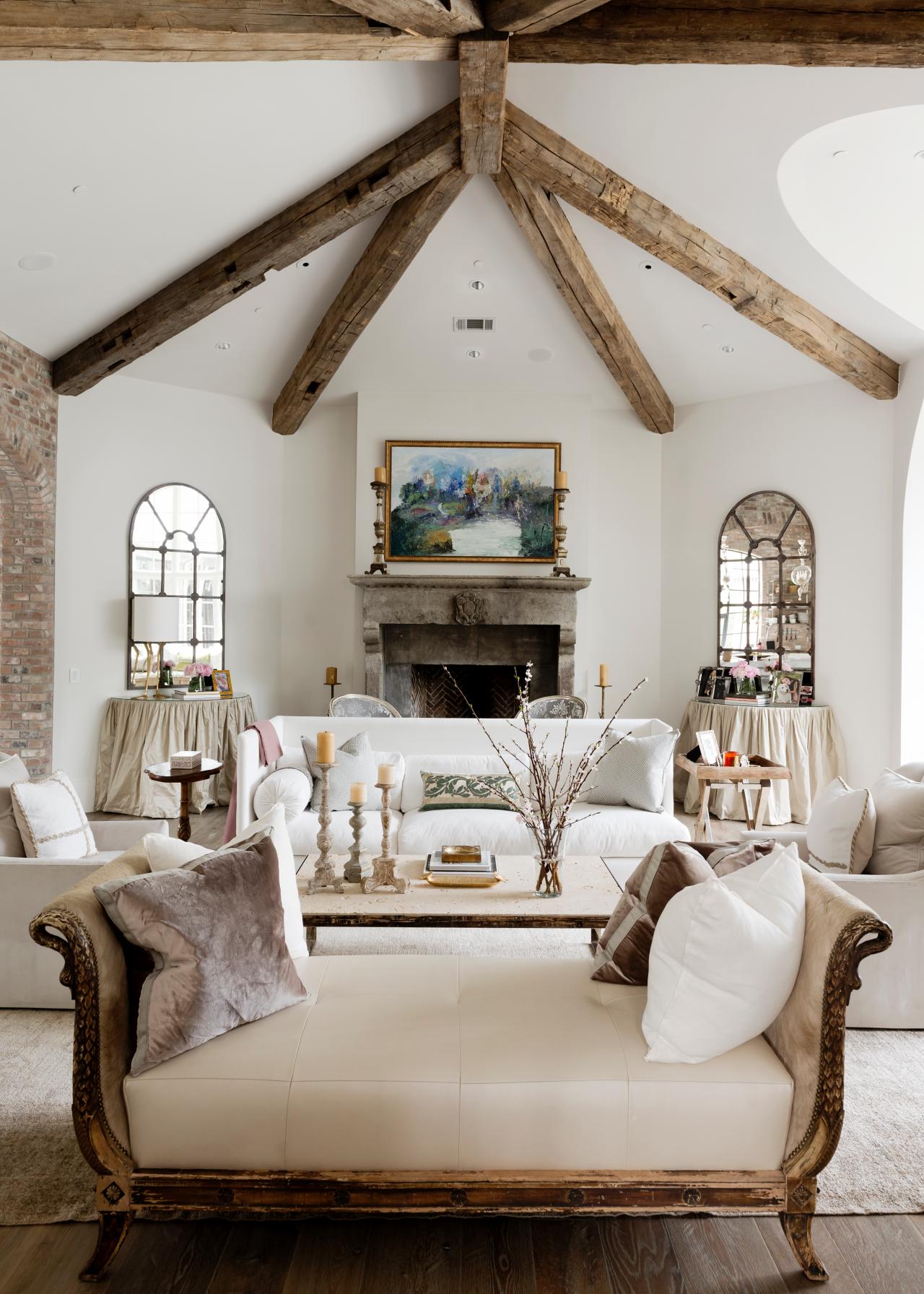 Image from article: 10 Amazing Rustic Living Rooms
The exciting thing about it is that you can introduce the warm homey feel of the rustic style into any residence, be it a city flat, a house in the suburbs, a coastal villa, or a getaway cabin in the mountains. Regardless of the existing furniture and decoration, you can easily transform the entire ambiance to rustic, following these few smart tips:
Rustic interiors feature warm neutral colors, such as crème, beige, all shades of brown, even bits of gray tones. These colors have a strong natural feel and a great soothing effect. Usually, the color palette is displayed vertically, starting with darker tones for the floorings, the doors, and main furniture items, and going up to lighter shades for the walls and the textile.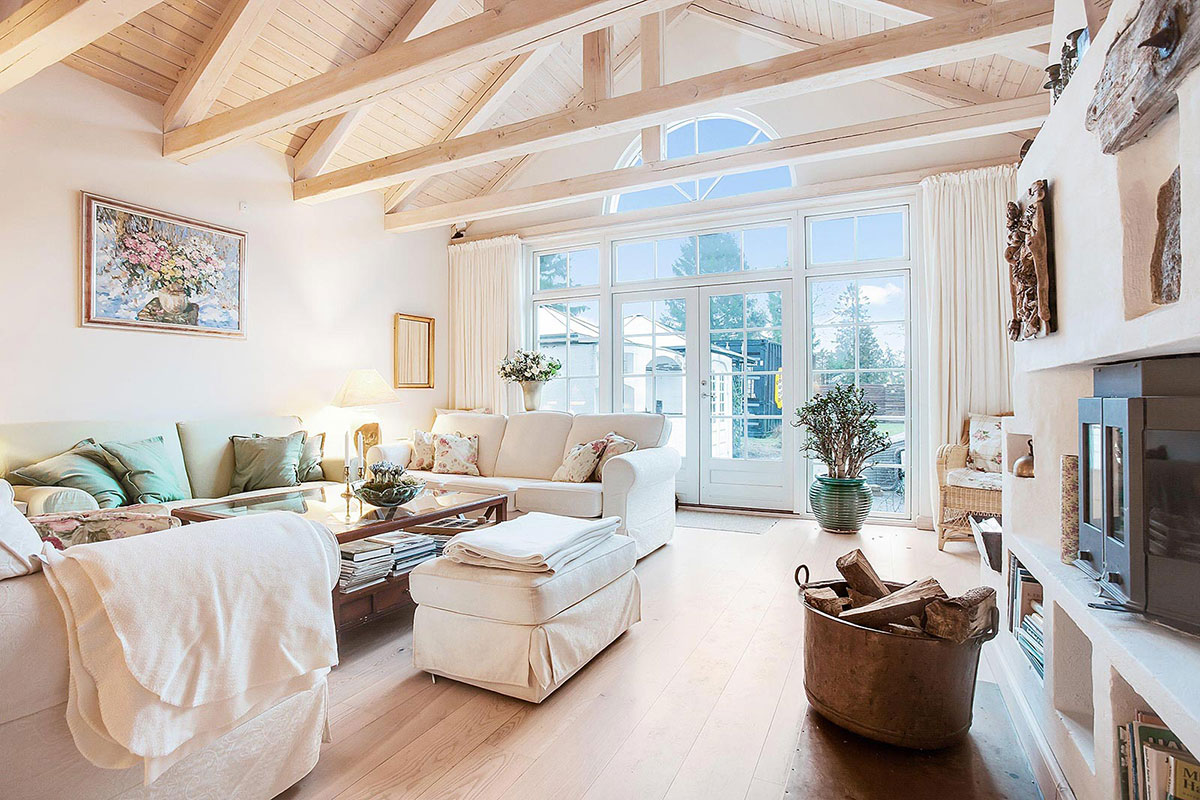 Image from article: Cozy Cottage in Denmark
To add rustic appeal to the interior, make sure to have more items made of natural materials, such as stone, wood, leather, twine, and natural fibers. These should be boldly exhibited in somewhat "rough" finishings, close to their original state in Nature.
Rough cut stones in irregular shapes, seemingly untreated timber displaying its raw features and natural imperfections, heavy classic leather upholstery – all these elements are deeply 'rustic'.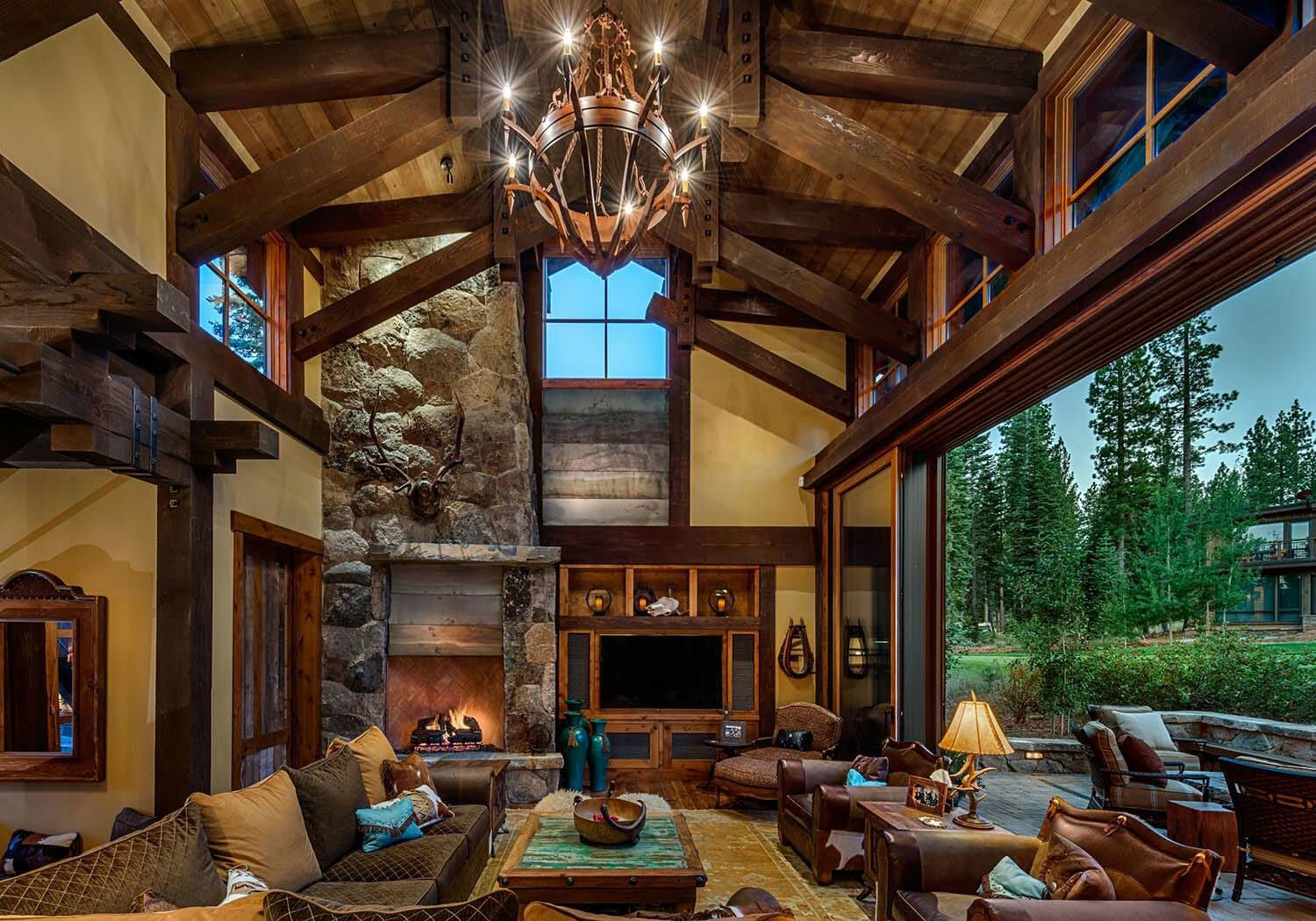 Image from article: Texan Style Rustic Mountain Cabin
Natural hardwood floors are strongly featured in rustic interiors. But you don't necessarily need to change the flooring with natural timber. Luckily, modern industry offers fabulous alternatives. Consider the impressive engineered wood flooring. Once installed, it 'wow'-s with equally stunning look and feel as natural wood, while featuring innovative structure, higher resistance to humidity and damage, and easy installation. Within the Quick-Step Impressive range you will find great colors and designs that have a unique rustic charm.
Utility premises, hallways and bathrooms in a rustic home would normally feature large tiles of natural stone. Engineered wood or stoneware tiles with ceramic finish would be a great and budget-friendly alternative.
Add some final touches by laying carpets with ethno patterns or colorful woven rugs, and scatter around a few smaller fluffy fur mats.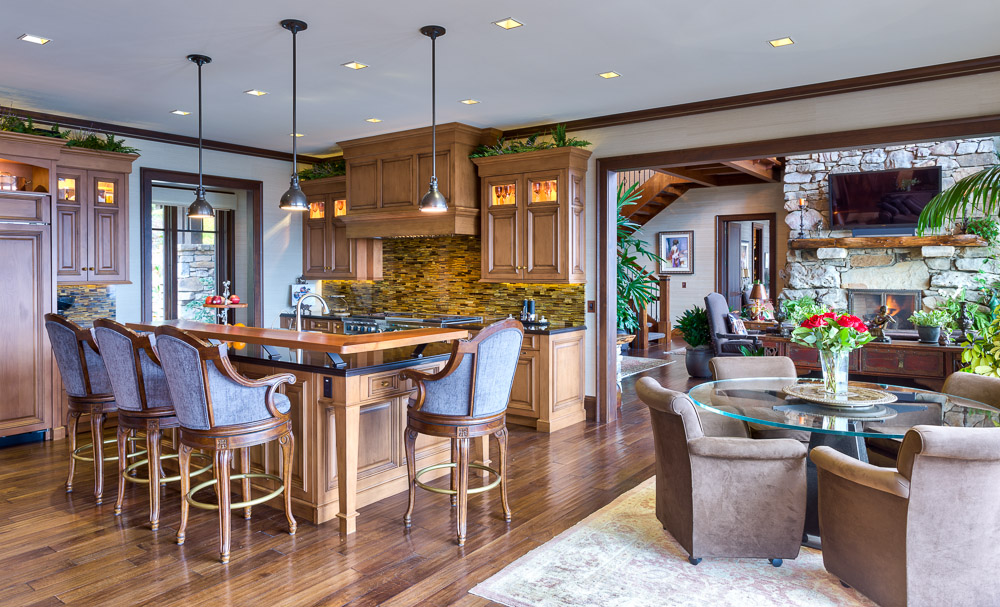 Image from article: A Warm Luxury Rustic Retreat
Featuring the characteristic simplicity of 'rustic', walls are most often just plainly plastered and painted, mainly in light neutral colors up to crispy white.
The contemporary interpretations of 'rustic', namely, the popular 'farmhouse' and 'shabby chic' styles offer further options. Walls may therefore feature exposed bricks painted in a light color, floral wallpapers, or shiplap paneling. Beams of natural timber are yet another element that can easily transform any interior into rustic. Such items may be placed either vertically on walls, or horizontally along the ceiling.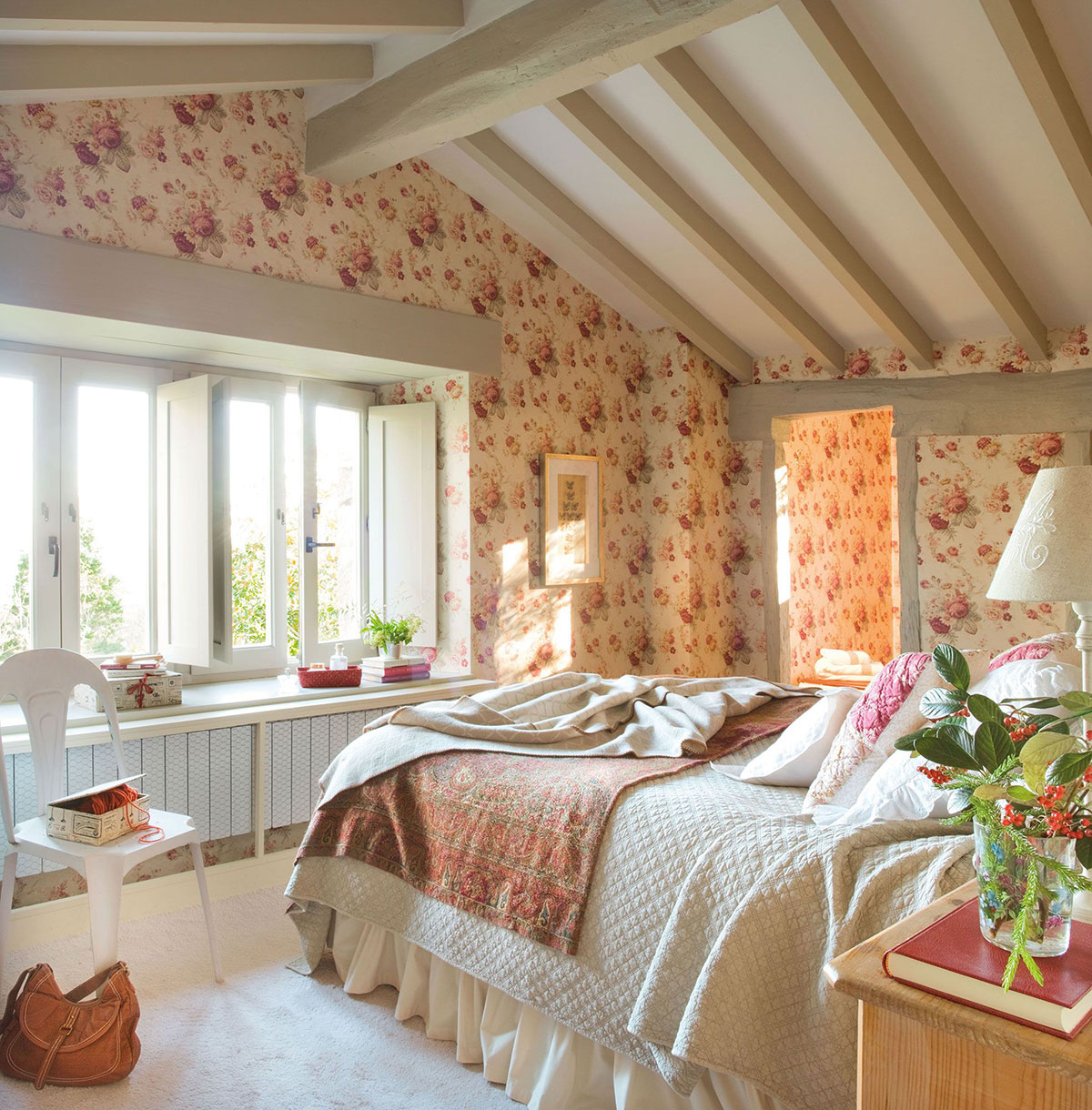 Image from article: Country Home in the Woods
To get the 'rustic' ambiance you don't need to go to some total refurnishing extremes.
Check the existing furniture items and decide which ones are too far from the desired interior style. Some may need to be replaced but often a couple of new items placed around will be sufficient to "steal the show" and make the non-rustic-looking furniture items visually unobtrusive and discrete.
Any antique-looking item would fit in this case, such as an old wooden trunk or chest, a wooden table of classic design, a butcher's block of solid hardwood, wicker baskets, rough edge shelves, stacks of firewood (especially good looking around a fireplace!), etc.
If you can afford it, it would be a great idea to replace some doors with upcycled 'barn'-doors of genuine timber. For one, they save a lot of space, as they slide along the wall. Two, they are most often made of reclaimed wood, which makes them a budget-friendly option. And three, they look oh-so-charmingly-rustic!
Other furniture items may however be just concealed and get an entirely new, 'rustic', appearance. Sofas, armchairs, stools, puffs and beds can be easily dressed with rustic textile, such as white or beige slipcovers, and decorated with large-knit or patchwork blankets and throws.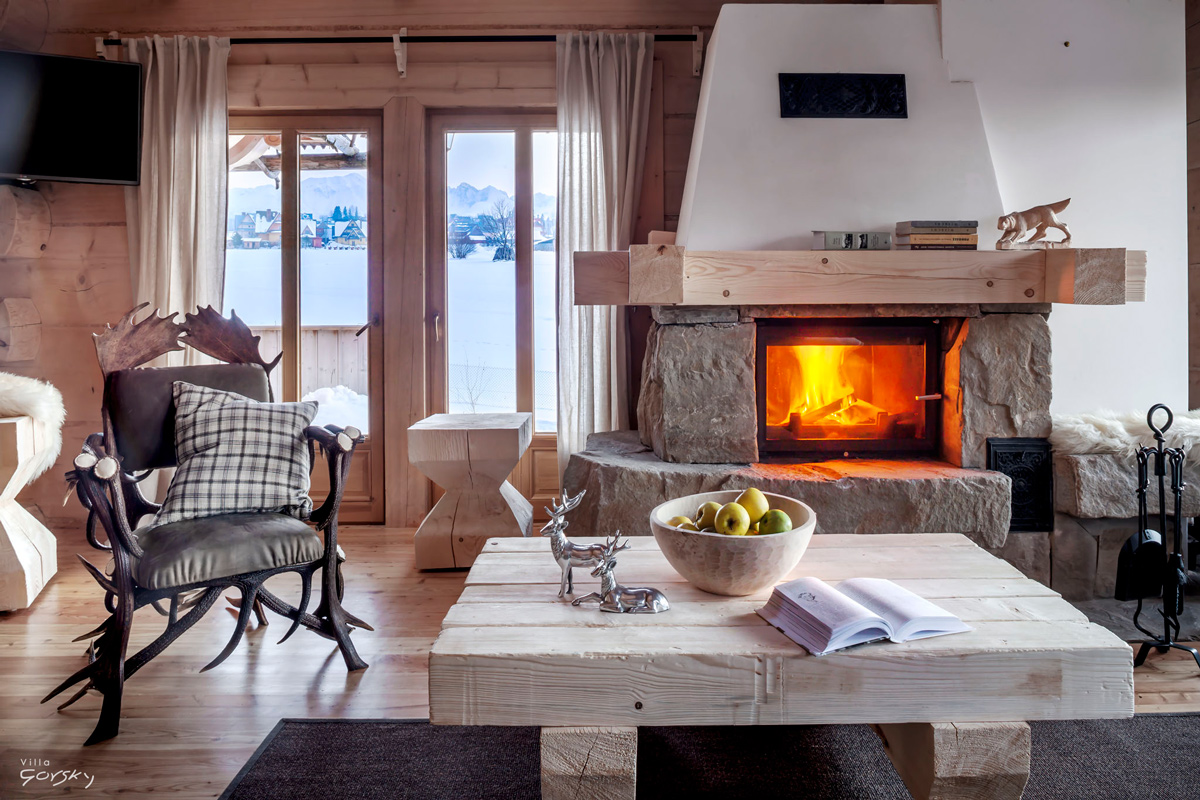 Image from article: Villa Gorsky: The Charming Holiday Hideaway
Anything that comes from Nature is more than welcome in a rustic home. DIY wooden decorations, natural cones, twigs and live flowers would make beautiful accents in any room.
A common feature in the rustic interior are also the mason jars and glass lanterns, used as decoration, on a table or on the floor, filled with walnuts, chestnuts or other fruits of Nature. And with fairy lights inside, they make charming chandeliers, too!
Soft knit pads, wooden trays, chalkboards in frames and rustic signs and posters also add delightful rustic ambiance. Pictures or photos of natural and pastoral landscapes will fit well with a rustic interior.
Beautiful rustic décor accents make also hanging repurposed farm tools, as well as colorful clay dishes displayed on open shelves, floating wooden shelves for kitchen utensils in the kitchen or the dining room, ladder displays of household items or souvenirs, as well as large standing or wall clocks, and antique items.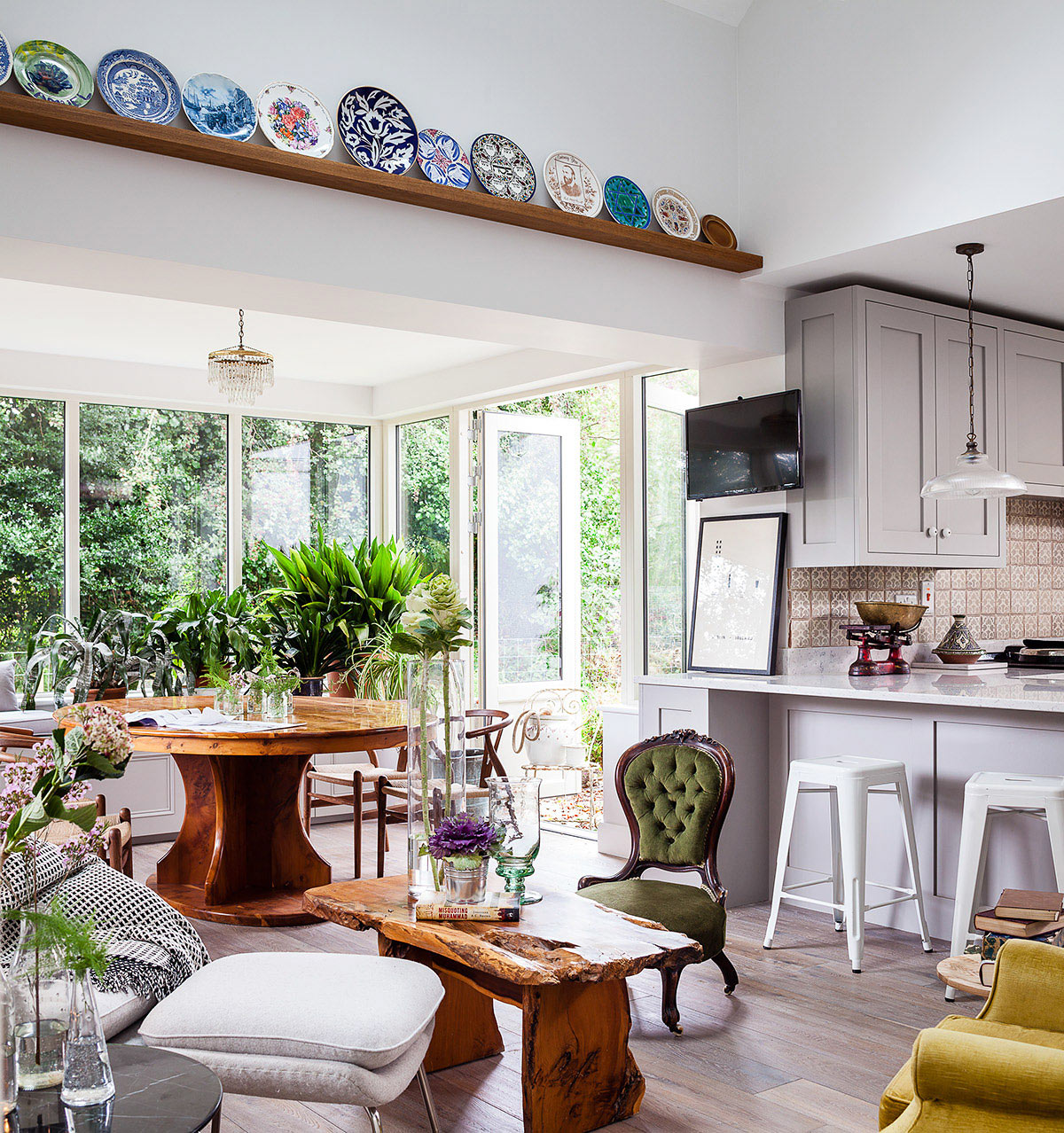 Image from article: A Dream Cottage Renovation