There is no doubt that an AC is essential, but you can't deny that it can be an eyesore in the house. Air conditioners usually stick out your wall ruining your interior decor and giving you a ran for your money when you finally decide to decorate around them. If you are having trouble decorating around your AC, these creative ways will help you out.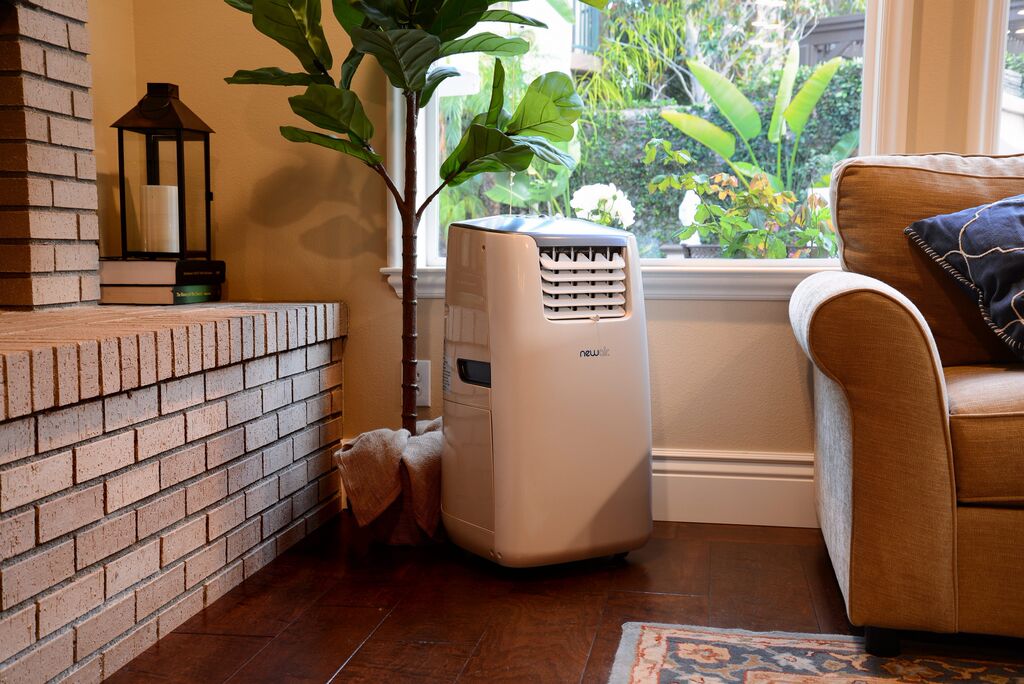 Before decorating, you need to check where your air conditioning system is installed, or where it will be mounted. Is it against a window or mounted on a wall? How large is it? This information will help you design your space around your AC and determine the best way to cover it up.
Make It Part of a Bookcase
A bookcase is a smart little trick you can use to cover up your AC. Either have the AC inside where it's completely covered or use an open bookshelf that makes the unit part of the design. Even with an open bookcase, you can cover your unit with a door and only access it when you need to use it. The cover can be somewhere in the middle or at the furthest corner of your book shelve. Build an extra shelve on top of your AC to store extra magazines, a decorative vase, or even a live plant. The possibilities are endless.
Image credit: Design Evolving
Make It into a Functional Space
Let's face it, you can use all the storage space you can get, and one of the best ways to hide your AC is through installing storage units next to it. For instance, if your AC is just below a window, install a shoe rack come radiator cover to keep it out of sight. If it's in the bathroom, a bathroom shelf come radiator cover will work perfectly.
But you need to be careful with this method. If your unit breaks down, central A/C repair will need enough room to diagnose and repair your unit. Make sure the design you use is moveable to make the process easy so you don't incur more cost. Air conditioning units tend to breakdown when you least expect them to, so planning for it will save you time, money and get your cooling system working sooner.
Paint Your Air Conditioning Unit
This trick is common in most households because it always works. If your wall is black, for instance, you can hide your unit by painting it black, so it appears as if it's part of the wall. This method, however, works best if your AC is somewhere near the ground or your ceiling. If not, you will need to get creative with your colors. For instance, have an artist come in and paint your AC into a cool art piece, so it looks like a wall hanging. You can create your art gallery around your AC with other art pieces surrounding and complimenting it. This will bring a stylish charm to the room, and have your AC look like a piece of art that compliments your house design wonderfully.
Using a curtain is simple and creative, and will get the job done without much effort. Use a thin fabric to create the curtain, so the cold air circulates with ease when the aircon is in use. To make the integration seamless, use fabric color that compliments with your house walls and other items in your interior décor. If your design is simplistic with minimal colors, consider making your AC the focal point by using a cloth with bright colors. You can also choose a material with eye-catching prints and patterns if a bright color is not your thing. If your décor has many elements, styles, prints, and colors, go for something pale or neutral, so your AC is not obvious.
Use a Decorative Wall Panel
A unique wall decoration or a die-cut decorative wall panel is always a good option when you want to hide an air conditioner and as an added bonus you don't have to worry about always having to clean the AC. A panel can turn anything into a sophisticated work of art. You can buy one at your local store, have a carpenter build one for you, or even buy one online. Look for a panel that will match your home décor, so it integrates with the rest of the house.
Hiding an AC unit in the house is not always easy, but with a little creativity, your AC will be out of the way, and your design will still look sleek.