Making some changes to the house? Time to rip up that gross carpet and put down some flooring you're proud of? It's going to take a bit of prep time, but nothing you can't handle. First things first, you have to measure the room. You need to know exactly how much space you are working with and what your limitations are. This is probably the most crucial part of the whole process, you don't want to order too much or too little of the flooring material you wish you use. Not only that, you don't want any unattractive gaps or space left between the flooring and the floorboards. Here are a few tips that should help you measure your floor with accuracy: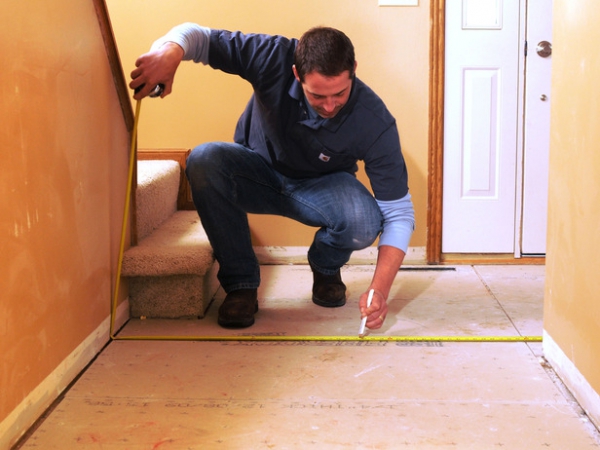 image via DIY Network
Measuring a room's area
In order to get the area of a room just use the simple equation you were taught in school: multiply the length of the room by the width of the room. If it's a room is 10m length by 10m width, the surface area of your floor is going to be 100m². Easy! Be sure you use a measuring tape (with the help of someone) in order to get as accurate measurements as you can. Another thing, you should also remember to include door frames, so that the carpet, wood, or whatever material you're using is fitted into the door.
You then take that measurement to your hardware store (or input this amount online, or however you're obtaining the material) and your total cost should be calculated from that. You'll now have an excellent idea of what your end all cost will be in undergoing this project.
Keeping in mind more oddly shaped rooms
Not every room will have a simple square or rectangular shape to it. Some will have bay windows, indentations or recesses, fireplaces, columns, and other things that will "distort" the shape of the room. This of course means you will have to cut some of the material in order to perfectly fit into whatever shape you need.
When measuring a room like this, maintain initially that same simple equation (length X width). Then, measure the indentation, recesses, fireplace, etc. and add the amounts together.
Measuring for different materials
Typically, different materials will need to be measured for in dissimilar ways. This is due to the way they are sold; laminate and wood flooring is sold in packs divided into square meters while carpet is usually sold in rolls that are between 2 and 5m wide. With the laminate and wood flooring, make sure any grains or patterns are running in the same direction. Really, the same goes with the carpet, as you lay it down be sure the pattern runs in the same direction, it'll look totally funky if you mess this up.
Don't be afraid to ask for help
Now, If you are struggling a bit with measuring, purchasing, application/installation, and so on—don't be afraid to ask for a professional's advice or assistance. There's nothing wrong with making sure the job you're doing is the right one. This is your house and your floor after all, you want it to turn out perfect!