If your entryway is looking drab or is otherwise in need of an update, don't fret – there are many ways to redesign it without hiring an interior decorator or gutting the room. Here are some quick and inexpensive entryway design projects you can complete in just a few weekends or months: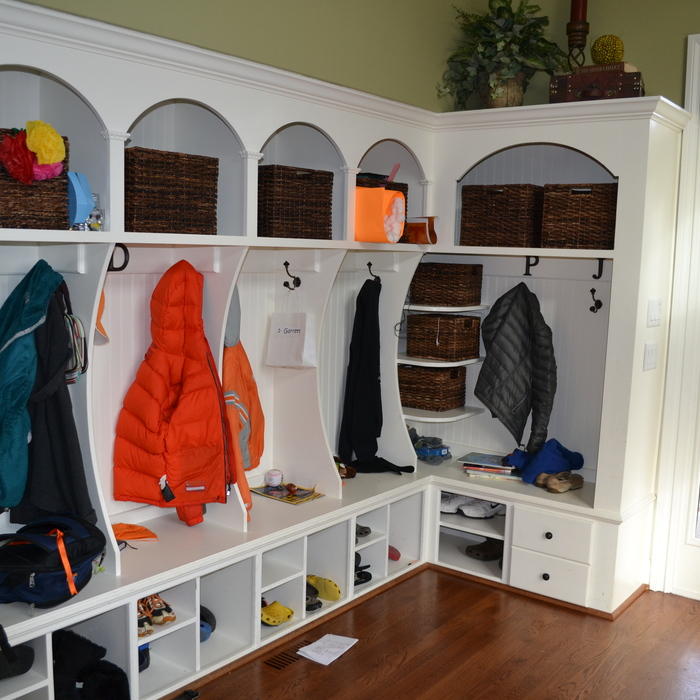 Photo courtesy of Ethics Construction Company, LLC
#1 Declutter
To get your entryway in order, remove everything that detracts from its appeal, including:
Excess shoes
Old area rugs
Winter coats
Umbrellas
Old paintings or posters
You want to start fresh, and getting rid of anything that you don't use anymore or that takes away from the beauty of the entryway is imperative to a redesign. If you have a front closet, free up space by putting out-of-season coats and shoes away in storage. This will free up space without cluttering up your bedroom closets or floors.
#2 Redo the front door
Your front door is perhaps the most important part of your entryway, given that it makes the first impression. If your door's been through the ringer over the years, it is probably in need of repair. You can do a lot to improve the look of your door — a fresh coat of paint, new hardware, new window coverings and the like. It just depends on how much money you want to spend. Just make sure you don't paint the inner part of the door a strangely different color than the exterior (ex. bright green on the interior, black on the exterior).
#3 Pick a focal point
Why not wow people when they walk through your door? Use a sculpture, a piece of art, the staircase leading up to the second floor to create a focal point — whatever you think merits the most attention. There are many options to choose from, whether you want to accent something in your home or buy a new piece from a secondhand store or art gallery.
#4 Don't skimp on storage
Entryways are where we begin and end our days, so it's a good place to store the essentials we'll need as we're walking out the door. This is where storage comes into play. Not only does storage make the entryway less cluttered, but it also keeps everything we need at close reach. Some options you have are:
A small recycling bin to handle junk mail so you don't have to carry it all the way to the kitchen
Color-coordinated hooks and bins for everyone's stuff — coats, shoes, backpacks, etc.
An organizer on the wall to remind everyone of mail to take out, events to attend and other important announcements or reminders
A bench that serves as both a place to sit and a place to hold shoes, umbrellas, hats or other items
An end table for keys, wallets, change and phone chargers
#5 Get creative
You can also get more creative, especially if space in your entryway is limited. Some ideas include:
Store ottomans underneath tables if you have narrow hallways or less square footage to work with
Install credenzas or consoles that can hold storage bins and plants or accessories
Go with upcycling options from secondhand stores or flea markets if you don't have the budget to buy new
Replace furniture you have in the entryway with bigger, more functional items to make the most of the space you have
Don't feel cramped by square footage or existing furniture. There are plenty of options available for someone with a small budget or space.
#6 Utilize the walls
If you have little square footage in your entryway, use the walls for storage. Hooks, hanging bins, wall-mounted cubbies — there are plenty of ways to store items in your entryway without taking up floor space. It doesn't have to look like a second closet or a locker, as long as you design efficiently. You can get most of these items from a local home improvement store, but you can also have cubbies or wall-mounted shelves designed by a carpenter if you need them to meet certain dimensions.
#7 Brighten up the space
If your entryway is lit only by natural light coming in through the front door windows, add some other light fixtures. Hanging lamps, candles, recessed lighting — choose the best lighting fixture based on the design of the room. Floor lamps might be a good option if you have the space, or you might consider a lamp that sits on a table in the room and flips on at night with a timer. You can even add a mirror to help reflect the light and brighten the space even more.
Entryway design can be easy, quick and cheap, depending on what you want to do with the space. If you are a family busy with school, sports and other activities, you might need to gear the entryway towards cutting down on stress in the morning (for info on how to do that, check out this article). Whatever your lifestyle, use your entryway to help you stay organized and efficient.