With the pandemic still in full effect, orders to shelter in place seem like they will still be in effect by the time summer arrives, and that's perfectly fine… but sheltering in place also doesn't mean that you have to be miserable at home, either.
If there's one thing that 2020 has taught us all is to learn and figure out how to enjoy being at home. When the stay-at-home orders first came out, a lot of people felt lost but eventually found a way to make the best of being at home. How? By taking on home improvement projects. In fact, according to prnewswire.com, the home improvement market has seen quite the surge since the pandemic.
But a more specific area that has seen lots of activity is in outdoor home improvements. More and more people have added decks to their homes as well as outdoor kitchens, simply as a way to get "out of the house" even though they're simply on the exteriors of their home… Nonetheless, creating an outdoor living space is a trend that's taken off to help people transform their boring backyards into an outdoor oasis.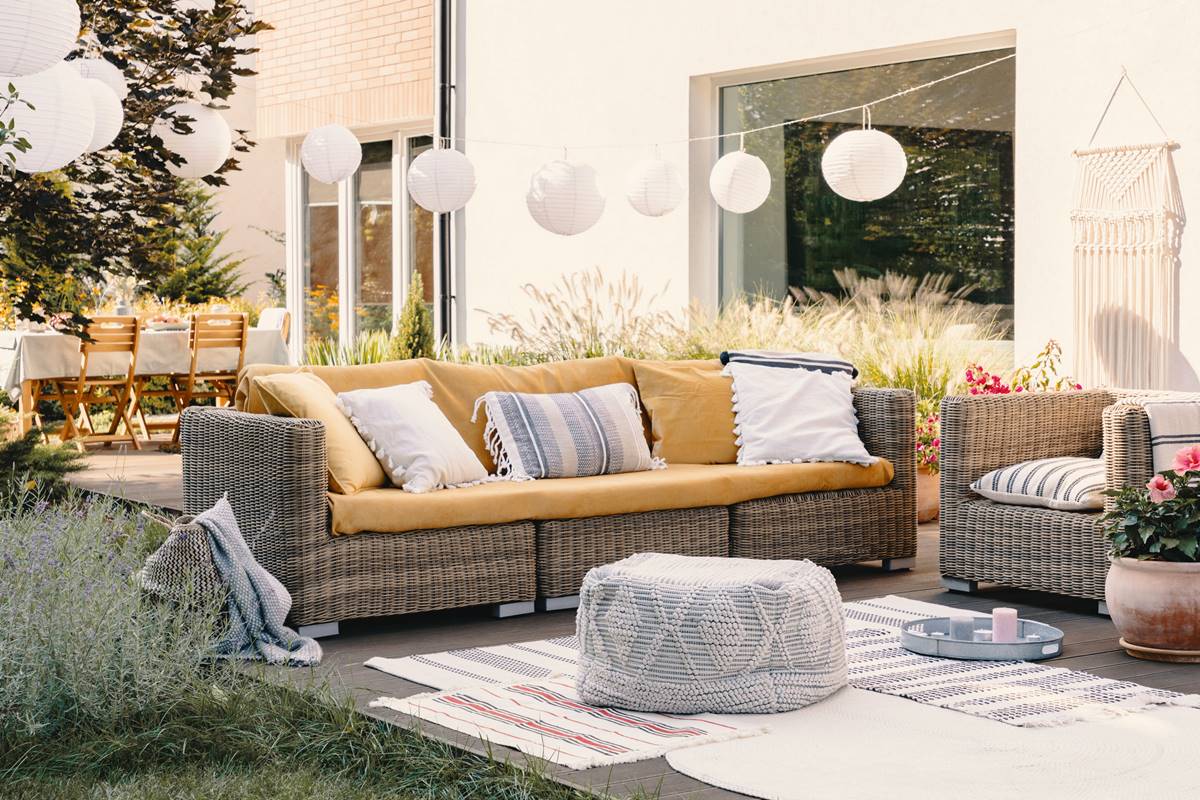 Now, just like there are design styles for the interiors of your home, some of those same styles can be applied to the exteriors of your home as well. But you also have to remember that this is decor for your outdoor living space, so a popular design style that's ideal for outdoors is Boho, simply because the entire design style has worldly inspirations and has a bit of a biophilic focus.
To transform your outdoor living space, consider giving it a Boho-chic vibe.
Simple Tips to Give Your Outdoor Living Space the Ultimate Boho-Chic Vibe
Incorporate Outdoor Plants
You might be wondering why plants are necessary for an outdoor space… Well, it's ideal, really. Plants will not only enhance the aesthetics of your outdoor oasis, but it plays well with the Boho-chic vibe.
Boho-chic embodies a free spirit where the decor can be whatever you want, but it's typically reflective of worldly travels and nature. The key to success in the plant department would be finding the best place to buy outdoor plants online, being that a lot of places are closed or have certain business hours.
Bring Out the Outdoor Rugs
To create the ultimate Boho-chic outdoor oasis, you're not going to be able to do it without a culturally-inspired rug. These types of rugs will be full of personality, bright colors, and have captivating patterns. And the great thing about outdoor rugs is the fact that a lot of them are made from recycled materials and are pet-friendly and washable.
Hang Outdoor String Lights
You can't have a real Boho-Chic outdoor oasis without the proper lighting. For a Boho vibe, string lights are the way to go, and preferably hanging lantern lights, simply because they're reflective of the history of China.
Incorporate Furniture Made from Natural Materials
Wicker chairs and tables, hanging egg chairs, and woven hammocks are types of furniture that will create a Boho-centric outdoor haven. Looks shouldn't only be the only consideration with outdoor furniture, either; comfort plays just as important of a role.
Whether you're having socially-distanced fun or simply enjoying the outdoors all by yourself, there's no greater way to enjoy your home's outdoor space (especially when the pandemic is forcing you to stay home) than to give it a Boho-chic vibe that's comfortable, relaxing, and aesthetically pleasing.