Brimming with personality, this single family residence anchors its array of elements, textures and materials in sound design principles to create a fiesta of modern colorful interiors. Located in San Diego, California, the house is a distinct statement of style – an identity crafted in 3D and spread over 630 square meters. Articulated by local architects Jackson Design & Remodeling, it draws the visitor into every line, curve and detail that stands proud among the richly layered experience on offer.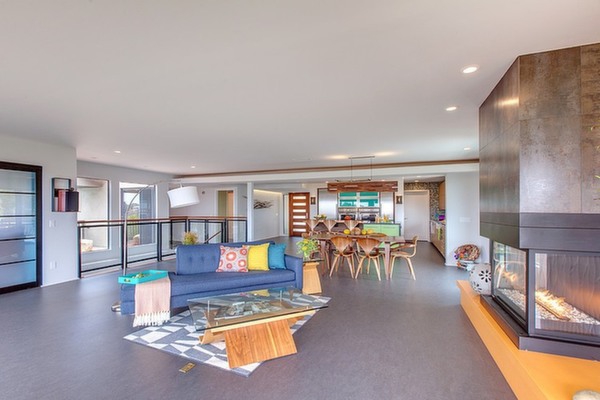 The modern colorful interiors of this residence offer an abundance of visual stimuli, but these experiences are arranged into consolidated cores amid its generous, open plan. The furnishing and fabrics- each a triumph of creativity- call for attention while the overall structure stoically observes it all. Clean lines, sharp profiles, and open and uninterrupted spaces offer a sturdy canvas for the design to play on.
In the social core containing the living, dining and kitchen, the three areas are individually knit into tight compositions within the continuous floor space. Each brings about its own flavor that may vividly contrast with the other, but does not conflict with it thanks to the distance between them. The washes of color and play of patterns and textures gets much bolder in the private areas such as the bathroom where they can be more easily contained within the overall scheme.
The design relies on careful co-ordination to strike harmony in its modern colorful interiors. This isn't the chance charm of eclecticism, but an adept handling of detail and diversity.