Far from relying solely on the spectacular vistas it overlooks, this contemporary residence by SAOTA overlays a rich tapestry of space, element and design into its interiors, creating a remarkable home that is guaranteed to steal a few heartbeats. Marvelous architecture and exuberant finishes come together in this house, perched atop a steeply sloped corner site in Clifton, Cape Town, South Africa. Responding to dramatic context and generous ambitions, the architects create solid statements in concrete and glass that float above and into the natural surround.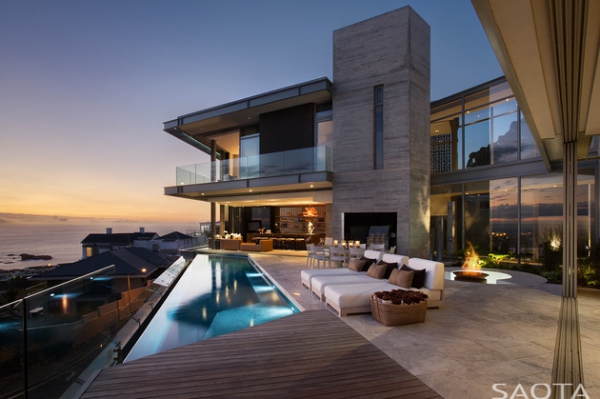 Organized over three floors, the main level of the house is partially carved into the site, in order to negotiate its steep slope. Accessed via a dramatic monolithic concrete stairwell, this level accommodates the guest bedrooms, gym, study, garage and service rooms.
The main social core is elevated onto the second floor, sitting comfortably above the bustle and noise of the adjoining street and drawn into the magnificence of the views it beholds. Spilling out onto a plush terrace, this level is aesthetically woven into its surroundings through extensive glazing. Any concerns of undue heat gain are swiftly met by the high performance glazing, generous overhangs, exterior shutters and perforated steel and aluminum eaves. The family room, kitchen, dining and lounge on this level are located to the south, with private access and use of the terrace and pool.
The family bedrooms are located on the upper most level, enjoying phenomenal backdrops to their marvelous architecture. Articulated in a stunning palette of oak paneling, natural wood flooring and off-shutter concrete walls, each of these fancy bedrooms is equipped with its own private dressing room, en-suite and balcony.