Dutch designer Robert Kolenik triumphs with his stunning designs for the interiors of this private villa in Rotterdam, Netherlands. Drawn in shimmering shades of grey, that transcend from warm organics to playful metallics, this bold and brave design creates unforgettable signatures of space and style. Floating atop the light warmth of its wooden floors, this grey interior design does not shy away from the stark or the subtle – wrapping them both into the rhythm and magic of its self-assured approach and design.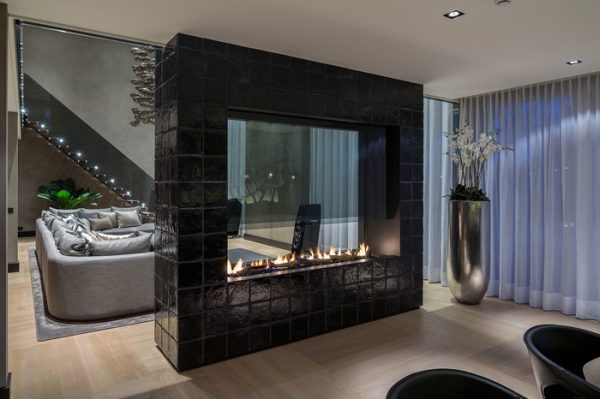 The genius of this design lays in its clever interplay of reflective and non-reflective surfaces, enhanced by the rich depths and varying moods of grey. From fun and inviting to composed and pensive – Kolenik extracts every expression possible from a concentrated visual palette. What results is therefore far from monotonous, emerging as a celebration of a singular theme in all its potential and glory. Any complements and deviations from the primary palette are resultantly unneeded, and sparingly seen through this grey interior design.
Kolenik further punctuates the spatial and experiential dialogue with a careful selection of visual and functional elements, adding that extra oomph to every affair and proceeding. A lychee tree trunk base for the dining table, spectacular chandeliers and the wrinkled wall finish for instance demand appreciation and an audience. Far from reserved, this design is unabashed in its style, signature and sophistication.