Enter a wonderland of fancy finishes, glorious details and exuberant intricacy; the revamped penthouse suite in the Veer Tower, Las Vegas City Center is a cosmopolitan statement of instinct and individuality. Skillfully put together by award winning interior designer Mark Tracey of Chemical Spaces and Calle Henzel of Henzel Studio, this extravagant project is rendered in a rich plethora of imagery, colors and luxurious customizations. Pouring attention and bold abandon into every aspect of this extraordinary penthouse, the designers create a private retreat that is not for the faint hearted.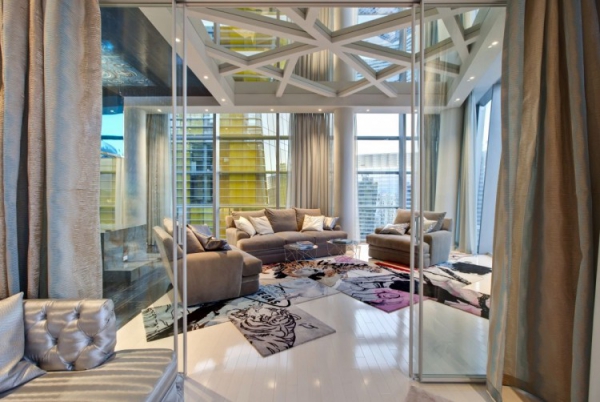 Laid out in a fluid, open plan, the design relies on a layering of color, texture and lines to create an experience that draws the visitor into it. Dancing the lines between bold and bashful, each space emerges as an offering in the spirit and style of this hotspot. Custom rugs from HZL Henzel are scattered across the metallic white hardwood floors, setting off a visual fiesta further enhanced by mirrored ceilings and LED lighting. A blue mosaic feature takes center stage, drawing floor, wall and ceiling into a sinuous space-frame. The furniture and fittings of this extraordinary penthouse are extroverted and unapologetic in scale and character, emerging as visual foci in their own right. From fluid granite worktops to customized tile beds, elaborate chandeliers to custom Banksy chain curtains, this penthouse literally has it all.
Elaborately detailed, this extraordinary penthouse is woven together into a coherent experience by a strong, unified vision, finding expression in tone, flavor and design.