Located high above the city of Dallas, Texas, directly across from the White Rock Park, the PV14 House takes a brave and straightforward stance at living. Drawn in clean, masculine strokes, this contemporary two-story home by M Gooden Design explores its material consciousness for an unmistakably modernist experience and expression. Completed 2014, this house reinvents luxury by ensconcing it in the bare and authentic.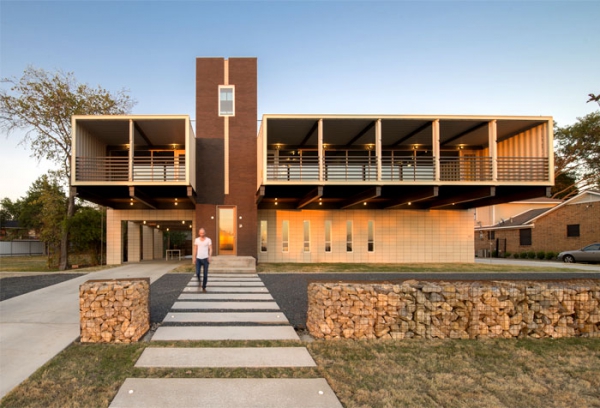 Crafted in steel, masonry, glass and concrete, the PV14 House translates bare materiality into a contemporary aesthetic. Articulated into generous, open planned spaces, these materials anchor a minimalist sensibility in bold proportions and renderings. The resulting spaces are self-assured and steady in character, working with each other to create a fluid movement amid its stark definitions. The house is organized to take full advantage of its perch and position; the social spaces are elevated off the ground to enjoy stunning views of the surrounding landscape and urban sprawl, while segregating them from the bustle at street level.
A careful selection of furnishings with soft, organic forms offers visual respite to the largely masculine design of this contemporary two-story home. These bring in a wash of vivid color and contrast to the largely rhythmic spaces, emerging as invitations for rest, reflection and dialogue.