Olson Kundig Architects, along with interior designer Terry Hunziker, shine with their design for this single family residence in Cabo San Lucas, Mexico. Drawing on the timeless appeal of the vernacular, the 8,000 square foot retreat moves beyond cursory gestures, creating an architectural dialogue that transcends from tradition to modernity.
What results is a contemporary residence that weaves an intricate tapestry of time and element to create space for coming together and unwinding.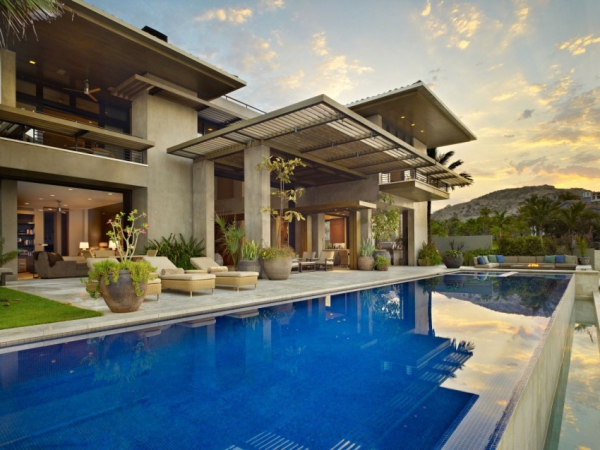 The contemporary design evolves along an experiential gradient, transforming from a vernacular vocabulary – rising out of the physical context outdoors – to a seamlessly modernist dialogue at its very core. This steady progression is beautifully punctuated by a stained alder wood trellis that permeates through the entire breadth of the house, articulating a planar rhythm to the proceedings and physically connecting the different architectural expressions. The three dimensional experience of this contemporary residence therefore dips in and out of various influences, adding interest and surprise at every level and around every corner.
The house is arranged around a double-heighted living space that creates a fluid interconnectivity between the interiors and the spectacular seafront before it. Breathing free, this space acts as a functional and social magnet within the overall design, bringing a touch of cozy Mexican hospitality to this contemporary residence. It is flanked by the master suite and kitchen, while the guest bedrooms are located upstairs.
A fusion of sensibilities, this design brings the best of both worlds- from the warm overtones of tiled roofs and limestone surfaces to the cold charm of its blackened steel fireplace.