This lavish apartment in the stylish neighborhood of Trocadero in Paris, overlooking the Seine and the Eiffel Tower, gloriously embraces the best of both worlds with its sensitive and innovative approach to design. Designer Francois Champsaur imbibes the most opulent of gestures with a modernist sensibility that helps this 500 square meters amazing apartment find anchor in both – the past and the present.
Embodying an almost monastic undertone, the space redefines luxury within a carefully curated and elegantly retrained aesthetic, reinventing this apartment for its residents without forgetting its connections.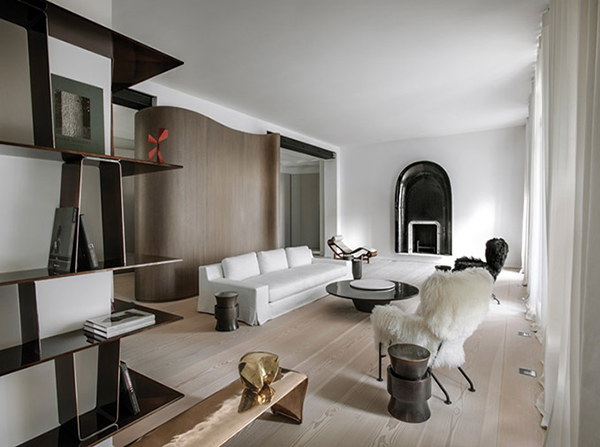 The residents of this apartment wanted a complete overhaul of the space and experience. The resulting design delivers exactly that by stripping back the interiors to its bare elements and redressing these in almost unexpected simplicity. Centering in the unity of the space, rather than individualized isolation, the design weaves the different spaces into a continuum of idea, inspiration and movement. The walls and partitions introduced move in tempo with this intention, often taking on undulating forms to accommodate it.
Champsaur is deliberate and delicious in his choice of furnishings and elements, creating an artistic saga within this amazing apartment interior. The angles, flavor and silhouettes of each accessory and luxury home furniture brings a touch of indulgent relief, all without disrupting the naked sophistication of the design.