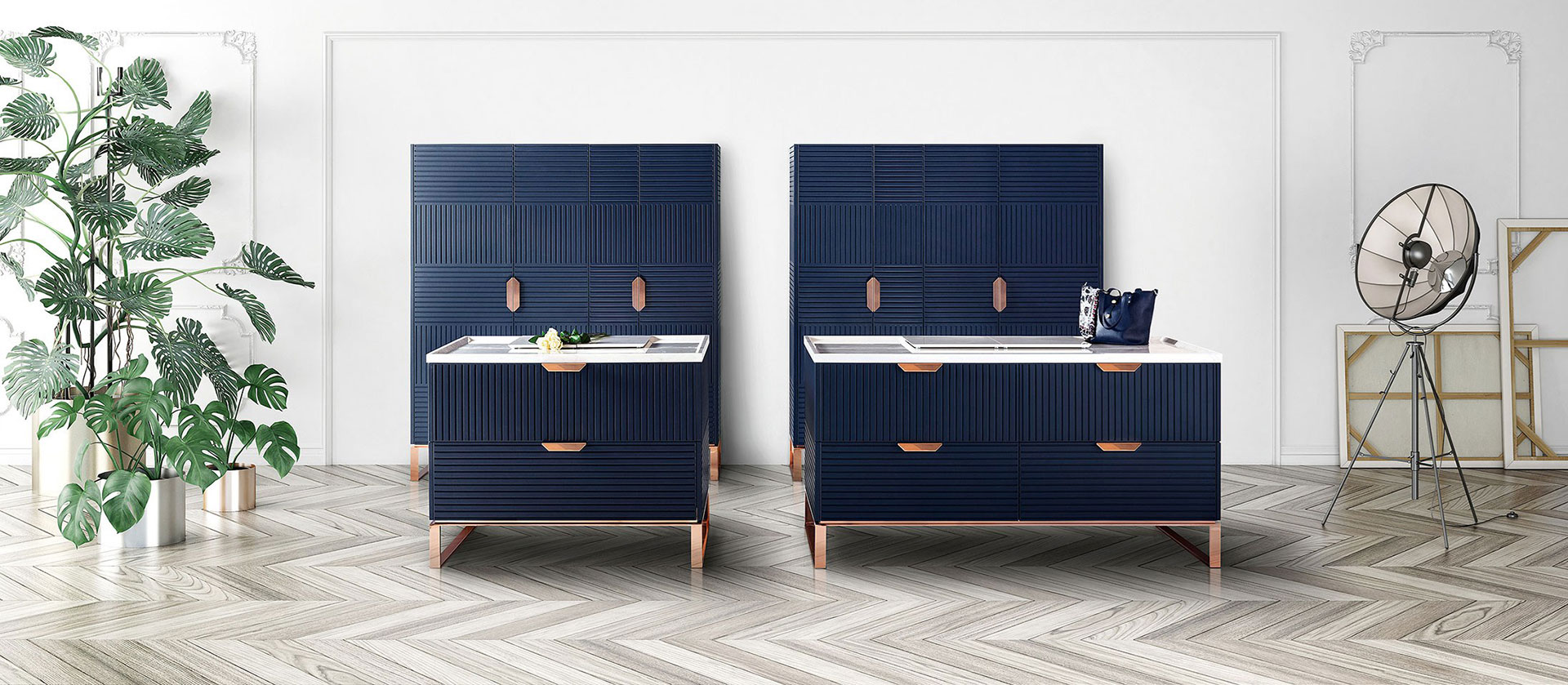 Behind the clean lines and deep colors, there is a wealth of detail, texture, and technology carefully integrated with the designers' neo-deco approach to contemporary décor. Rose metals can be difficult to match, especially when faced with the need for both attractive design and functional practicality, but in this kitchen design by Ruadelpapavero, you can find midnight blue, rose copper and Pirgon stone in a perfect combination.
Midnight blue lacquer embraces the outer surfaces, while exposed metal pieces burst from the rich shade in demure rose copper, a bright but muted metal that catches the attention without appearing garish or gaudy. The choice of  copper rather than rose gold resonates much more comfortably with the chosen color, with the slight pink tint softening the already sharp contrast between lacquer and metal.
Behind the deep blue doors of one armoire hides a refrigerator, freezer, oven, dishwasher, and enough space to house all your culinary needs.

The other armoire features a nearly full-featured wine management system, including bottle compartments, a Miele wine cellar with cooler, storage, and glass holder, with LED lighting to accent your presentation over Pirgon stone.

The islands spare no waste in providing necessary appliances, with the sink and extendable tap plus dedicated garbage compartment in one, and a Bora cooktop with integrated extractor, pullout bins, and a cutlery tray in the other. The Pirgon stone surfaces hide the sink and stove under matching stone chopping blocks. When replaced, the tapered sides of the inserts fit with exact precision, providing a seamless surface on which to prepare and present.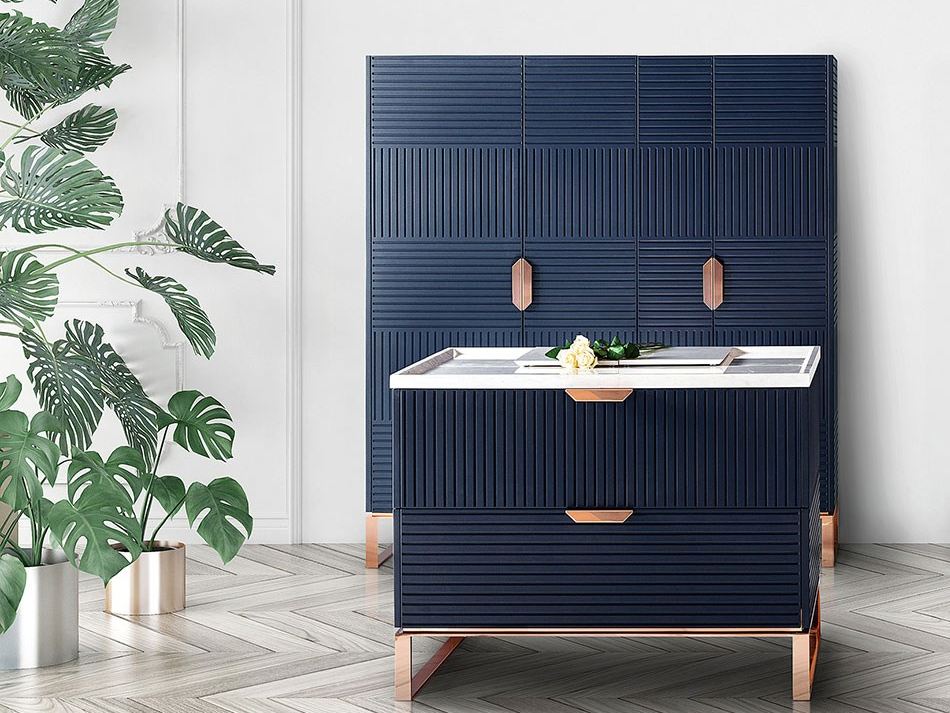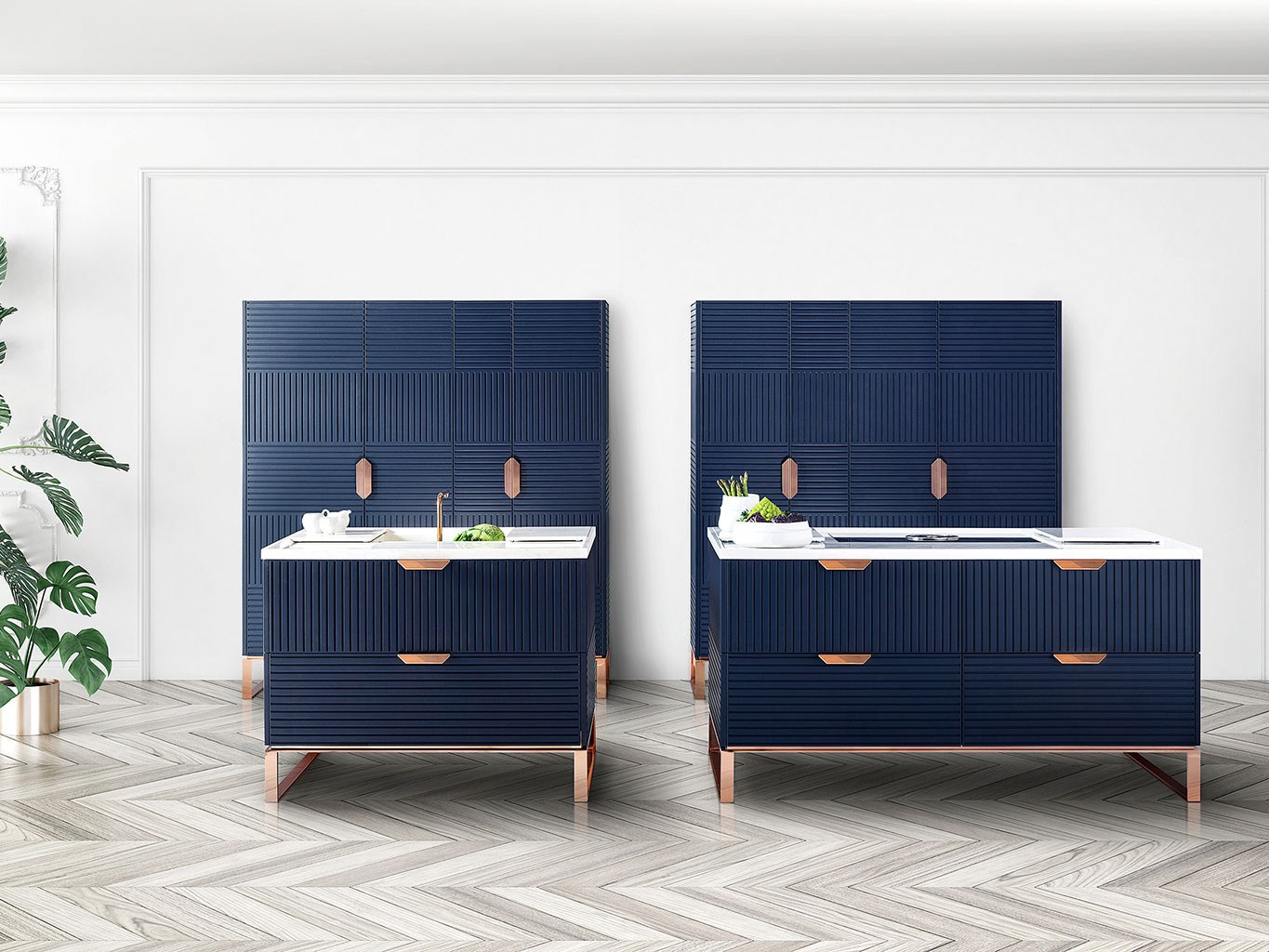 Every possible need is fulfilled in four very attractive pieces that can be integrated with an existing kitchen or set apart in their own space for a distinct visual impact. This isn't just a blue kitchen with fancy metal bits. The Miuccia Kitchen was designed to be the perfect combination of both design and function.