Having a comfortably functional kitchen always makes for better movement in your daily life. However, when your kitchen is too small for what you need or doesn't include the essential features needed to make things go a little smoother, you'll find yourself getting a lot more irritated with even the most mundane of tasks.
Today's feature is an example of taking the initiative to make your kitchen work for you! Thanks to Kristi Spouse Interiors, this French style kitchen was remodeled by request of a growing family.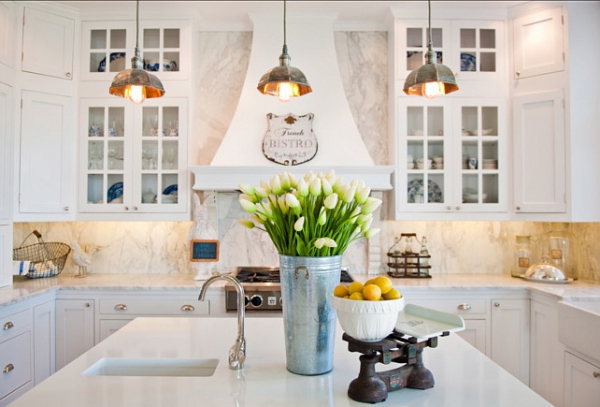 Known as the Whidbey Island Beach Home, this French style kitchen, located in Washington in the US, features a blend of quaint and modern accents that successfully fulfills the needs of better functionality. The white cabinets not only bring a refreshing feel to the kitchen, but it also camouflages itself in a minimalistic way, which helps to increase the extended space even more. The ample marble counter space adds a warm neutral touch that compliments the lighting and cabinet handles in order to bring everything together. The small island includes a nice pop of gray that also compliments its open storage design. The icing on the cake is present on the oven's overhead, which gives a rustic flavor.
We would love to cook in this French style kitchen!