Whether you are looking for a new home on today's hot real estate market or you are thinking about a newly constructed home, one question will come up again and again: Are you thinking about going traditional or contemporary with your kitchen?
The kitchen is a focal point for nearly every home, as it is a place where families gather, food is prepared, and guests are entertained. With the kitchen being a point where the entire house orbits, the look and feel of your design is vital for creating a consistent theme. Are you more of a traditionalist, enjoying ornate decor and classic cabinetry, or do you desire more of a sleek and modern look?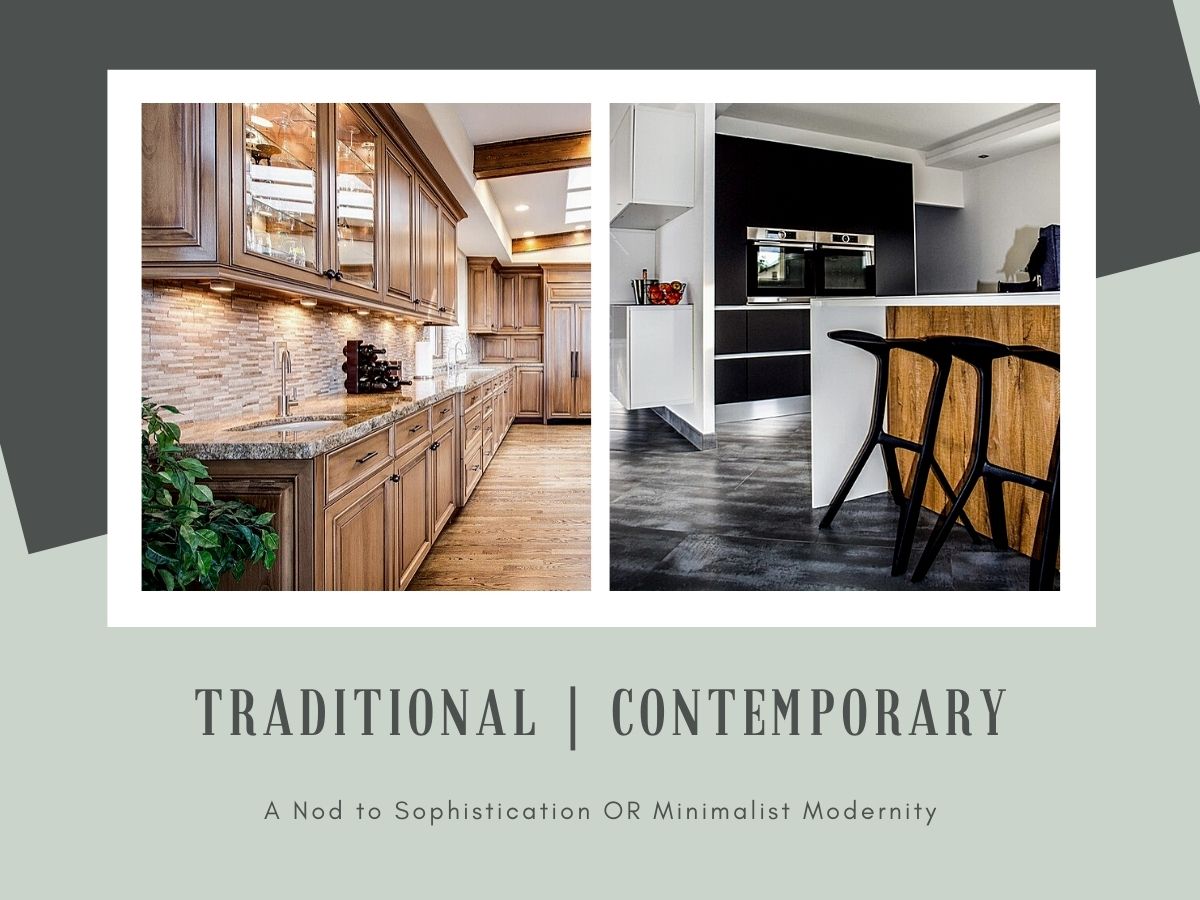 Let's break down both the traditional and modern kitchen features to help you get a feel for what you are wanting in your kitchen.
Traditional Kitchens – A Nod to Sophistication
When it comes to traditional kitchen features, it's important to remember that traditional kitchens were once modern – it's all a matter of perspective! With traditional kitchens, the first element you will notice will be the careful attention to detail throughout the decor and cabinetry. Take note of wainscoting and crown moldings, as well as furniture pieces that feature more curved and elegant characteristics.
Most traditional kitchens will feature a high-end island and countertops that are highlighted by more neutral color palettes, as well as focus on raised panel cabinetry with a glazed look and feel. The more muted colors are often offset by ornate lighting elements and vintage backsplashes.
While these kitchens can surely feed a family, traditional kitchens lean more into the "wow" factor than usability, focusing on entertaining rather than basic, everyday functionality.
Contemporary Kitchens – Minimalist Modernity
As opposed to the ornate and decorative flourish of traditional kitchens, modern kitchens strike a balance between form and function. In most modern kitchens, you will find a focus on sleek simplicity and straight lines in nearly every part of the room. The modern look leans heavily on the main color palette of white and steel with the addition of wood tones in cabinetry or wall features to add a balance of color.
Rather than hiding cookware, contemporary kitchens may feature open shelving options that show off the full catalog of products in the kitchen. A tiled backsplash will often give a splash of color to the kitchen, and minimal lighting features will offer light while not blocking views.
With modern kitchens, the focus is often on a sense of efficiency and minimalism – allowing for homeowners to enjoy using their kitchen while still offering a clean and enticing area for family and guests to gather.
While contemporary and traditional kitchens differ in many aspects, there are elements of each that can provide you with inspiration to create the kitchen of your dreams. By taking into account your kitchen architecture and your home's overall theme, experts like Studio Haus can utilize the features of both kitchen styles to create a space that is unique and original to you!