Thinking of buying your dream kitchen? Well, Kim Duffin from Sublime Architectural Interiors definitely has wonderful ideas about what makes a fantastic kitchen. This contemporary and stylish kitchen is part of a home located in Brisbane, Australia.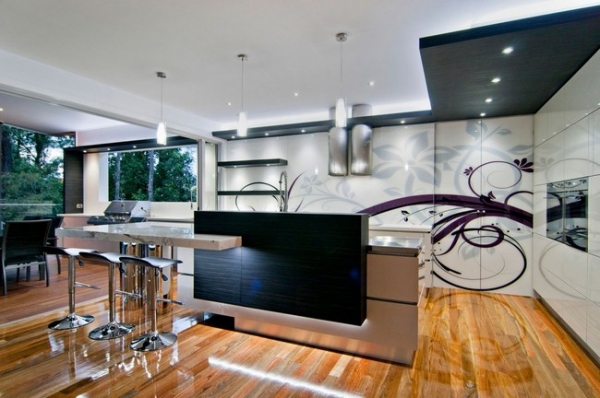 The walls are white with delicately placed gray and purple flowers and vines. The floors are a caramel colored textured wood, adding warmth to this dream kitchen. The polished silver fixtures and LED lights, add a shine to the space, creating a bright and cheery atmosphere.
There are three different countertops in the kitchen, all serving form and function. The sink area countertop is perfect for washing and preparing produce. The marble countertops are absolutely gorgeous. They fit nicely with the design of this stylish kitchen, picking up the gray from the decorative walls. The white countertops continue with the minimalist design, and work for all kitchen needs.
The statuesque black divider provides a necessary division between the sink and the seating area. It also adds interest to the kitchen, breaking up the height of the countertops. Not only does this dream kitchen have bar seating, but it has a full dining area. Tall glass doors open and fold back to an indoor/outdoor dining area, complete with a gorgeous gas grill and stainless steel sink.
The clean-lined dining room table falls right into place with this stylish kitchen. The blacks and grays maintain the themes of this contemporary design, while the muted purple walls do the same, and also add a necessary splash of color.
The design of these two conjoined spaces work perfectly together. It is a well thought out space with pizzazz and style. Everything has its place and purpose, making this smartly designed space, a contemporary stylish kitchen.