Berlin based studio Baukind brings the adventure, experience and lessons of life outdoors into the classroom, invigorating the space and unleashing its inspirational potential. Dedicated to helping kids learn through nature, even when inclement weather and urban life removes them from it, the studio creates children's playgrounds and spaces as a tool for play, challenge and discovery.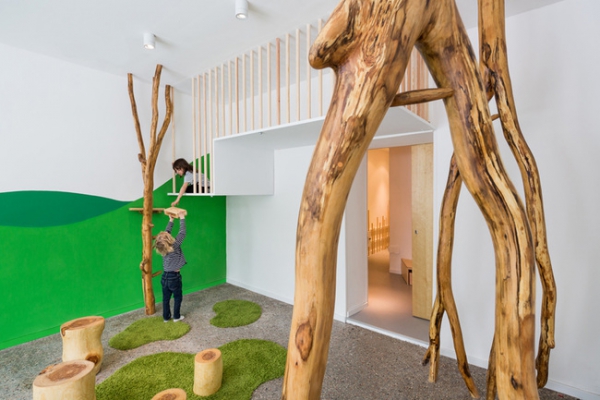 Catering to children in their early developmental years, the classrooms and spaces are envisioned as three dimensional tuitions. Every surface and fitting here is an opportunity to learn from or play with – individually and collectively. These designs take the nature of its users into consideration and are therefore articulated to be simple as well as clutter and accident free in character.
Drawing on the elements and textures of natural play spots, these designs recreate the wide variety of opportunities and sensory stimuli nature affords us. Instead of rationalized furnishings and designs, these children's playgrounds revel in the organic; the carefully controlled environments are punctuated with the sensory delights of wood, grass and other inspired elements that invite exploration and engagement.
Balancing the pedagogical requirements of the space with its intention to nurture individual identity, the designs offer a framework of experience that is set alight by the spontaneous desires and demands of its occupants.