Retired professor of design, Yu Watanabe brings a touch of Zen to children's spaces with his furniture designs. Merging playful innocence and vivacity with fluid profiles and compositions, Watanabe marries a touch of fantasy with refined aesthetic sensibilities in this range of еco-friendly children's furniture from Hiromatsu. In keeping with the core philosophies of the company, the range takes both the user and the environment into consideration through every line and every gesture.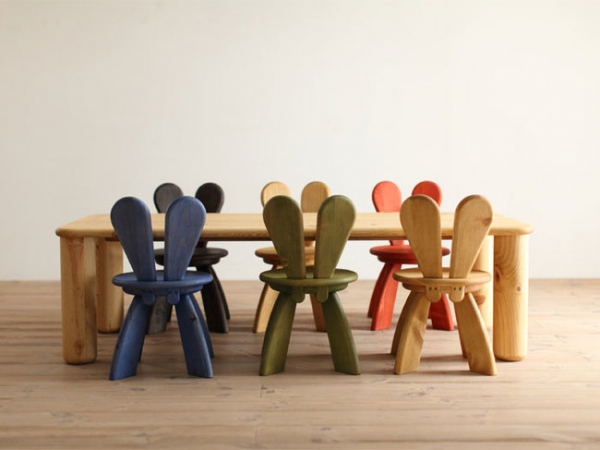 The furniture is constructed out of sustainably sourced pine wood and includes chairs, tables, storage options and display units. These vary in profile and purpose, but are drawn out in similar strokes with soft and fluid profiles, playful dispositions and personalities, and a natural exploration of the material at hand. Anchored in a bare and minimalist aesthetic that extends from ancient Zen to modernist philosophies, each piece in this еco-friendly children's furniture range is soft, elegant and brimming with ideas.
The bunny chairs for instance invite discovery and inspiration, while the cloud shaped table is a perfect place to share dreams. From outline to detail, every aspect and fitting is explored for its potential to initiate a dialogue with children – storage units are therefore wide eyed and smiling while the social seating unit offers a landscape to explore and conquer. From start to finish, this beautiful range of designs stands ready to take on the visions, ideas and personalities its occupants come up with.