The terra firma rises and evolves to enfold a habitat for creativity and repose in the Dome Home. Located in a quaint lychee garden in Gaoming, China next to the company headquarters, this organic structure – and the surrounding complex – offers a thinking hub and residential quarters for its creative team as well as visiting associates. Architect Timothy Oulton articulates natural materials in a series of carefully considered strokes, birthing a structurally and visually inspiring design.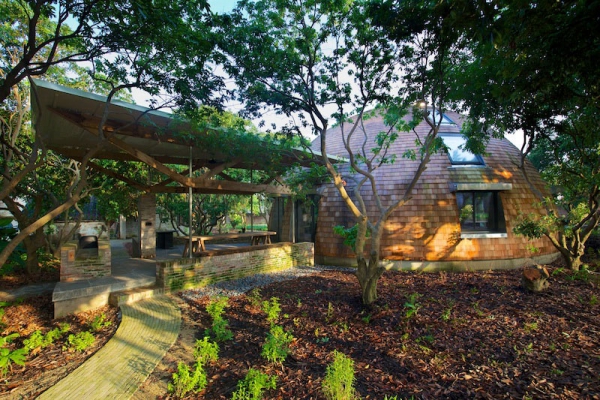 The project consists of a central circular hub- the Dome Home, and seven double-story brick round houses that offer residential quarters.
Built entirely of timber, as a self-supporting structure with no columns in its interior footprint, the Dome Home has been built to German Passive House standards. The structure was assembled out of 80 prefabricated timber panels and is equipped with triple-glazed windows and doors. The interiors are modern, clean and chic with the timber finding expression to anchor the design scheme; here vertical timber panels are sinuously composed to create a central spiral staircase that offers a center point around which the various spaces and furnishings arrange themselves.
The round houses are realized as brick and concrete structures that explore the exposed structural faces to develop a natural, deliciously textured aesthetic. Scattered around the Dome Home, these have been carefully laid out so as to minimize impact on the surrounding environment.
Drawing from earthy sensibilities and rooted in contemporary strategies, this project embodies a conscious approach to design and construction.