The Stirling House in Vancouver, Canada is a sterling example of ingenious spatial design that embraces the new while paying homage to its past. Retaining the original vibe and exterior of this 2,000 square foot private residence built in the 1960s, Sarah Gallop Design accommodated the newer ambitions of the project while adhering to its retro architectural vocabulary.
Exterior landscaping and redesign add an impressive additional 2,100 square feet of outdoor living space, exploding the original footprint to new capacities, scales and potentials. Taking on bolder and more generous tones, the new design invigorates the retro interiors with an aesthetic and functional sensibility that is distinctly contemporary.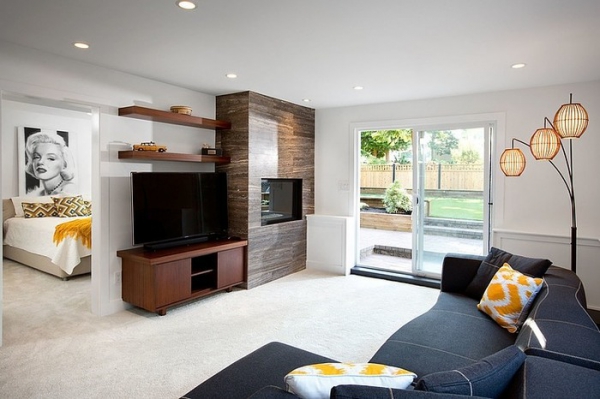 A few sharp moves opened up the original layout to create a more fluid and cleaner design scheme. The centrally located kitchen was pushed to a rear wall, anchored by a brand new island counter. The master bedroom was moved to the ground floor itself, supplemented by an opulent private spa cum bathroom. Additional storage was integrated into the surfaces and spaces, tidying up the overall décor and creating modern expressions of a retro style.
This amazing interior design features many of the original features such as the fireplace and refurbished cedar paneling. Further, the exterior facade too retained its original vocabulary, removing the old cladding to plane and reinstall it. In addition to these features, new finishes bring a refreshing functional and aesthetic twist that makes the most of technology. Extensive mill work, quartz countertops, and energy-efficient appliances and systems, for instance, bring a touch of modern efficiency and optimization to these retro interiors.