Design and construction move beyond mere creative enterprise, to emerge as mediums for connection and integration with the vernacular in this residential project in New South Wales, Australia. Austin Mcfarland Architects built a winter home as a secondary address amid the rolling landscapes and poignant moods of the Wherrol Flat. Responding to a precise brief, this spacious house design encompasses the personality and intentions of its occupants through every choice and detail.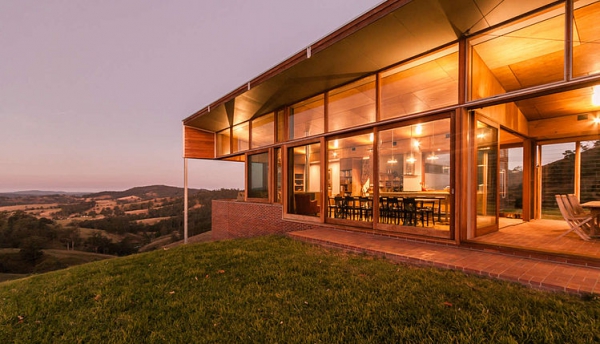 The design pivots on local materials, resources and labor as a conscious imitative to establish connections with the community and land. Brick from the nearby Lincoln Brickworks and timber available locally thus emerge as the predominant materials. Sculpted into an elegant juxtaposition of material, texture and pattern, they birth a linear arrangement of generous volumes and clear, simple geometries that flow into each other and the idyllic landscapes around them. The spacious house design ensures that each room and corner of this residence is engaged in dialogue with its context, afforded spectacular views through every face and opening. Further, it is autonomous for energy and water requirements and its waste disposal.
The decor is light and unassuming adding personal charm and flavor to the space. The brick and wooden flooring and decking is rich and textured; the furnishings are thus kept simple and in keeping with the overall warmth of the space. Striking and serene, this house makes place for not just comfortable, beautiful living, but also an awareness of the social and physical context.