A sinuous composition of monolithic volumes offers a regal interpretation of residential architecture in this stunning Texan home. Set amid equally impressive vistas in Austin, the 5,900 square feet Lakeview Residence was designed by Alterstudio Architecture. Articulated to encapsulate the warmth and fervor of its occupants in a clean, contemporary palette, this modern family home is set apart by the careful consideration given to each frame and every single view.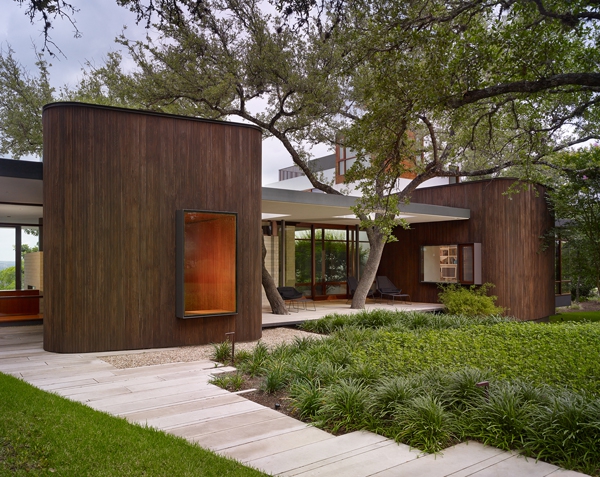 The building offers an adventure of visual delight; its contained and unpretentious front invites visitors in, only to carry them away into exploded views of the spectacular landscapes that flood its western face. This seduction is enabled by a careful juxtaposition of volumes, lines and texture that tease the visitor with intimate views before striking the grand finale. The monolithic volumes also contribute to creating uncluttered, open spaces in this modern family home.
The scale is beautifully broken down through tactile and elegant surface treatments- exaggerated especially along the vertical, ensuring the overall vocabulary is light yet impressive. Wooden paneling and sleek limestone tiling create a striated backdrop to modern living in the facade as well as the interiors. These are smartly complemented by similarly fashioned furniture to accentuate the scheme. The bathrooms too adopt this approach, creating intricate visuals in clean, bold materials with its wall tiles.
This modern family home crafts a personal synergy of style and laid-back charm. Through subtle details and bold design, it inspires with its views of both – the inside and outside.