This beautiful lakeside cottage found in Harbor Springs, Michigan is the pinnacle of cottage design. The style of this cottage is the work of Tom Stringer from Tom Stringer Design Partners. Rich blue paneling and stonework bring the exterior of the home life and set an example for textbook cottage design. Cedar shingles are a nice touch and really bring together the cottage design concept.
The interior design style matches the exterior perfectly with rich, dark wood floors and contrasting white paneled walls and furniture. Throughout the house, the designer utilizes pops of blues, yellows and reds.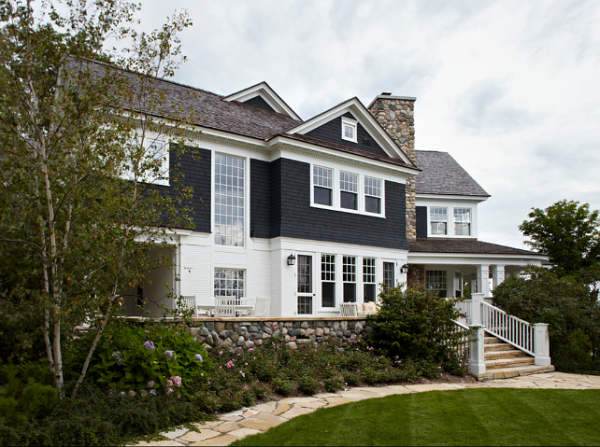 Having been featured in Traditional Home magazine, this cottage is perfect when it comes to gaining inspiration for exterior or interior design. The inside of the cottage is outfitted with beach home comforts like a warm, bright color palette and wicker furniture pieces. It is not forced, but still very put together. The interior design style is warm and classic without lacking any creature comforts. It is certainly a livable space. Anyone looking for house decorating ideas for a beach home or lake house can take notes from this impeccable Harbor cottage.
The interior space is designed around the family. The builders wanted to make a place where the family could retreat together while everyone still has their own space. The kids' rooms have custom built-in bunk beds and drawers. The attic even has a gate that leads to a playhouse complete with fake grass and outdoor lighting – that is one way to keep the kids busy while mom and dad enjoy a glass of wine on the porch.
The porch features several inviting spaces for family and guests to share a meal or take time off to read a book. Light-colored wicker furniture and throw pillows invite guest to take a seat and enjoy the stunning views of Lake Michigan. Wood sculptures and earthy accent pieces remind visitors of the abundant nature that surrounds them.