Located in Sao Paolo, next to the Ibirapeura Park, Casa IV is a stylish rendition of modernist sensibilities and an unapologetic play of color, material and line. The spaces are set in warm and sinuous wood and set alight with bold forms and vibrant color, lending a unique aesthetic and crisp clarity to the space. From diverse expressions of its blue color palette to the linear motif running through its design, this 900 square meter project is a lush canvas of exploration and innovation for designers Suite Arquitetos.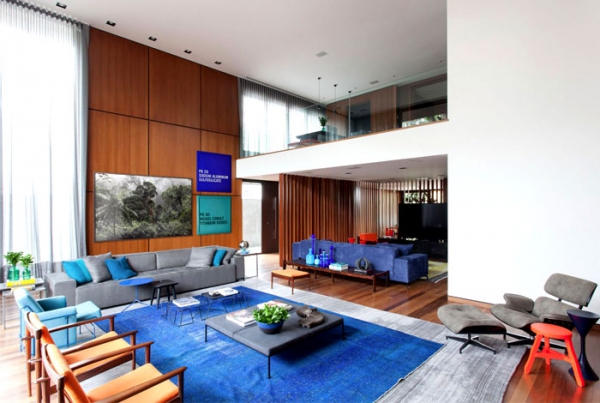 Each space and nook in this residence is warmly drawn out in well balanced proportions and lines. Wood sets stage to the individual aesthetics of the space, and is contrasted by a series of furnishings and elements that anchor a contemporary sensibility in it.
The social core for instance dives into the cooler end of the visual spectrum to create a fascinating play with the warmer tones of wood; the blue color palette washes across the choice of furniture, wall art and fabric to invigorate and open up the space, complemented perfectly by neutral greys that hold the scheme together. As far as colorful living room ideas go, this one is refined in measure yet glorious in its impact.
Sculptural forms and organic intricacy add further detail and interest to the design. The clean washes of color allow for a layering of form and profile, without creating visual clutter.