We adore the way Allison Elebash approaches coastal home decor. She does it in a not so obvious way, using color, patterns, and texture.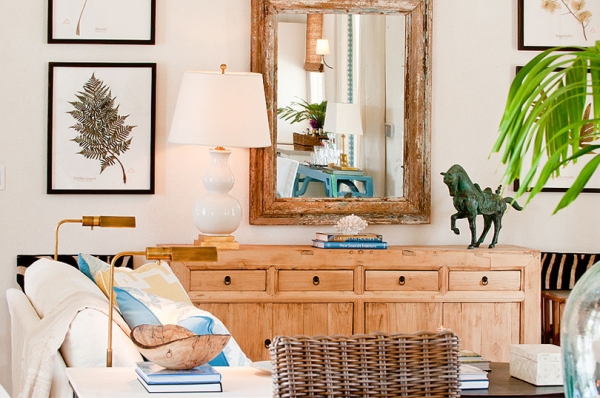 The gorgeous artwork in this room really adds something special to the design, and the turtle shell above the outstanding mirror, is just perfect. The wooden console is a light but warm color, with a wonderful rustic feel. The white lamp, the horse statue, and the animal print chairs, are delightful, putting the finishing touches on this gorgeous area.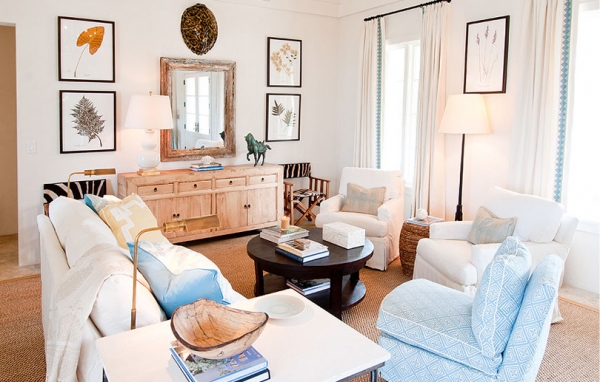 The coastal home decor in the seating area is phenomenal. Bright whites, fabulous blues, delightful yellows, and earthy accents, fill the space. A white comfy sofa, with fantastic accent pillows, is paired with white and blue chairs, a textured rug, and a black circular table. The black table anchors the design and connects to the black in the animal print chairs by the console. The copper lamps are exquisite, bringing a bit of understated glamour to the design.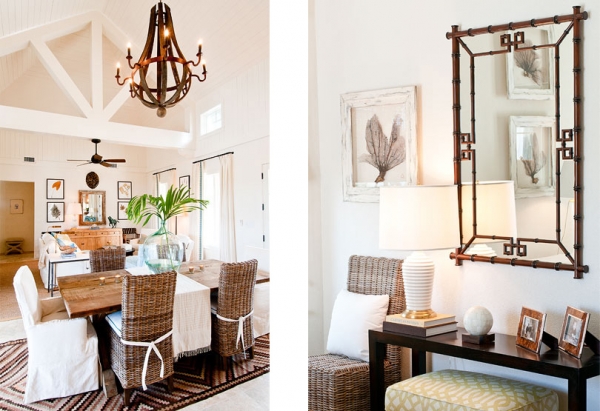 In the dining room there is a lovely and rustic wooden table, surrounded by attractive chairs. The chairs that sit at each end of the table have white seat covers, bringing even more interest to the design. The area rug, the ceiling light, and the plant are stunning additions, completing this beautiful eating area.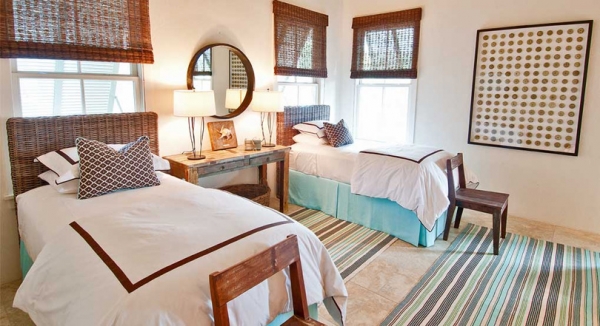 The guest bedroom continues the exceptional coastal home decor with its bright colors and earthy touches. We adore the turquoise bed skirts and the rustic wooden table, sitting between the beds. The striped area rugs bring a little more color to the design, and the large windows allow for a significant amount of natural light.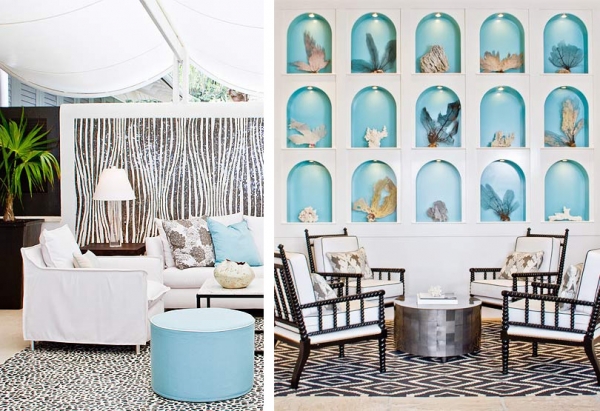 The striped artwork, in combination with the area rug, and the whites and blues, in this space, is out of this world. And we love the feature wall, the black and white patterned rug, and the silver table, they are positively sublime.