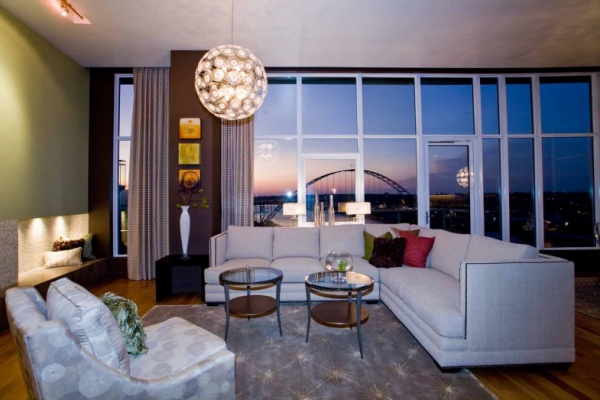 Third time's the charm is what they say! Today's feature surely supports that claim as we have yet another exclusive from Angela Todd Designs. The interior design featured in this striking home includes a combination of interior designers coming together for the chance to participate in The Street of Dreams, a home showcase that takes place in Portland, Oregon every year.
Angela Todd got an exclusive opportunity to strut their stuff by remodeling and designing the fireplace, kitchen and walls of this home. Known as "The Luster of the Pearl" for its location in the Pearl district, the interior design of this particular place was welcomed with Angela Todd's keen eye for making certain elements grab your attention with no apologies. The kitchen features a marble top island that lends its reflective finish to the jazzy chandelier lighting overhead. To complement the lighting, a marble-like mosaic tile wall was added behind the sink. The walls also get a facelift with the help of unique textures and rich colors. With Angela Todd's flair, there's no wonder why the entire project won an award for Best Master Suite at The Street of Dreams that year!
This wonderful team took on the challenge with grace and set off the interior design in a way that only they can!