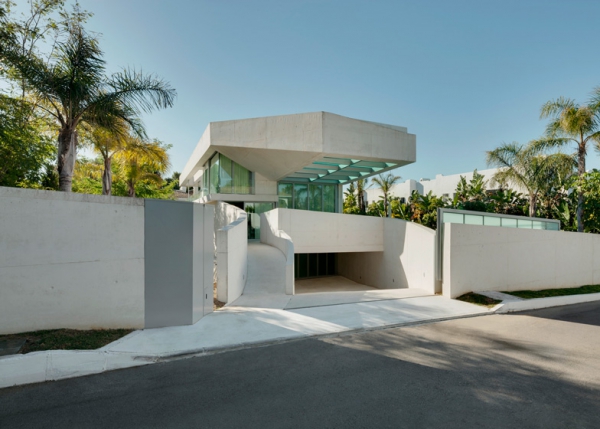 Aptly named the "Jellyfish House" this private stunning architecture in Marbella, Spain is modern, unusual and has many features that some of us can only dream of. Wiel Arets Architects designed this beautiful home which has a glass pool set into the rooftop.
The house is built primarily of concrete, giving it a contemporary feel and look – set amongst an area with lush, green vegetation and with fantastic views of the surrounding hills. Inside you will find that the house is airy and comfortable, but it is the outside that is more interesting to visitors. The pool is such a striking addition that it is hard not to keep focusing on it, especially since the pool looks down over parts of the house interior and also the pretty outdoor terrace area.
From the rooftop pool you can see the beautiful Marbella coast line. This rooftop area is an ideal place to entertain guests or simply enjoy the Spanish sunshine. Stunning architecture and vision from the designers makes this house truly magnificent.
Тext is copyright to ©Adorable Home – interior design and decorating ideas